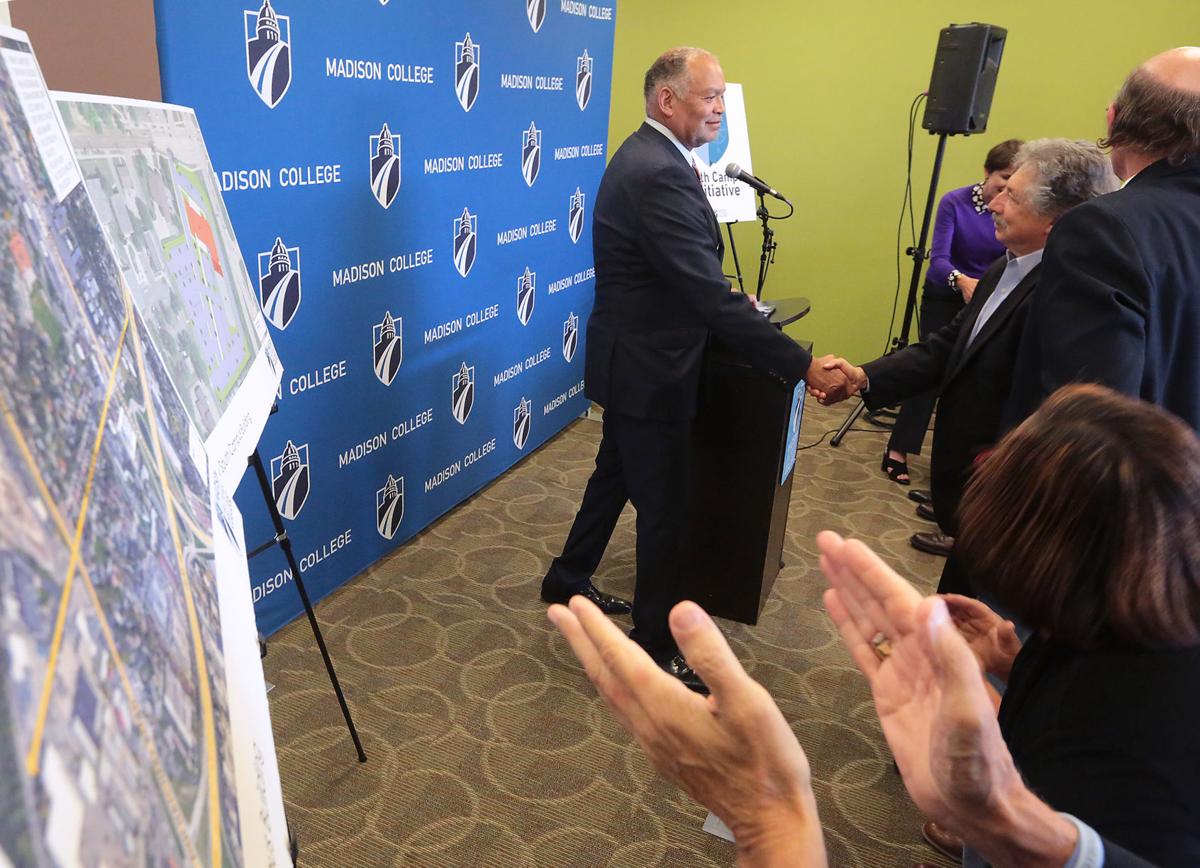 Officials with Madison Area Technical College unveiled a location and a programming partnership for the school's South Campus Initiative Monday that hold the promise of enhancing the college, community and beyond.
The college will purchase the current site of the state's Employee Trust Funds and redevelop it for an expanded South Campus. The site is just north of the Beltline off South Park Street, across Badger Road from a Madison Metro bus hub and a walkable destination for south side residents.
The effort will be mostly privately funded, with pledges of $10 million from the Irwin A. and Robert D. Goodman Foundation and $1.3 million from the American Family Insurance Dreams Foundation covering most of the cost.
MATC, also known as Madison College, will partner with the Madison Metropolitan School District on a pipeline program that will allow selected MMSD students to complete STEM coursework in their junior and senior years of high school at MATC in a dual credit program.
Planned opening of the new South Madison Campus is in fall 2019.
The announcement followed a process of nearly two years to locate a site and secure funding for a larger facility to meet educational and economic development needs in south Madison. It is the most ethnically diverse area of the city and also has the highest rate of poverty.
"Madison College's South Campus Initiative will address, head on, vast racial disparities that exist on the south side," Madison College President Jack Daniels said Monday.
The plan drew excited praise from community leaders, but it was remarks from James Howard, the president of the Madison School Board, that elicited appreciation from the audience at a Monday news conference held at the current MATC South Campus at Village on the Park.
"In Madison, we all need to be bolder — to take more risks, to do better for our young families of color, especially those who live in south Madison. This is an example of that kind of action," said Howard, a long-time south side resident.
"This is a chance for us to get it right for children and families of color," he said.
Ruben L. Anthony Jr., president of the Urban League of Greater Madison, a South Madison institution serving disadvantaged communities, said he heard repeated calls for an expanded campus in the area during the planning process.
"The Urban League stands ready to bolster our collaboration with Madison College, and make this campus an innovative model for higher education that fosters lifelong learning and success for everyone in our community — especially those least likely to have access to such opportunity," Anthony said in a statement.
Madison Schools Superintendent Jennifer Cheatham said the schools looked forward to partnering with MATC "with the goal of increasing access to science, technology, engineering and math especially for female students and students of color, who are currently underrepresented."
As currently envisioned, students in the program would attend 9th and 10th grades at their home high school and 11th and 12th grades at Madison College, Cheatham said. They would learn in classes taught by college and school district instructors, have access to college-level lab facilities and acquire a high school diploma and transferrable college credits, she said.
These college credits would be available at no cost to students and their families, and make them more competitive in applying to other colleges and better prepared to succeed there, Cheatham said.
"Students who participate in dual credit programs do better in going to and staying at college, achieving higher GPAs and college graduation rates," she said.
Plans are to start with 25 students attending classes at MATC's Truax Campus in fall, 2018. The program would launch at the new South Madison facility in 2019, with a goal of eventually involving 200 students.
School, college and community representatives will work on criteria for inclusion in the program.
MATC's service area extends far beyond Madison, however, to include 12 counties.
Yet the quality of services in south Madison affects the technical college district as a whole, said MATC Board of Trustees chair Joe Hassler, who lives in Reedsburg, some 60 miles away.
"A strong and prosperous south Madison is good for all of us in South Central Wisconsin," Hassler said.
Zach Brandon, president of the Greater Madison Chamber of Commerce, said the expanded campus could be a laboratory for programs to align the supply of workers with demand in the new economy.
College officials will work with school district neighboring Madison about including their students as well, and about the possibilities of dual credit programs in other counties, Daniels said.
MATC will buy the 4.5-acre site from developer Smith Gilbane, which purchased it, along with the state's Hill Farms site it is now redeveloping, in 2015.
The state appraised the ETF site at $2.8 million, the price MATC will pay for it, Mark Thomas, vice president of administrative services, said in an interview. The rules of the Wisconsin Technical College System don't allow member colleges to pay more than appraised value for any property, he said.
College officials are expected to decide within the next few days whether it will be more cost effective to remodel or demolish and rebuild on the site, Thomas said.
An item to authorize the selected process is expected to be on the trustees' Sept. 6 agenda.
The cost of developing 45,000 square feet of useable space under either option is estimated at $15.8 million, Thomas said. That would accommodate some 3,000 students.
With the $11.3 million in pledged donations, plus $1.5 million from MATC – the maximum it can put towards the product under WTCS rules – some $3 million for the first phase of development still needs to be raised privately, he said.
Plans are to ultimately expand the campus to 75,000 square feet, to accommodate up to 5,500 students, three to five years later, Thomas said.
Share your opinion on this topic by sending a letter to the editor to tctvoice@madison.com. Include your full name, hometown and phone number. Your name and town will be published. The phone number is for verification purposes only. Please keep your letter to 250 words or less.