A growing appreciation for the value of learning how to code has led to skyrocketing enrollments in computer science courses at UW-Madison that are stretching resources, says department chairman Mark Hill.
Classes once populated by students majoring in computer science or closely related fields like engineering or physics now include those preparing to do research in any number of science fields or prepare for careers in business, journalism and many other areas, Hill said.
"There has been a big shift in people correctly realizing that computer science is broadly important," Hill said. Whatever the field, basic understanding of coding and computer operations is a big plus, he said.
The outlook of today's students has shifted, faculty associate Debra Deppeler said.
"Students aren't taking computer science for a payoff on a killer app," Deppeler said. "The trend now is the biologist, the artist, the physicist who know they are going to use programming in the course of their career. "
That trend, on top of a strong job market in computer fields, has fueled a 94 percent increase in enrollment, from 2,400 in 2010 to 4,650 this year, up 19 percent from just last year.
---
Computer Science Enrollment:
| | | | | |
| --- | --- | --- | --- | --- |
|   | 2006 | 2010 | 2014 | 2015 |
| Enrollment | 1550 | 2400 | 3900 | 4650 |
| Faculty | 32 | 36 | 32 | 32 |
| Faculty associates | 5 | 4 | 5 | 7 |
| Teaching assistants | 52 | 51 | 57 | 59 |
---
Meeting the demand was a challenge; the department had a wait list of more than 900 students as the fall semester began, prompting department officials to create several more sections of basic courses, including some designed for students not majoring in computer science.
"We've got 1,000 students learning first semester programming," said instructor Laura LeGault, who teaches students who are not computer science majors. Her classes teach Python, a computer language used in scientific research and also web application development.
LeGault said some students who are now required to take computer coding for engineering or other fields walk in intimidated at the idea of telling a computer what to do.
"That's an interesting obstacle to work with," she said.
Aaron Weber said he feels like he has a steep learning curve ahead of him.
"At age 35 as a returning student, there's some illiteracy for me as I approach this new requirement for engineering to be more versed in programming languages," Weber said after class this week. "I don't know that I have yet developed an affection for coding."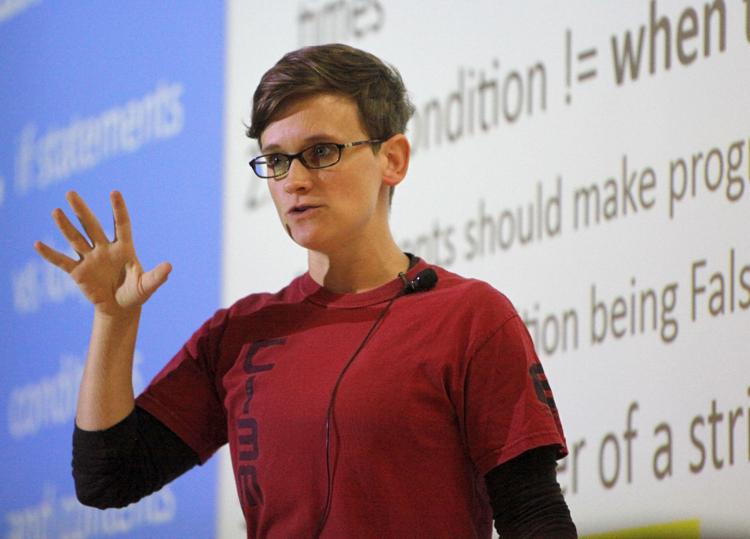 Sophomore Morgan Kemp said that in her field of study, biomedical engineering, "coding is pretty much a requirement for any job or internship." And in biomechanics — her particular area of interest — coding is very useful in developing automation to illustrate systems.
Senior Ian Canovi, a psychology major, said that today coding is a must for research.
"Programming is a pretty important skill if you're going into research, because you have to code the program you're using for the experiment," Canovi said. "And it's interesting to me, so I'm doing this instead of calculus," he said, adding that the class fills his major requirement for quantitative reasoning. "I enjoy it a lot."
Computer Sciences chairman Hill says that part of the department's vision is to try to spread computational thinking to a broader audience.
"I think any educated person in the 21st century should probably have done a little coding — even simple things like a complicated spreadsheet — and get an appreciation of how it is done so they can talk with people who may be doing more coding. It is not magic; it's a recipe, a set of numeric instructions," said Hill.
"We're trying to educate people to be workers and citizens for 30, 40, 50 years," he said.
UW-Madison is not the only university seeing a surge in demand for computer science classes. The growth in demand is stretching resources at such institutions as Harvard, Stanford and University of Michigan, according to news reports. And bursting classes at University of California, Berkeley, have the student newspaper demanding more resources for the computer science department.
Marshalling additional resources was challenging at UW-Madison this year, when an $86 million cut in state funding has forced belt-tightening all over campus. In the College of Letters and Science, which houses the Department of Computer Sciences, that means a "near freeze" in hiring this academic year, said Dean Karl Scholz.
The number of faculty in the department, 32, is the same this year as last, but two faculty associates were added, bringing the number to seven. The number of teaching assistants rose slightly, from 57 to 59.
Still, the size of introductory classes has grown to several hundred students and graduate classes can have enrollments of up to 75.
"That's very high," Hill said.
The department last year physically rearranged and changed scheduling of its labs — where students get the chance to put concepts to work under the guidance of a teaching assistant or instructor — to increase capacity by 50 percent, he said. But it won't be possible to pull of that kind of efficiency in providing labs again.
Access to labs of appropriate size with necessary staff is especially important to students who are struggling with confidence about coding, and that most often means women and other underrepresented students in computer science, Hill said.
He hopes to eventually add more faculty, but the prospect for additional public funding in the future is uncertain.
Computer science has seen booms and busts in enrollment in the past, notes faculty associate Deppeler.
"Fifteen years ago, everyone wanted to be a computer science student because of the dot-com bubble. They wanted to make a web page and get rich. When dot-com went bust, enrollment took a precipitous drop," said Deppeler, who got a master's degree at UW in 2000.
The understanding and expectations of computer science have matured a bit, she said.
"I hope this means the demand will be sustained and this is not another bubble."