As Ben Shapiro delivered a speech called "Dismantling Safe Spaces: Facts Don't Care About Your Feelings" to an overflow crowd of 450 at University of Wisconsin-Madison in November, a group of about 20 protesters stood up and began to chant "Safety! Safety!"
They were met by shouts of "Free speech matters!" from many in the audience.
Shapiro, a conservative political commentator, used the interruption to write the word "MORONS" on the blackboard of the lecture hall in the Social Sciences Building.
Protesters lined up in front of the stage, their shouts about feeling at risk on campus drowned out by retorts from the audience. After some 10 minutes of chaos, the protesters filed out of the room, reportedly after being threatened with arrest by UW Police officers.
"Na na na na! Na na na na! Hey, hey, hey! Goodbye!" Shapiro's fans taunted.
"F*** white supremacy!" a protester yelled as a parting shot.
Shapiro, from the stage, flipped off the protesters with both hands.
The whole scene was captured on video, viewable on the web site of Young Americas Foundation, the national conservative organization that helped bankroll Shapiro's appearance.
The confrontation had a lot in common with others that have taken place at college campuses across the country over the past couple of years.
Students who feel marginalized on campus — by race, gender or sexual orientation — and their allies are engaged in a battle over "safe spaces" with classmates who insist they, and the speakers they invite to campus, can say what they like, no matter who finds it offensive.
It's a culture war for the 21st century that some say threatens America's bedrock value of freedom of speech.
There have been skirmishes over free speech in classrooms, dorms, even the stands at Camp Randall Stadium. But exchanges have been most intense and most public around guest speaker lecterns.
Milo Yiannopoulos, provocateur and former editor at Breitbart News Network, ridiculed a transgender student by name while speaking in December at UW-Milwaukee. His scheduled appearance at University of California, Berkeley, in February touched off a riot that forced its cancellation.
And last month, protesters at Middlebury College in Vermont forced a talk by controversial social scientist Charles Murray to be moved from a performance hall to a private room, where it was streamed to those at the original venue. After the talk, protesters attacked a professor, who was injured in the melee. 
Opponents of speakers like Shapiro, Yiannopoulos and Murray argue that bringing them to campus amounts to attacking students of color.
"Safe spaces for marginalized groups are really important," said Ricardo Cortez de la Cruz II, a UW-Madison junior and member of the Black Liberation Action Coalition.  People who ridicule the idea of safe spaces "don't know what it feels like to be oppressed or deal with microaggressions day to day."
UW-Madison professor emeritus Donald Downs, a free speech authority, countered that allowing groups to silence speakers is dangerous to freedom of expression.
"Here comes a speaker who students say violates safe space by being on campus," Downs said. "Boy, that's the end of free speech, because you have completely conflated speech and action."
The right to freedom of speech is enshrined in the First Amendment to the U.S. Constitution: "Congress shall make no law…abridging the freedom of speech."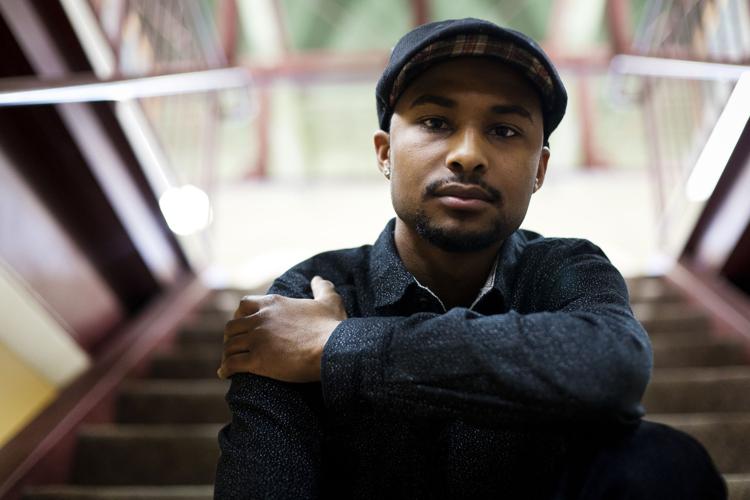 What that means in practice has evolved in a body of case law, developed in court rulings.
Since the 1940s, courts have defined that freedom in terms of broad categories of protected and unprotected speech, said UW-Madison professor Howard Schweber.
Unprotected speech, which the government can silence, includes blackmail, threats, false advertising, conspiracy, libel, treason and "fighting words," Schweber said.
The doctrine comes from a 1942 U.S. Supreme Court decision in Chaplinsky v. New Hampshire, which described unprotected speech as words "which, by their very utterance, inflict injury or tend to incite an immediate breach of the peace," Schweber quoted in an email.
Speech that is objectively threatening may be banned, but the mere subjective feeling of being threatened by someone's speech is not enough to justify such a restriction, said Schweber, a liberal-leaning professor of political science and First Amendment scholar.
That's not to say that a symbolic threat cannot be objectively threatening, he said. For example, the Supreme Court has declared that cross burning is a threat that may be banned.
Speech condemning another's speech — a protest — is protected, Schweber said.
Champions of free speech in America have traditionally emerged from the political left, rather than right, Schweber said.
"It is only in the modern era that we have the spectacle of conservatives bridling against the perceived restrictions of political correctness and institutions such as universities attempting to limit the expression of right-wing sentiments," he said.
De la Cruz is a poet and rapper and part of UW-Madison's First Wave, a hip-hop learning community. He said he dreams of mounting a debate with campus conservatives in the spirit of James Baldwin's famous 1965 debate at Cambridge University with William F. Buckley: "Is the American Dream at the expense of the American Negro?"
"I think that would be powerful and impactful. Regardless of whether or not you agree, you learn from hearing other people's perspectives. You don't grow without doing that," he said.
De la Cruz was among those who disrupted Shapiro's talk in November, an action he called necessary.
"He was persuading a room full of people to dismantle safe spaces. I don't trust that the people in that room will understand what he's saying. What I mean by that is they may feel empowered by his speech to hang nooses from the balcony of a frat house, call black people names on the street or make fun of LGBT members," he said.
Offensive speech, then, should be allowed unless it is threatening someone else's feelings or falls into racism or fighting words, he said.
"I think that's when it comes into hate speech," de la Cruz said. "As a rapper, of course, I wouldn't like my speech to be limited just because I say something offensive."
Provocative language in rap may be hyperbole, "a bit of truth exaggerated to make it more creative — that's when 'offense' is cool," he said.
If his rap touching on the historic oppression of black people offends white listeners, de la Cruz' said the question would be, "Not are you offended, but are you triggered to the point where you think of what you did to us?"
UW-Madison student Rose Klein believes speech that ridicules the concept of systemic discrimination creates a climate encouraging not only hate speech, but physical violence as well.
Klein, who is transgender, was an organizer of the protest against Shapiro and helped lead the chants that briefly silenced him.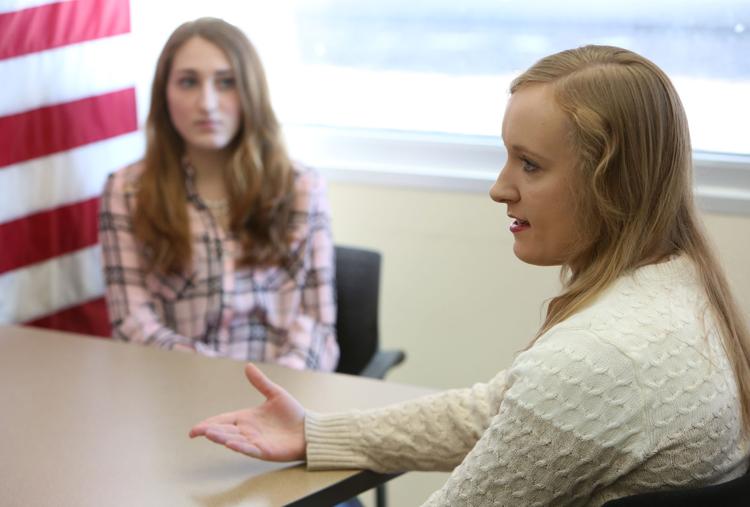 "I entered that space willingly and knew there was a chance I might actually be physically beaten, but I was taking that risk," Klein said. Protesters were outnumbered and she speculated they may have been protected from violence only by the presence of police.
Klein argued the university should take a proactive, rather than reactive, strategy against hate speech and violence. That means not tolerating speech like Shapiro's.
"We didn't think the university should have let Ben Shapiro on campus in the first place. It was completely not in their interests. That was part of the reason for our protest," Klein said.
"Hosting Ben Shapiro in the fall was our way of establishing ourselves as a conservative group on campus," Bell said. "We knew he could combat lots of liberal arguments in a way that reflects our chapter's values and beliefs. He was definitely the right choice."
Bell said participation in YAF has increased since Shapiro's speech. The club paid his fee of "around $15,000" using a $4,000 grant from student fees through Associated Students of Madison and a grant from the national YAF office, she said. Shapiro also gave the club a discount.
UW-Madison police waived their usual fee after it became clear in the days before the speech that security would be needed, Bell said. Protesters posted on social media that YAF was "ended" and the event cancelled, she said.
UW-Madison administrators told her they had received complaints that students would feel victimized by Shapiro's likely speech, Bell said. She told them that Shapiro would talk about the ideology of safe spaces and trigger warnings and microaggressions.
Bell said protesters violated campus behavior guidelines by blocking the audience's view of Shapiro and temporarily drowning him out. Nevertheless, she called the talk a big success. 
"It was inspirational to conservative students," she said.
Student Michelle Walker, treasurer of the YAF chapter, said she doesn't understand the protesters' complaints. 
"I don't know how his words make them feel unsafe. They are just words," Walker said. "All he does is state his opinion and back it up with facts."
Shapiro has never been violent in his campus appearances, she said.
"I am totally OK with people protesting the event. The only time there's an issue is when they are disrupting it. We allow them their free speech, but they're impeding Shapiro's right to free speech," Walker said.
His speech was right on target, she said.
"Every day I hear more about safe spaces and microaggressions on college campuses. Things like safe spaces violate free speech because you're not allowed to say whatever you want," she said.
"You should be able to have safe space within your home, but a public university should not define a space where you can't say things because it's publicly funded."
It is not clear whether such acts as mandating sensitivity training, disinviting speakers or requiring trigger warnings violate constitutional guarantees of free expression, said Downs, a conservative First Amendment scholar.
Downs helped overturn a campus speech code implemented by UW in the 1990s, but this latest round of calls to limit free speech is being generated by students to a greater degree, he said.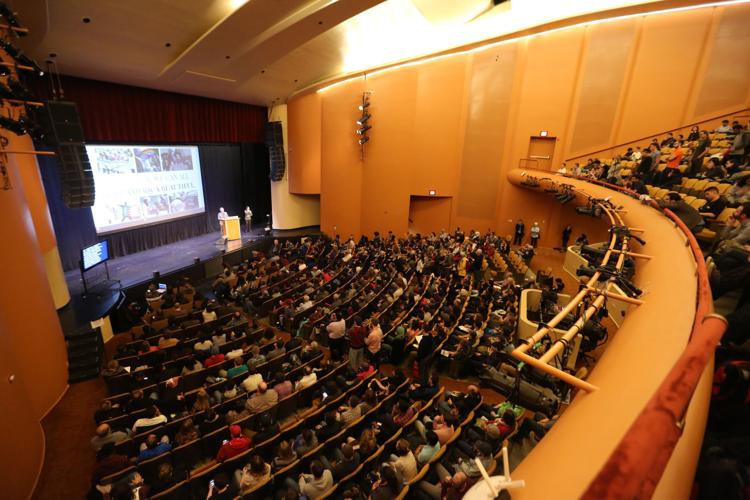 "It creates a kind of chilling effect on campus, he said.  "I'm being told all over campus, students are just not saying things that they think will rock the boat. They're afraid to speak out because the goalposts keep changing, because they're afraid they're going to get ostracized on social media, because of all the browbeating going on."
Downs said he thinks UW-Madison is doing a good job of moving toward the delicate balance of free speech and an environment conducive to learning.
"Universities have a duty to have students feel safe from physical harm. But safety from ideas is an entirely different matter," Downs said. "Our ideas should always be open to challenge. Physical safety is important. But no one should feel 'intellectually safe.'"
Students also have a right to criticize, even protest, offensive speech as a protected right of expression, Downs said, but not to silence speakers. That violates the speaker's right to free expression, as well those of the sponsoring group and the audience.
What's more, such obstructive behavior violates university norms, he said.
"We have a distinctive role in society and that is to pursue the truth," Downs said. "That's why we get the privileges and rights we have in society without outside intervention."
Conservatives may have been the most vocal champions of free speech in recent years, but the recent violence at Middlebury College has been a turning point, Downs said.
"That was a mob action purely because of Murray's ideas," he said. "A lot of people are alarmed: conservative, liberals, moderates."
Indeed, there has been much soul-searching since the March 2 incident, particularly in the higher education press.
One college instructor wrote that it is precisely because academics give credence to the concepts of safe spaces and microaggressions that they should be open to rigorous debate.
And Jose B. Gonzalez, a professor of English, told Inside Higher Education that college leaders should hesitate before criticizing the students at Middlebury who interrupted Murray. Their actions were more than a criticism of that speaker, he said.
"They arise from a higher ed system that negates the existence of suppressed views," he said. "I am sure college presidents don't want to hear that their institutions are broken in some form, but they need to reflect on what made students take on this activism."
The resolution calls for a free and open exchange of ideas at UW System colleges and universities, and says institutions must not act to inhibit debate, even if topics or arguments are "unwelcome, disagreeable, or even deeply offensive."
At UW-Madison, officials posted guidelines online — referring to administrative rules governing the UW System — after receiving requests for guidance following Shapiro's appearance.
"Protests are a part of a vibrant campus community; we facilitate them to ensure they do not jeopardize free speech, teaching, research or safety," spokeswoman Meredith McGlone wrote in an email.
"Successful facilitation safely provides for the expression of First Amendment rights while at the same time not infringing any other individual's First Amendment rights."
While voluntary compliance is the goal, the university states its intention to employ a range of measures, from discipline to arrest, in response to situations that disrupt the university's mission.
The university does not have guidelines on who may speak on campus, McGlone said, but policies on facilities use prioritize activities that promote teaching, research and public service. Outside speakers must be invited or sponsored by a campus department or organization.
"We do plan to remind student organizations in the fall to reach out in advance regarding events that may have security needs so we can work with them to ensure a safe and successful event," McGlone said.
In the current political climate, as university officials develop programs to cultivate a welcoming climate for all students, some speakers, like Shapiro, are likely to provoke a backlash.
But free expression can thrive in an era of expanding inclusivity, said Lori Berquam, vice provost and dean of students.
"We believe that inclusivity and free expression are not mutually exclusive — in fact, we think they depend on one another," Berquam said in a statement. "But we also recognize that students may not arrive on campus fully equipped with the skills to navigate difficult conversations respectfully and compassionately. Our approach is to ensure that our policies on speech apply equally to all viewpoints, as the Constitution requires, and to engage our students through programs like Our Wisconsin so they can learn how to live and work effectively with Badgers of all backgrounds."
Our Wisconsin is a cultural diversity training program introduced this academic year.
The Wisconsin Union's popular Distinguished Lecture Series has seen its share of controversial speakers over the years.
Free tickets to hear conservative activist Phyllis Schlafly had to be picked up in advance and were limited to one per person in 1993 in the hopes of defusing protests, according to news reports.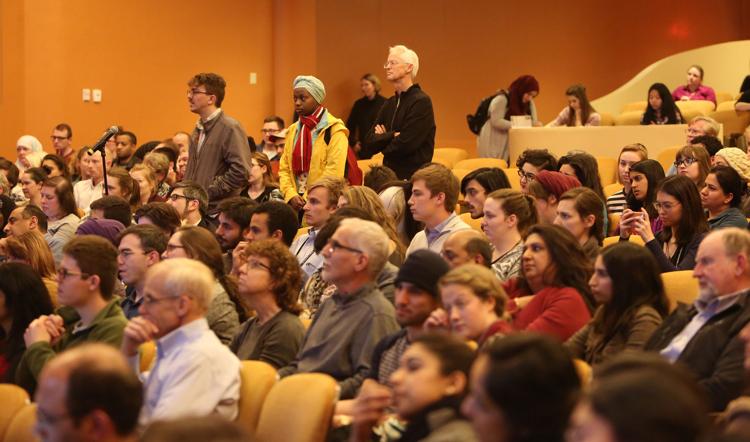 Campus LGBT groups staged silent protests to greet an appearance by religious right leader Ralph Reed in 1998.
But under the current leadership of William Rosenthal, director of a student committee that selects the speakers, it is excellence, not controversy, that determines who takes the stage.
"We never select a speaker based on political ideology," said Rosenthal. "We want to select topics that are important for people to be more informed about and on which we can find educated speakers to broaden people's ideas."
Expertise in their field is the first criteria, Rosenthal said. After that is a desire to present a variety of topics, so the series is not drawing the same crowd over and over again, he said.
Student Deshawn McKinney, director of the Wisconsin Union Directorate, praised Rosenthal for bringing in speakers to address topics outside the social sciences, a concentration of the past.
"The folks brought in this year appeal to different communities," he said. "We want to be the living room for everyone on campus, a place to come in and engage in conversation."
But it's not about avoiding controversy, Rosenthal said.
"We just try to make sure our speakers are high quality. And a lot of controversial issues — a lot of people who talk about them — don't necessarily add anything to the discussion," he said.
On March 29, the lecture series hosted Reza Aslan, an author, religious scholar and host of the CNN documentary series "Believer." Aslan ran into controversy from Indian-American communities in some cities after an episode of that program showed him eating human brains with a Hindu sect.
But there was little sign of opposition when Aslan spoke to a full house at the Wisconsin Union Theater about the controversial issue of Islamophobia in America.
Aslan traced attitudes toward Muslims and anti-Muslim activities to statements made by high-ranking officials in President Donald Trump's administration. That includes pushing the idea that Islam is not a religion, but a political force.
"If Islam is not a religion, it doesn't enjoy religious protection under the Constitution. This is a deliberate attempt to denationalize Muslim-Americans," Aslan said. "This is no longer just on the fringes; it is at the highest levels of our government."
Maybe it was owing to the overall liberal bent of the UW-Madison and Madison communities, but only a couple of those taking the mic for a question-and-answer session after his talk probed Aslan about Islamic violence they said was encouraged in the Quran.
Aslan deftly disarmed their queries, citing passages that call for violence in both the Quran and the Bible.
"That's the thing about scriptures," he said, "there's something for everyone."
There were no insults hurled, no rude gestures made.
The tone of the speech and discussion was summed up best perhaps by the member of the audience who rose at its close to say: "I want to thank you for how sophisticatedly reasonable you are."
The reference to events at Middlebury College has been edited.