Dane County Circuit Judge Stephen Ehlke got choked up.
During a sentencing hearing for Alec Cook — a rare court event live-streamed by local TV stations — Ehlke was trying to reassure Victim 7 that she had done nothing wrong by trusting that Alec Cook wouldn't sexually assault her as they hung out in the bedroom of his high-rise, high-rent apartment near the University of Wisconsin-Madison campus.
The sexual encounter soon turned ugly, aggressive and painful and her pleas for Cook to stop were ignored, the student told police. The attack left her with feelings of shame and worthlessness. "I had been selected, groomed, and violated by someone whom I should have been able to see through," she wrote to Ehlke as he prepared to sentence Cook to what could have been as long as 19 years, 6 months in prison.
"I want her to know that I have read her statement, and that she has nothing to feel shame about," Ehlke said at the June 21 sentencing. "She did nothing wrong."
Ehlke told a packed courtroom that instead of focusing on sentences for similar cases from other jurisdictions or the effect his decision would have on his own reputation, "I am far more worried about the effect on the victims and properly apply Wisconsin law to this defendant in this case."
Citing Cook's lack of a prior criminal record, a plea that saved victims the ordeal of a trial and a defense expert's testimony that he was at low risk of reoffending, Ehlke sentenced Cook to three years in prison for three counts of third-degree sexual assault to which he had pled guilty.
Ehlke addressed the courtroom gallery, where victims and their families were seated alongside advocates and reporters.
"Some may be disappointed if a lengthy or maximum sentence is not imposed. I want them to know that I don't for a minute question their beliefs or feelings," he said. "The fact of the matter, however, is that it is uncommon to go to prison when a defendant has pled guilty and has no prior criminal record. The fact that I'm about to do that makes this an uncommon case."
Regardless, social media outrage came quickly, decrying the sentence as too lenient. State and local lawmakers, advocates for sexual assault survivors, and UW-Madison parents and alumni joined in.
A paucity of records on sentencing in Wisconsin makes it difficult to readily compare similar sex assault cases, but a look at what is available suggests the sentence was harsher than in other, less publicized, cases.
The sensational case — which began in October 2016 with charges brought on the accusations of the first of what would eventually become 11 female student accusers — was picked up by news outlets across the country. The case tapped into the zeitgeist, as college sex assault victims, emboldened by an Obama administration push for federally funded institutions to take allegations seriously, demanded justice from campus officials and the criminal justice system.
One month earlier, Stanford University swimmer Brock Turner was released after serving three months in jail for sexually assaulting an unconscious woman outside a fraternity party. Turner's case provided survivor advocates a prime example of the privilege often afforded wealthy white men who abuse women.
By June of this year, when Cook's sentence was handed down, the "MeToo" movement had arisen, confronting privileged men who used their power to sexually harass women. The California judge who sentenced Turner was removed from the bench in a recall election.
Some Twitter reaction to Cook's sentence called it justice failed. Cook was too dangerous to ever be allowed to walk the streets, others said. "I want him to die in prison," tweeted one woman.
Others argued that Cook's privilege and race played a role. "White male with family money … is anyone surprised?" read one tweet.
Wisconsin Attorney General Brad Schimel, whose office prosecuted the case, expressed his "disappointment" with the sentence.
Schimel, under fire from Democratic challenger Josh Kaul for lack of progress in testing a backlog of 6,000 rape kits, went on:  "At DOJ, we hope that the fact that Alec Cook stands convicted as a felony sex offender and is on his way to prison will give survivors faith that there are people in the criminal justice system who stand ready to fight for justice for them."
Six female lawmakers wrote to Ehlke to register their concern about the impact that Cook's privilege had on a sentence they called "a slap on the wrist."  Signed by four state representatives and two Dane County Board supervisors, the letter decried a system where perpetrators of sexual violence are not held accountable and "victims never receive the justice they deserve."
State Sen. Lena Taylor, D-Milwaukee, spoke out against the sentence hours after it was handed down. "Judge Ehlke let a serial rapist off the hook, plain and simple," Taylor said in a news release. "The question we have to ask is: Why?"
She suggested Ehlke read a report on how the race of defendants affects sentencing decisions.
A Brookfield father, whose daughter is enrolled in the UW System, told Ehlke that he was out of touch and a threat to society. "The common consensus around here is that you don't understand justice," he wrote in a letter filed with the court.
And a UW alumnus and law student suggested, too, that Ehlke was out of touch with "a watershed moment" of holding perpetrators responsible for sexual assault and a "societal reckoning" about the unequal treatment of people of color under the law.
"Can you honestly and sincerely tell me that an African-American, Chicano, or Pakistani immigrant would receive the same sentencing if convicted of these crimes?" he asked.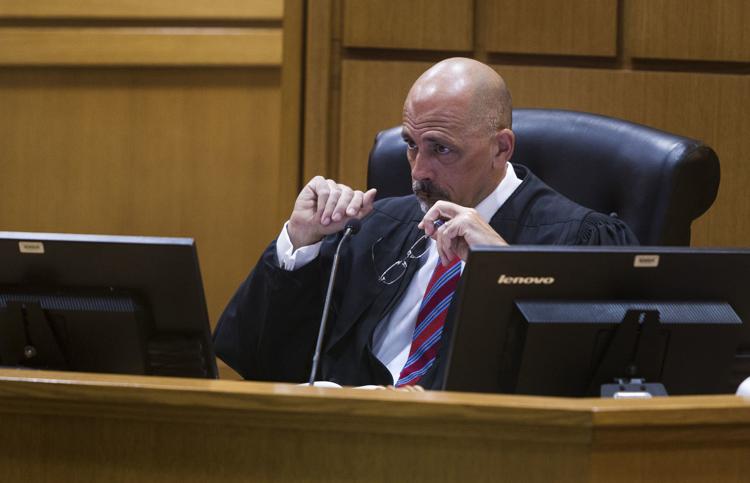 It's hard to know how Cook's sentence compares to similar cases in the state because there is no official database of sentences and Wisconsin judges operate under voluntary guidelines.
The state is among the nation's least regulated on sentencing — along with Ohio — among 21 states that have any guidelines, according to a study by the National Center of State Courts.
Mandatory sentencing guidelines, once monitored by the Wisconsin Sentencing Commission, were eliminated in 2007-2009 budget cycle. Courts are still required to consider the guidelines, but do not need to complete or submit guideline worksheets or provide a written reason for departing from them.
A look at some recent sexual assault cases involving former UW-Madison students, however, shows Cook got a tougher sentence than some others. 
Alec Shiva, from Verona, was sentenced in September to 18 months in prison on a charge of strangulation and suffocation related to the sexual assault of a female friend in his dorm room. Under a plea deal, Dane County Circuit Judge William Hanrahan held open the most serious charge, second-degree sexual assault, for possible dismissal if Shiva commits no new crimes during his prison time and three years of extended supervision after he's released.
Both the prosecutor and the defense attorney in the case asked Hanrahan for probation, with the prosecutor recommending nine months in jail as a condition of probation. But Hanrahan said at sentencing the nature of the crimes required a prison sentence.
"Campus sexual assault is not a junior crime," Hanrahan said. "It is a very serious, big-league crime for which people will be held accountable."
Another former UW-Madison student got probation for a dormitory sex assault, and his case was subsequently expunged from court records.
Douglas Gill, from affluent Winnetka, Illinois, was sentenced to three years probation in April 2015 on a false imprisonment conviction in connection with the sexual assault of a woman who lived on his residence hall floor, the Wisconsin State Journal reported.
Under a plea agreement accepted by Dane County Circuit Judge John Markson, a third-degree sexual assault charge was amended to two fourth-degree sexual assault counts to which Gill pled no contest.  That agreement gave Gill the option of asking that the false imprisonment conviction, the only felony of his three convictions, be expunged if he successfully completed probation. 
Defense lawyer Stephen Hurley told Markson that a record of the conviction would have made it harder for Gill to complete his education, if he found another school that will accept him.
The victim's mother lamented the loss of her daughter's trusting, carefree nature, and asked Markson for a heavy sentence. But Markson said Gill has taken the situation very seriously, and "from day one has shown remorse and sincere regret for his actions, and concern for the young woman."
Gill's case has been removed from CCAP, the state's online automated court records system.
While no comprehensive database of sentencing by state judges is maintained, some studies offer some insight into Ehlke's sentencing history.
A 2015 investigation of sentencing by state judges by USA Today Network-Wisconsin rated Ehlke as "moderately harsh" on felony convictions like drug offenses, repeat drunken driving, substantial battery and armed robbery in 2005-2014. Sex offenses were not included in the study of 12 felonies.
In that study, Ehlke on average sentenced offenders to 18 percent more time than other Dane County judges and 2 percent more time than other judges throughout the state. Overall, sentences handed down by Dane County judges were 15 percent shorter than the state average.
Many cases in Dane County involving convictions of a Class G felony — like third-degree sexual assault — resulted in no prison time imposed, according to research by the national non-profit Measures for Justice.
Less than one-third of Class G felony convictions involving defendants with no prior violent convictions resulted in a prison sentence in Dane County in 2012-2013. That compares to 49 percent imprisonment on such charges statewide that year.
Ehlke also was rated highly by lawyers who appear before him in USA Today Network-Wisconsin's 2017 statewide survey on circuit court judges. He received a rating of 4.5 on a possible 5 on such characteristics as legal ability, impartiality, communication and temperament. That compares to an average statewide rating of 3.8. Of lawyers ranking Ehlke, 92 percent recommended retention, compared to a 71 percent recommendation rate statewide.
There is case law from the Wisconsin Supreme Court on factors that judges are supposed to consider in sentencing. But the case law does not provide much in the way of direction, said Michael O'Hear, a professor at Marquette University Law School.
"It's all very loosey-goosey — there is not any definite guidance," O'Hear said. There is not even an articulation of the primary purpose of sentencing, he said. Is it to protect the public from a dangerous offender? Or to punish?
"People need to ask themselves whether a defendant should get a longer sentence because the case attracted media attention — that doesn't necessarily go along with a worse crime," said O'Hear, who added he could not comment specifically on the Cook case because he did not follow it.
One factor to be considered is an offender's risk of reoffending, he said.
O'Hear said some judges use controversial, algorithm-based instruments to predict the likelihood of an offender reoffending. COMPAS — Correctional Offender Management Profiling for Alternative Sanctions — is a proprietary tool that has been targeted by claims that it is no better than random observers at predicting behavior and that it is biased against African-Americans.
The Wisconsin Supreme Court in 2017 ruled that COMPAS could be used to help determine sentences, but urged caution and skepticism in its use.
Critics who believe Cook got a light sentence point to his privilege as a white male. Cook's parents, who live in the affluent Minneapolis suburb of Edina, bailed him out of jail and hired two top defense attorneys to represent him.
Much attention on racial disparities in sentencing focuses on the harsher sentences given to defendants of color. Wisconsin and national research backs that up, even when factors like socio-economic status are controlled for, said O'Hear.
He said having money helps defendants in a variety of ways throughout the criminal justice process. Defendants who can't post bail and sit in jail as their cases move through the system are more likely to plead guilty quickly on less advantaged terms, he said.
Defendants who cannot afford to hire an attorney will be represented by the public defender's office or by a private attorney hired at the rate of $40 an hour.
"That is really low. It doesn't even cover overhead, "O'Hear said. "They are under a great deal of pressure to resolve cases very quickly."
Beyond attorneys, defendants with the means are able to hire private investigators to look into a case independently of the police, as well as expert witnesses who can be influential in some cases.
"I don't want to suggest that judges are saying, 'here's a privileged person and I want to give them a lesser sentence.' It's more subtle than that. Economic advantage translates into tactical advantages that result in a more favorable sentence at the end of the process," O'Hear said.
Madison defense attorney Payal Khandhar said she believes that all defendants should have those tactical advantages while navigating the criminal justice system.
"People with money don't get leniency, they get justice. Everybody else is getting something less than that," said Khandhar.
Given her frustration over the treatment of defendants of color, Khandhar, a former assistant public defender, said she was compelled to call out the state representatives and Dane County supervisors who chided Ehlke for a too-lenient sentence.
"That same type of emotional response by elected officials, ignorant of facts and research, is what leads us to live in the second worst county, in the worst state, in the worst nation for our racial disparities and mass incarceration of men and women of color," Khandhar wrote in a letter filed with the court.
A sentence that equals the harm done to victims, is not the way the criminal justice system works, nor should it, she said in an interview. That approach to justice would only exacerbate mass incarceration, she said.
"You are six women of privilege and power," she wrote to the lawmakers. "I beg of you, use your positions to draw attention to the racial disparities that are prevalent every single day within the Dane County criminal justice system."
In her public statement on Cook's sentence, Taylor referenced the 20-year prison sentence Ehlke in 2015 gave to Adore Thomas, a 16-year-old convicted at trial of three counts of first-degree sexual assault in an attack of a jogger on Madison's east side that included a severe beating of the victim.
Like Khandhar, Taylor said she believes the focus of policy makers should be on defendants of color and ensuring that they get fair treatment in the criminal justice system. And she wonders if judges in a predominantly white state like Wisconsin realize the scars that traumatic upbringing leave on defendants of color and its role in addiction and mental health issues.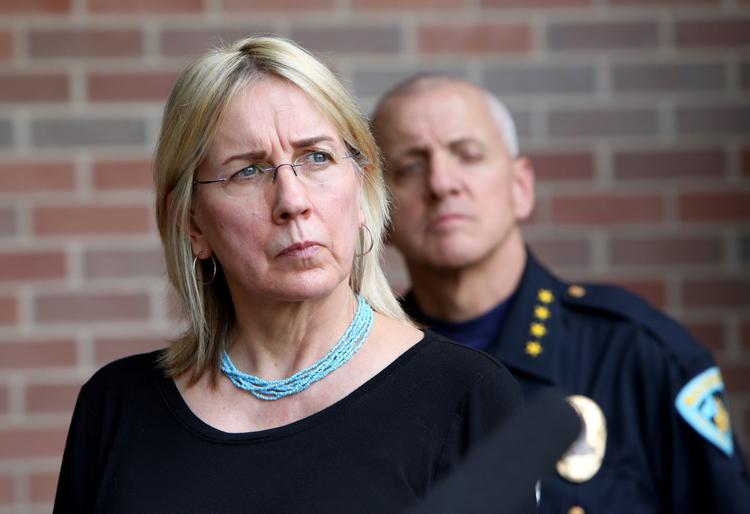 Ehlke declined a request to sit down with the lawmakers, but Subeck said they are working to set up meetings with other representatives of the criminal justice system to come up with avenues to pursue reform.
"If we are ever going to say sexual assault isn't okay, we have to be serious about it. We have to take women seriously," Subeck said.
Erin Thornley Parisi, executive director of the Madison Rape Crisis Center, also interpreted Cook's sentence as an indication that sexual assault is not taken as seriously as it should be.
"He created a lot of turmoil and lifelong damage to many women and their families and support networks and his sentence was not representative of his violations and the seriousness of the long-term consequences," Thornley Parisi said.
She said judges don't understand the traumatic impact of sexual assault, something that advocates for survivors have worked to bring to them. The Cook case demonstrates more work needs to be done, she said.
"I feel like Judge Ehlke looked to the past instead of the future in how we want to treat victims of sexual assault and the position we want to take as a society on this public health epidemic," Thornley Parisi said.
Defense attorney Hurley said criticism of Ehlke is misdirected, however. He thinks the case was "overcharged."
"This is not about thoughtful criticism of the judge. It's about a reaction to the expectation that was created by police and prosecutors when they precipitously brought so many charges against this guy and billed this guy, over and over, time and again, as the worst serial stalker, sexual assaulter we've ever had on campus," Hurley said. "And then the evidence didn't show it."
Prosecutors on the case changed several times, both before and after it was moved from the District Attorney's office to the state Attorney General's office.
Some 18 charges were dropped as part of the plea deal. Cook continued to deny the dismissed charges and Ehlke, citing that continuing dispute, did not formally have those charges "read in" while considering the sentence.
State public defender Kelli Thompson pointed to the difficulty of assessing the fairness of criminal sentences.
"Sentencing a person convicted of a crime is very complex and is highly dependent on factors which may vary widely depending on the individual case," Thompson said in a statement.  Factors like underlying crime, any prior criminal record, and the individual circumstances of both the defendant and victim vary from case to case, said Thompson, who added she was not involved in the Cook case. "They all play an instrumental role at sentencing that the sitting judge, as an informed and impartial party, is best able to evaluate and balance."
Are there changes in the criminal justice system that could foster more confidence by the public in the sentences that judges hand down?
O'Hear believes data on sentencing would be helpful. But he notes that judges disliked the sentencing guidelines for the paperwork involved and the interference in responding to the unique factors of each case.
He would like the state's appellate courts, which rarely take sentencing appeals, to start. "I  would like to see the appellate courts becoming a little more active in dealing with sentences, and requiring a more thorough and thoughtful analysis on the record," he said.
Khandhar would like to see the pay rate for private attorneys taking public defender cases raised so that they can devote more time to the cases. Thornley Parisi wants more education for judges on the impact of trauma on sexual assault survivors.
A day-long session on the impact of trauma on sexual assault victims and a six-session series on sex trafficking were offered as part of continuing education required for judges in 2016. Sessions on managing sexual assault trials, including sentencing, were offered this year. Those federally funded programs were offered through the state Office of Court Operations.
State funded programs included sessions on trauma-informed care and victim's rights at the 2017 Wisconsin Judicial Conference. Sentencing exercises are offered each year, according to information from the office of the Director of State Courts.