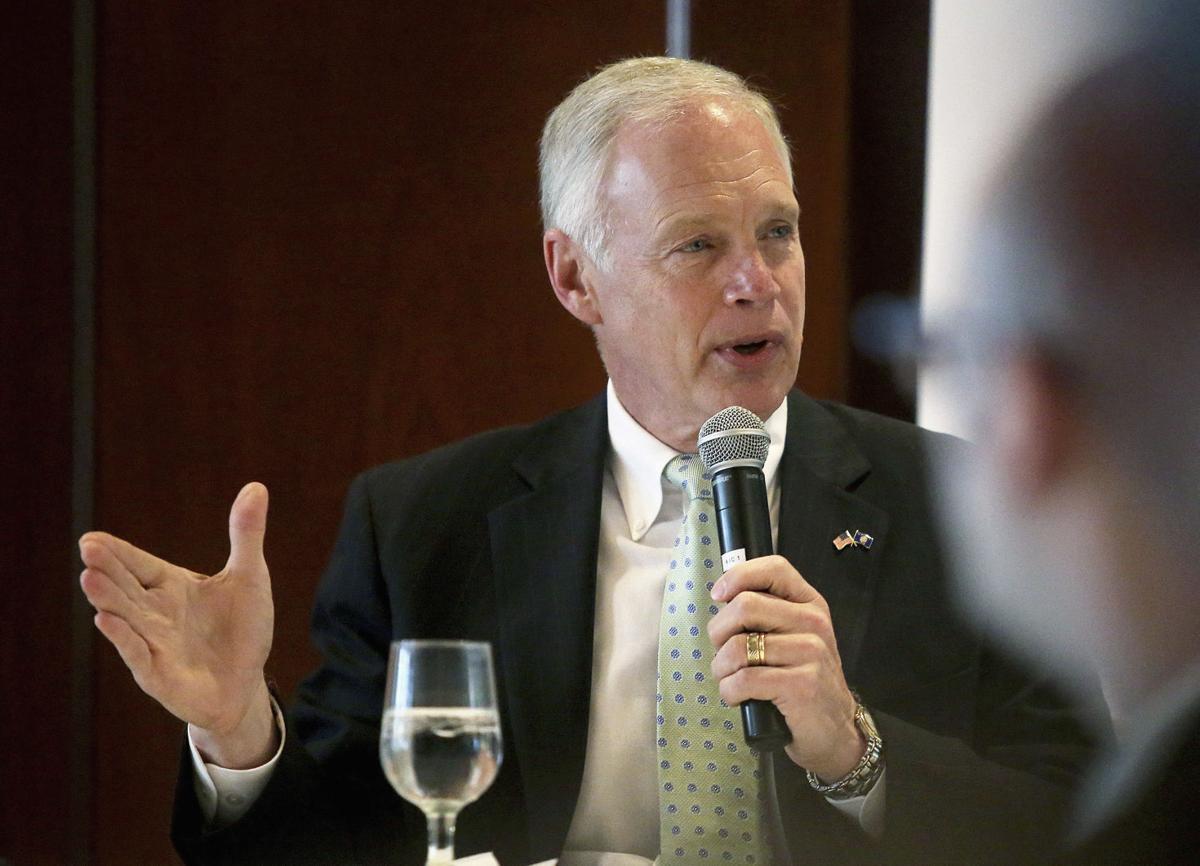 Sen. Ron Johnson's call to replace college classroom instructors with videos sounds like a corporate refrain that celebrates efficiency in education at the cost of effectiveness, said University of Wisconsin-Madison's Clif Conrad.
"I find that very troubling," Conrad said Monday.
The Republican senator from Wisconsin, who is locked in a tough re-election battle with former Sen. Russ Feingold, last week denounced the "higher education cartel" for raising prices and preventing reforms that would make college more affordable, like using the internet to access lessons by "one solid lecturer."
"If you want to teach the Civil War across the country, are you better off having, I don't know, tens of thousands of history teachers that kind of know the subject, or would you be better off popping in 14 hours of Ken Burns' Civil War tape and then have those teachers proctor based on that excellent video production already done?" Johnson asked at a luncheon forum hosted by WisPolitics.
"I've met Ken Burns and I very much appreciate his documentary on the Civil War," Conrad, a professor in the School of Education, said when asked to comment on Johnson's remarks. "At the same time, I think it's critically important that we view documentaries like his as supplementary material. We do not need to replace effectiveness in college and university classrooms with mere efficiencies," he said.
"We need to have faculty and students engage in spirited dialogue in which they cultivate higher-order thinking skills and learn to express themselves," added Conrad, who last month was named faculty director of UW-Madison's Wisconsin Center for the Advancement of Postsecondary Education.
Other commenters were not so measured in their remarks.
Randi Weingarten, president of the American Federation of Teachers, focused like Conrad on the absence of discourse in her criticism of Johnson's idea, but struck a different tone.
"Leave it to someone from a party led by a reality TV star to confuse videotape with the learning experience of a classroom," Weingarten said in a statement. "What Ron Johnson doesn't get is that education happens when teachers can listen to students and engage them to think for themselves — and that can include using Ken Burns' masterful work. But this is typical for a party with an education agenda as out-of-date as Johnson's Blockbuster Video card."
UW is a leader in competency-based learning, which gives students credit for knowledge gained on the job and employs distance education, Inside Higher Ed noted. But Johnson insisted such a creative approach "doesn't play very well to tenured professors in the higher education cartel."
"We know Ron Johnson graduated from college 40 years ago, but we assumed it was from a university here on planet Earth," quipped Scot Ross, executive director of One Wisconsin Now. "Not only does Ron Johnson oppose common sense measures like student loan refinancing that would immediately reduce costs for 515,000 hardworking Wisconsin borrowers, but he apparently thinks the solution to the nation's higher education student debt crisis is getting rid of diplomas and watching more television."
In March Johnson said students took more than four years to graduate for the fun of it.
"Loans are actually pretty easy to get and college is a lot of fun," Johnson said, noting he worked his way through the University of Minnesota and wanted to be done as soon as possible.
ThinkProgress said Johnson seems to want the kind of education usually ridiculed as ineffective.
"A common cultural trope of the incompetent teacher is one who plays videos for their students on a regular basis instead of lecturing and overseeing in-class activities and projects," Casey Quinlan wrote. "Yet that's exactly the kind of education one Republican senator would like to see college students receive."
Update: Early Tuesday morning, Burns tweeted his view on the dust-up:
Share your opinion on this topic by sending a letter to the editor to tctvoice@madison.com. Include your full name, hometown and phone number. Your name and town will be published. The phone number is for verification purposes only. Please keep your letter to 250 words or less.
Be the first to know
Get local news delivered to your inbox!