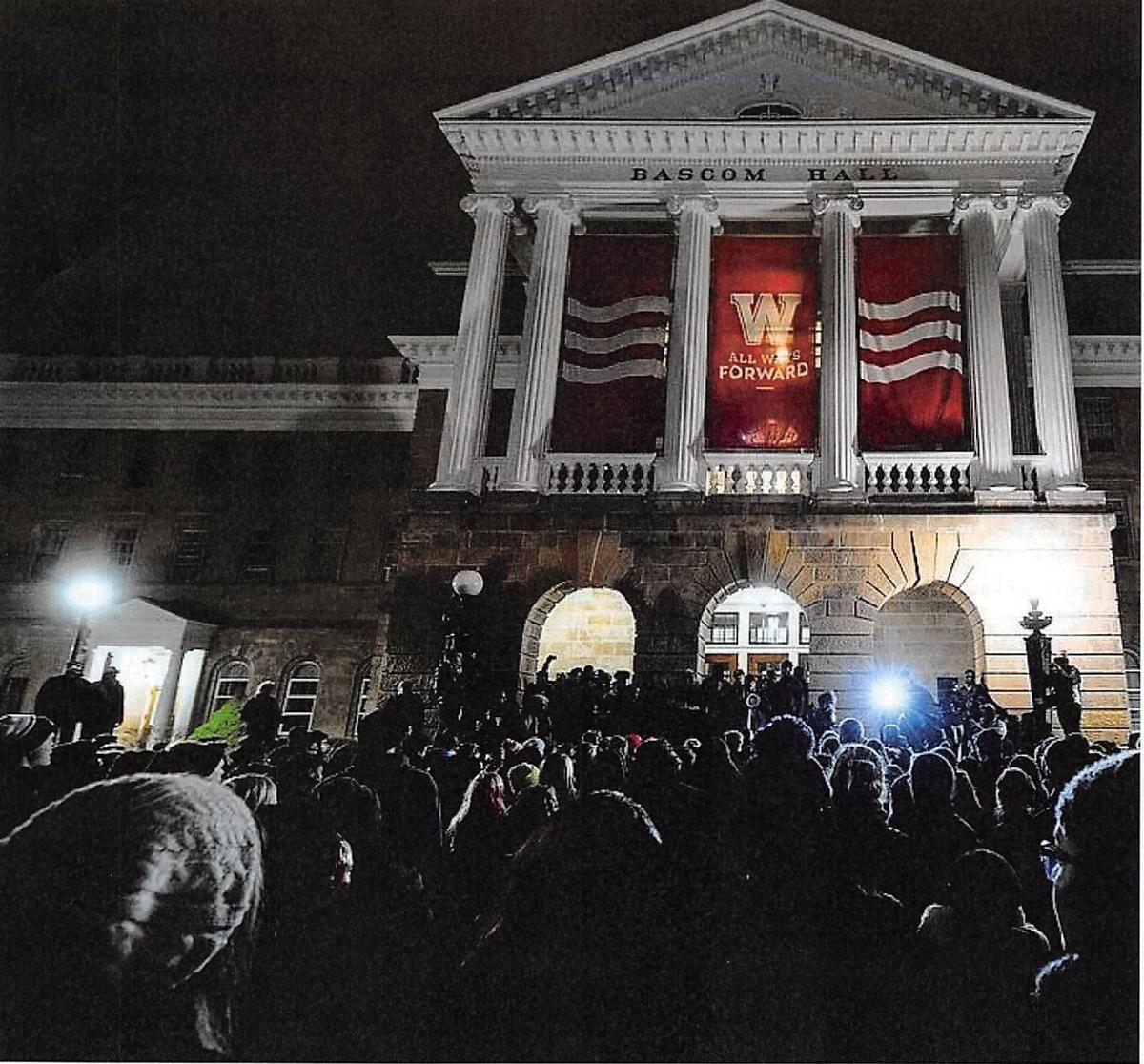 A carefully crafted email from University of Wisconsin-Madison Chancellor Rebecca Blank calling a recent campus demonstration against racism a powerful example of unity was criticized by some who feared she sought to squelch dissent, documents provided to the Capital Times reveal.
Other emails seemed to want Blank to silence speech from those with whom they disagree.
The Nov. 12 Black Out March "brought together hundred of Badgers of all races and ethnicities," read an email sent to students, staff and faculty with Blank's signature. "It was a powerful example of our community uniting to support those at [the University of Missouri], fighting to end racism and pressing for improvements in our own institutional efforts."
Also signing on to the message were provost Sarah Mangelsdorf, vice provost for diversity and climate Patrick Sims, dean of students Lori Berquam and Madison Laning, chair of the Associated Students of Madison.
The email went out on Nov. 13 only after careful consideration of the message by Blank, who was out of town, and the others who signed it, according to emails released in response to an open records request. Also participating in crafting the content of the university's response to the march were university communications staff members; Charles Hoslet, interim vice chancellor for university relations; and Everett Mitchell, director of community relations for the Office of University Relations.
University officials across the country are under scrutiny for their responses to protests supporting University of Missouri students who ousted two top administrators earlier this month while demanding remedies to racial discrimination on their own campuses. And UW officials were treading carefully as they devised their response to the march that drew some 600 students and supporters to Bascom Hill.
Hoslet wrote Blank to recommend a "communication strategy" that would include a statement "that recognizes and applauds" the march and speaks to administrators' commitment to race issues.
John Lucas, executive director of university communications, sent Blank a link to an article on the backlash directed at Purdue University president Mitch Daniels for his criticism of protests at Missouri and Yale University.
Daniels, a former Republican governor of Indiana, distanced his institution from those at which administrators capitulated to protesters' demands in a Nov. 11 email to that campus community. A protest at Purdue was mounted two days later and by Thursday Daniels had agreed to many of the protesters' demands.
Missouri is not the only school at which administrators found their jobs in jeopardy in the wake of race protests. An assistant vice president at Claremont McKenna College in California resigned under pressure after sending an email deemed to be racially insensitive. And at Occidental College in Los Angeles, administrators agreed to 13 of 14 demands of a group of students who occupied a campus building for a week. Officials there say they will fund a Black Studies program, increase faculty of color and hire a vice president for diversity, but they will not require the college president to resign.
At UW-Madison, Lucas told colleagues that the focus of the race protest shifted from events at Missouri to past incidents on the UW campus, including a 1988 "slave auction" at a fraternity house and a "lynched" Spiderman doll at a campus apartment house in 2011. Other events touched on at the march were the controversial demotion of vice chancellor Paul Barrows, an African-American, in 2006 and UW-Madison admissions policies, Lucas wrote.
The email eventually sent under Blank's name speaks of UW-Madison's "long history of activism and dedication to equity for marginalized groups."
"But at the same time, we recognize that there is much more work to be done," it continues.
"Our campus has not been immune to incident and threats that have surfaced elsewhere. While individuals are always free to express their own beliefs, no one is entitled to express them in ways that diminish others, or that devalues the presence of anyone that is part of our Badger community," reads a paragraph that sparked First Amendment cautions about the rights of protesters.
"I'm not certain what you mean by the word 'entitled,' but if it means anything like 'permitted,' then this email is quite worrying," said one respondent whose name was redacted. A university attorney said federal law on the privacy of students requires their names be redacted. 
The email continued: "My understanding of the reigning interpretation of the U.S. Constitution is that it does not permit the state to forbid or police expression except in very particular circumstances (such as directly threatening harm or endangering the physical safety of others). 'Devaluing the presence' or 'diminishing' someone – which I take to mean patronizing, insulting, or dehumanizing language – is very much protected speech, whatever you or I might think of the particular speaker or utterance."
It's not just the specter of restricting speech that is troubling, said another email, whose author's name also was redacted. "In addition to illegality, it also represents an ethically troubling view of the role of the university administration in interfering with the First Amendment rights of students," it read.
"It sounds like you're saying that people aren't allowed to say what they want if it hurts someone else's feelings, which is not what the first amendment is about," wrote another correspondent, who criticized circulation of the email on the UW protest as news of terrorist attacks in Paris was breaking.
Others wanted less speech in support of protesters.
"I understand that many people have strong feelings about what happened at Mizzou and about racism in general, but there is a large proportion of people who do not share quite the same views," wrote the sender whose name was redacted. "I find that many of your emails are biased and I would appreciate an unbiased view in future emails."
"Why don't we quit the liberal propaganda and start including some messages to students to respect law enforcement officers," wrote another.
Blank responded to those raising First Amendment concerns in an email that said UW supports protection for free speech. "We embrace the mission of a public university to foster the expression of differing views, but always encourage a dialogue in which all sides listen to the arguments and concerns of the others," it read in part.
Fred Klancnik, an adjunct professor in the UW-Madison College of Engineering, wrote to thank Blank for her leadership and tell her that her message came across clearly and concisely. "This equity and diversity challenge has been facing UW for a long time," he said.
Klancnik recalled his experience participating in race rights marches and demonstrations as a freshman on campus in 1968. Klancnik said he was a walk-on on the football team that year and got to know a few of the black players who arrived on campus from other states.
"We had a common goal of rebuilding the football program and worked together to achieve it," Klancnik wrote. "I believe that the UW football and basketball teams could possibly serve a role models and spokespersons for diversity and inclusion. All you have to do is ask."
Share your opinion on this topic by sending a letter to the editor to tctvoice@madison.com. Include your full name, hometown and phone number. Your name and town will be published. The phone number is for verification purposes only. Please keep your letter to 250 words or less.