Nearly every semester, there's a textbook he can't afford to buy, said University of Wisconsin-Madison student Zaakir Abdul-Wahid.
Not if he wants to be able to eat, pay rent and cover his cell phone bill, too.
Abdul-Wahid recalled buying an accounting text that cost more than $200 one semester, knowing he would need the companion online study material. He wasn't able to buy any other textbooks that term, he said.
"Often I would borrow friends' books as I could. There were times I would take pictures of the book pages and download them to a computer in picture form," Abdul-Wahid said. The 20-year-old rising junior psychology and marketing major from Milwaukee can call on family for some money in an emergency, but holds down a couple of jobs to pay his own way and keep  student loans from mounting.
Trying to be diligent about studying without owning a textbook put Abdul-Wahid at the whims of other students and under so much stress that he sometimes worried about his health, he said.
"It's very, very challenging," said Abdul-Wahid, who now tries to schedule classes to stagger those with expensive books over several semesters.
Abdul-Wahid's experience is not unusual. One national study in 2013 found that 65 percent of students said they decided against buying a textbook because it was too expensive, even though nearly all of them worried it would hurt their grade.
An appreciation for how the costs of textbooks and other learning materials make it harder for many students to pay for college has prompted universities across the country — and some university systems — to adopt policies to create or adopt what are called open educational resources, or OER. Most simply, OER are textbooks and other learning materials produced under a copyright that typically allows their use and adaptation free of charge rather than prohibiting use or requiring payment of a fee.
The movement has a way to go. Only 5.3 percent of courses nationwide used an open textbook in 2015-2016, according to the Babson Survey Research Group.
The effort is in its early days at UW-Madison, but an open educational resources strategic framework adopted last year has advocates hopeful that the practice of developing and adopting OER will burgeon.
Kristopher Olds, a UW-Madison geography professor, said the university has a lot to gain from producing and using OERs in class.
"There are all sorts of wins and rationale for going down this path," Olds said. Open resources can improve learning by making course material available to all students from day one, he said.
Their use also "enhances the reputation of the institution as a place where knowledge is produced, and helps builds its reputation as digitally savvy and aware," Olds said.
Many such materials are licensed through Creative Commons, a nonprofit organization that provides free, easy-to-use tools for content creators to copyright their work for free use with attribution for educational purposes.
These materials typically can be used in whole, revised, or used in part and  remixed with other sources. "Adopt and adapt" is a  phrase often used to describe the use of open resources in education.
The College Board, source of the ACT test and research on college costs, reports the average cost of textbooks and course materials will top $1,200 at four-year public colleges this year.
A 2013 Public Interest Research Group survey that found 65 percent of students sometimes skipped buying texts that were too expensive also found that more than 94 percent of them worried it would hurt their grade.
And 82 percent of the 2,039 students responding at 150 campuses, including UW-Madison, said they would do significantly better in  a class with online materials and an optional textbook.
Yet nearly 78 percent of college instructors require a textbook or textbook plus other texts, according to research from Babson College in Wellesley, Massachusetts.
The cost of textbooks and other learning materials is "a huge concern for college students, especially low-income and non-traditional students," said Kat Kerwin, chair of the legislative affairs committee of Associated Student of Madison, a UW-Madison student council group.
The concept of tapping a mix of learning materials for college courses is nothing new. Instructors for decades have sometimes offered curated study packets. The open educational resources movements invites instructors to become involved in creating and using textbooks and collations that are under open copyright. Digital versions of such materials typically can be used for free and are available in printed versions for the cost of copying.
Olds was inspired to create an open textbook after realizing that students weren't buying the expensive textbook he had assigned for an online world geography course, opting to "finesse" their way through the class.
In addition, trying to accommodate students who opted for earlier, slightly different and cheaper editions of the book affected which questions he could put on quizzes, he said.
As Olds explored a way to offer students a free textbook, available in multiple formats, two coincidences occurred: The availability of
a partially finished project and the time for Olds to do the work.
"This is pure serendipity," Olds said.
Work on production of a world geography textbook being edited by a colleague at the University of California, Los Angeles stalled when a major university press pulled the plug on the project. Olds offered to partner with the UCLA colleague and refashion the text into one that would be available free.
And Olds will be on a sabbatical this year, so he made developing the open world geography text his main project.
He offers a caveat on open educational resources: they may be free or low cost to users, but they are expensive to produce.
Olds will use funds that have been set aside for his sabbatical, small grants from the campus Educational Innovation initiative and other sources to raise about $40,000 to produce the open book.
Hired graduate students will develop maps for the book and other features suitable for the software that the campus recently has acquired for such projects.
Olds said he will supplement the book with links to materials like news articles and government reports. The materials selected can emphasize certain aspects of the study of world regions — politics and economics, say — and be adjusted from one semester to another.
"You can mix and match. That is what OER is designed to do," he said.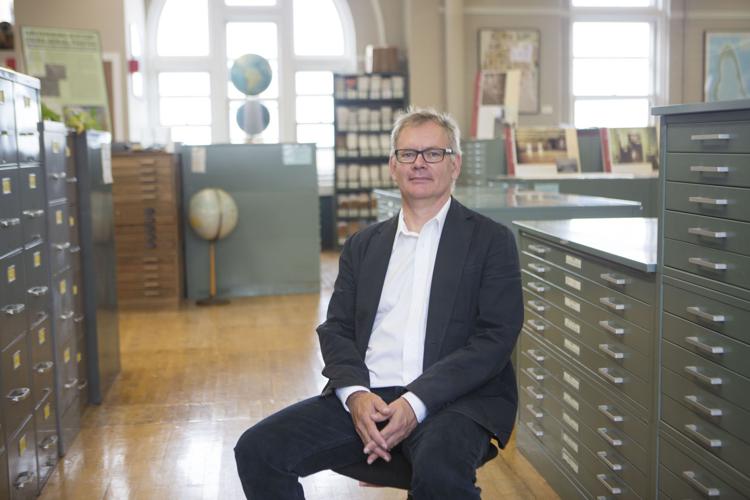 Olds hopes to introduce the open text to students next summer. He estimates it will save UW-Madison students a total $17,000 for each term the digital open text is used.
When students sign up for the course, the text will be available to them in a variety of digital formats on day one, he said.
He's not getting paid for the work he is doing, and that's the case with other open text creators at UW-Madison. "It helps to be a believer," he said.
A major barrier to production and use of open educational resources is the lack of instructor awareness about their existence and how they work, Olds said.
Babson also found limited awareness of open educational resources.
Its survey of 3,006 faculty at U.S. higher education institutions in the 2015-2016 academic year found that 42 percent said they were at least somewhat aware of open educational resources. That compared to 34 percent in 2014-2015.
The barriers to adopting OER most often cited by faculty in the Babson study are that "there are not enough resources for my subject" (49 percent), it is "too hard to find what I need" (48 percent)  and "there is no comprehensive catalog of resources" (45 percent).
Steel Wagstaff is working to bridge the awareness gap.
Wagstaff, an educational technology consultant in UW-Madison's College of Letters and Science, regularly holds brown bag sessions with faculty and staff to share information about OERs, how they can use them and how they can produce them.
Wagstaff tutors academics in the use of Pressbooks, easy-to-use software he selected to be the platform on which open resources at UW-Madison will be built.
He estimates there are 100 active open educational resource projects on the campus server now and about half of them will eventually be ready for use as course material. About 10 are public now.
As the OER landscape develops at UW-Madison, Wagstaff decides whether a project moves forward, he said. "And I say 'yes' to everything."
"These are committed instructors who have been teaching for five,10, 15 years," Wagstaff said. "I'd say in half to two-thirds of the projects they already had collected the materials, but didn't have a good way of publishing it until we gave them a tool that let them do what they wanted."
An example was an update of a Portuguese language text, Wagstaff said. The text not only better serves the needs of Portuguese language instructors here, but awareness of the free online book is growing through national conferences.
Several other open texts for less-commonly taught languages are in the works, Wagstaff said.
Other projects include a political science anthology of essays already in the public domain, English literature anthologies, an actuary science textbook and a textbook on game theory.
Most of the projects are not funded, Wagstaff said. "They are labors of love."
That might describe the effort of Jampa Khedup, a lecturer in Tibetan language and cultures of Asia.
Khedup is gradually writing a Tibetan language textbook, devoting about 1.5 hours a week of his own time to the endeavor.
He's motivated not so much by the cost of learning materials for his students as he is by the desire to offer them more interactive exercises online. "So learning is more fun and there is more interaction among the students," Khedup said.
Khedup plans to use material he already has collected into the Pressbooks tool, but he is still learning how to use the features of the software. He envisions a text that is attractive to students taking a class, as well as learners working on their own.
"I am doing this only out of self-interest and in the long run, benefitting learners," he said.
Olds and Khedup, as tenured professor and non-tenure track instructor, respectively, illustrate the types of teachers at UW-Madison who most often take on projects to develop open educational resources, Wagstaff said.
"Few junior tenure-track faculty get involved, because developing an open textbook is not likely to be valued by a tenure committee," he said.
Recognition of the value of OERs would lead to more of them, Wagstaff speculated.
Campus officials took a step in that direction a year ago when an OER Strategic Framework was adopted by Educational Innovation, a campus initiative to use technology to provide personalized learning for traditional and new student audiences.
The OER framework prioritizes providing training, resources and incentives to instructors to use, adapt and develop open materials to bring high-quality, innovative learning materials to students at lower cost.
The amount of funding to OER has been modest, said Steven Cramer, vice provost for teaching and learning at UW-Madison. But so have requests for development funds.
"Not all faculty/instructors are in a position to provide this time investment and perform their other duties, regardless of the institutional support," Cramer said.
Carrie Nelson, director of scholarly communication for UW-Madison libraries, worked with Olds and Wagstaff in developing the strategic framework. They all express hope that an OER coordinator position will be funded soon.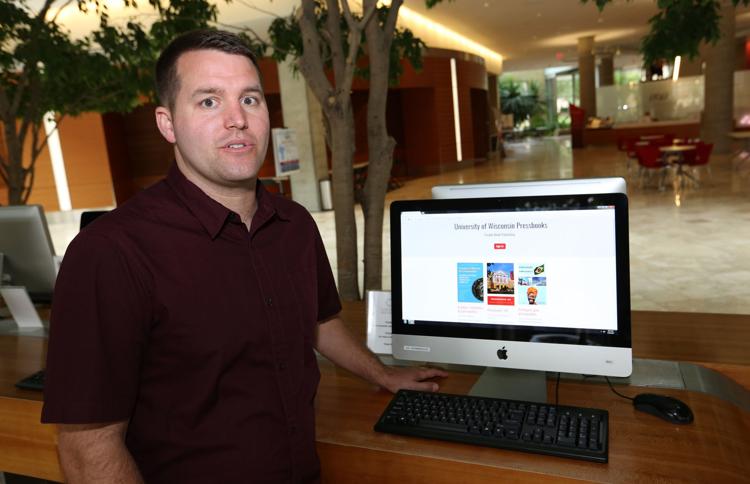 Making open resources a priority on campus means finding somewhere to store it all and making that repository searchable, Nelson said.
"I think there is a consensus on campus that there is value in having a home and a coordinator for open educational resources," she said.
In the meantime, Nelson is working to make sure campus librarians know enough about OER to field questions about it.
Open educational resources align closely with the mission of UW Colleges, said Chancellor Cathy Sandeen.
"A majority of our students are first-generation and a high percentage are Pell students," Sandeen said. Pell students are part of a federal grant program for students from low-income families.
"These students don't have a lot financial resources and we know for a fact that they sometimes simply do not purchase textbooks," she said. "And that really affects educational outcomes, and ultimately success in progress towards a degree."
Sandeen said she wants to provide totally free learning materials for one-quarter of courses offered by UW Colleges. To accomplish that, she has begun looking for funding — up to $400,000 — to develop a software platform that would be a repository for open educational resources.
"We are most interested in using existing open educational resources created by others," she said. "There is a wealth of material. We would source, analyze and curate what is already out there."
Sandeen said it is too soon to say when such a project might be underway, but she has had initial talks with legislators and funding agencies.
"We also will see if there is sway to reallocate funding internally," she said.
At Madison Area Technical College, a student government campaign on textbook affordability last year prompted the development of a website, launched in April, that guides instructors to open educational resources.
"It was a message loud and clear from students that they wanted a response to the fact that textbook costs are so high and going higher," said Gail Powers-Schaub, manager of libraries and student achievement centers.        
This fall, 16 instructors in seven courses will have OER options available, Powers-Schaub said. That means 5,432 students will save $82,000, she said.
"That's a pretty significant start for our college," Powers-Schaub said.
MATC librarians were contacted through the website by six of the instructors who will use OER. The other 10 adopted or developed resources on their own, she said.
While some colleges and universities have received grants or provided stipends to staff working to develop OER, "At MATC we haven't reached that point," Powers-Schaub said.
The most popular classes for open resource use at MATC are physics, sociology, geology and psychology.
"A lot of basic courses that everybody takes or courses that are important for transfer," to a four-year campus, Powers-Schaub said.
Introductory courses with high enrollment have the greatest number of open educational resources nationally as well.
Classes like chemistry, physics or biology would cover pretty much the same material anywhere in the United States or around the globe, said UW-Madison's Olds.
"If you believe in this, it's in everyone's interest to generate the most impact," he said.
The open educational resource movement began with Massachusetts Institute of Technology's OpenCourseWare initiative in 2001, publishing course materials from most classes at the prestigious private school. OpenCourseWare today counts materials from 2,400 courses posted and 200 million visitors to its website.
The OpenStax initiative of Rice University, a private research institution in Texas, has published more than 20 digital, free, peer-reviewed texts, most for introductory science courses, since 2012. The program has saved students $155 million in textbook costs, according to its website, and lists 37 partner and affiliate schools, including Ohio State University.
The initiative is funded by Rice and major philanthropic organizations including the Gates and Hewlett foundations.
The University of Minnesota-Twin Cities is home to the Center for Open Education and the Open Textbook Network, whose members include Penn State, Purdue and University of California, Berkeley. The network has built an Open Textbook Library of scores of textbooks. The library also offers support to open textbook creators.
Washington State University is an OpenStax partner that encourages the use of open educational resources through grant funding of OER projects and membership in the Open Textbook Library.
The State University of New York system offers a broad variety of open educational resources, many in the humanities, as well as assistance in adopting and creating materials.
The state has budgeted $8 million for open educational resources at SUNY and City University of New York, in concert with a program to make tuition free at those institutions for students with family incomes of less than $100,000.
Textbook publishers are in a period of transformation and contraction in the industry, as they turn increasingly to digital products.
They've responded to the move toward open education resources by developing companion units like study guides and quizzes — some of them interactive with immediate feedback to students —  working toward sales of  full platforms of materials in addition to textbooks, Wagstaff said.
That's what Wagstaff would like to see in open material.
"There's a role for publishers in this ecosystem, but I'd like to disrupt what they are doing and build an open platform, Wagstaff said. "We could do more for a whole lot less."
Meanwhile, there's a lot to do on campus getting out the word of the very existence of open educational resources.
Abdul-Wahid, who has expended much energy getting through classes without textbooks, was not aware of OERs.
"It's not something I've heard much about," he said. He said he would definitely be interested in replacing purchased texts with free ones if instructors used them.
Having access to the learning materials from the first day of a course is a big part of being successful, he said, "instead of cramming in everything at the last minute."
Abdul-Wahid said that while a lot of friends complain about the cost of textbooks, he doesn't hear much talk about going without them.
"It feels like a closely guarded secret, like I'm the only one who doesn't buy the book," he said.