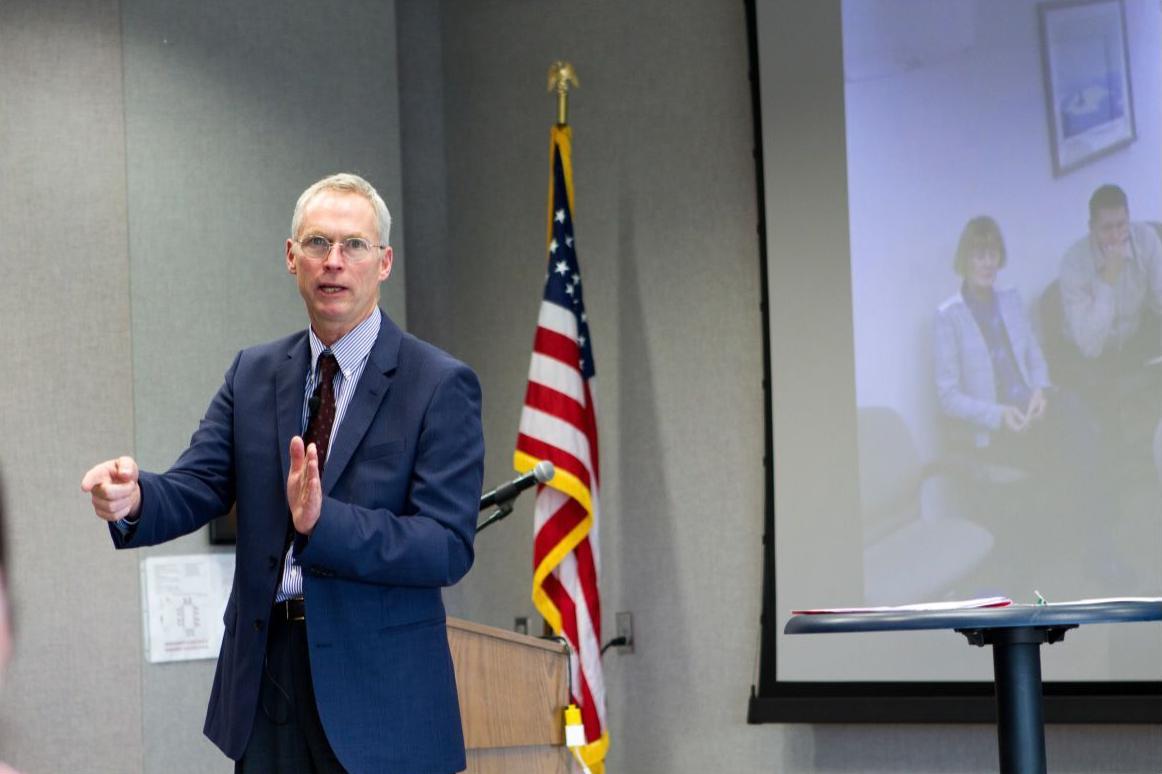 The University of Alaska System president will likely succeed Ray Cross to lead the University of Wisconsin System, as the one finalist moving forward in a months-long, controversial presidential search process.
Jim Johnsen, who has been president of the University of Alaska System since 2015, will undergo multiple committee and shared governance interviews next week, according to a news release Tuesday. Search committee chair Michael Grebe said in the release that the search included "a number of impressive and qualified candidates at each step of the process."
"The committee unanimously agreed on a first choice of finalist in Dr. Jim Johnsen as a strong, qualified, collaborative leader who would be an excellent choice as the next president of the UW System," Grebe, the Regent vice president, said.
A spokeswoman for Johnsen said that the UW president position is perfect for his experience and skills, lending the "incredible opportunity to lead a larger university." He also has family close to Madison.
As the University of Alaska president, Johnsen has faced mounting fiscal challenges under Republican Gov. Mike Dunleavy, who in July slashed $130 million from higher education. Johnsen quickly issued staff furloughs and restrictions on hiring, travel and procurement, and the Board of Regents soon negotiated a reduction to the budget cut with a longer path to implementation. 
In following months, concerns about the University of Alaska's accreditation and a Regents vote to begin merging the System — three universities and 13 community campuses — increased distrust in Johnsen. In calling for his removal from office, the majority of faculty at the University of Alaska Anchorage said they had little to no confidence in his leadership in a Faculty Senate poll.
"There's no doubt that President Johnsen recognizes and respects the critical input from faculty and from all governance groups," a spokeswoman said in an email. "He is very much dedicated to inclusiveness, transparency and believes that shared governance ensures that our university is effectively serving our students and people of Alaska."
Pending regents approval, Johnsen will step into the role during a time of immense economic hardship for the UW System, including about $100 million in losses related to the COVID-19 pandemic this semester alone. President Cross, who announced his retirement in October, has reiterated calls for more refined mission statements and unified System model to address the pandemic's hits, which have only exacerbated the stresses of a tuition freeze and declining state investment in higher education. 
The pandemic affected the search process itself as well, as several candidates removed their names from consideration, "with some expressing concern over being named publicly as a finalist during the pandemic," according to the release.
Prior to his role as president, Johnsen served at the University of Minnesota and in various roles at the University of Alaska between 1996 and 2008, including vice president for administration and chief of staff. He has also served as chair of the Alaska Commission on Postsecondary Education, vice chair of the Alaska Student Loan Corporation and founding chair of the Alaska State Committee on Research.
The committee will receive feedback from "other system constituencies" on June 9, including chancellors, campus leaders and shared governance representatives. The System has faced strong opposition to the committee's makeup — four regents, one student regent, one former regent, two chancellors and one provost — since early December for lacking diverse shared governance representation.
Regent Emeritus Regina Millner said at a committee meeting in February that "in light of the pushback that we've had from the campuses regarding the selection process," it is imperative to effectively orchestrate conversations with interested stakeholders.
UW-Madison Chancellor Rebecca Blank added at the meeting that internal UW staff, especially those who work closely with the president, should have the opportunity to provide feedback and meet with candidates.
Be the first to know
Get local news delivered to your inbox!