Kids these days aren't just interested in junk food.
Six teams of students from O'Keeffe Middle School showcased their cooking skills during the school's fourth annual Top Chef competition on Thursday, which represented a culmination of a months-long partnership between the school and several local restaurants.
The competition, which comprised of about 40 students and doubled as a fundraiser for the school's parent-teacher group, paired young culinary experts with chefs from restaurants such as Coopers Tavern, Merchant, Forequarter, Sardine, Lao Laan-Xang and Pig in a Fur Coat.
Teams won awards across categories such as best taste, creativity, teamwork, presentation and kitchen skills. One team from Merchant was awarded the overall prize for their jerk pork dish, which was topped with grilled pineapple and paired with creamy rice and beans.
Students over the course of two months met regularly with chefs at the restaurants and learned how professional kitchens operate. During the team meetings, students and chefs had a chance to strategize a variety of dishes to make for Thursday's competition, which eventually were scored by a panel of local "celebrity" judges.
"We were looking for ways to get kids connected to a community experience where they got to see a particular industry," said O'Keeffe principal Tony Dugas. "It's more than just reading about it or visiting one place. Students get to do something about what they're interested in."
Dugas had the idea for the Top Chef event after working on similarly organized events while working in Boston. Pulling off a culinary arts competition like this, however, requires a lot of organizing on the part of local chefs, volunteers to take students to and from restaurants as well as school staff. O'Keeffe's gym essentially turned into makeshift kitchens on Thursday night as students fired up grills, sautéed vegetables and put together their masterpieces.
"I love connecting kids to local food and local restaurants," said Michelle Nelson, an advanced learning specialist who splits time between O'Keeffe and Badger Rock Middle School and helped organize the event. "There's a variety of kids who are interested in Top Chef. Some have a lot of experience with food and cuisine, but the event provides a different way of thinking about it. Others have no experience and haven't been exposed to different kinds of food, so they get a lot of new experiences."
Cooking at this level was an entirely new experience for Shadavien Johnson, a sixth-grade student who was on a team led by Sardine's Jason Taylor.
"It was a great experience," Shadavien said. "I loved cooking and loved learning to cook fish. It was such a fun thing to come here and show food to people, talk to a lot of people and just mess around with food. I want to do a lot more of it."
Shadavien's teammates had a chance to learn how to prepare and smoke Lake Superior whitefish and pair it with their own pickled onions and mayonnaise sauce. The Sardine team won the Best Kitchen Skills award.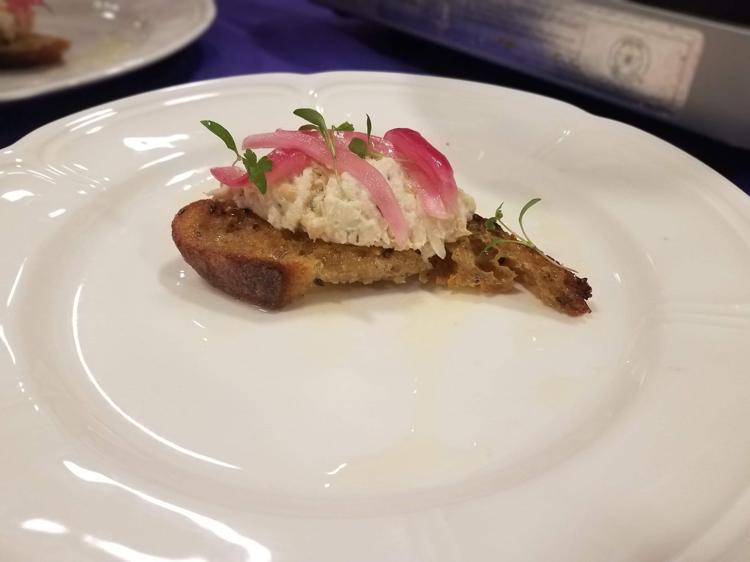 For other students, such as seventh-graders Maya Mack and Josie Perez, who were on the Lao Laan-Xang team, the cooking competition provided a chance to expand their tastes and try new things.
"I've been cooking for awhile, but have never done anything like this. It's interesting to do something competitive and independent from adults," Maya said. "We got a chance to try different foods from Laotian culture but we also got to put our own spin on some of the dishes."
Josie had applied to be part of the competition last year but didn't get in. She said she was excited to be a part of the competition this year after watching how it went a year ago.
"I wanted the experience to see if I could have a fun time with it. I would have been fine with any team. I just wanted to try the experience," Josie said. "All of the people I met here, I got to know them a lot better over cooking with them and eating with them. We were taught really good skills for cooking and for life, especially that trying new things is good to do."
The Lao Laan-Xang team won an award for best presentation.
Dugas said that while the program has increased the amount of students over the years, there is an application process where students have to write essays or submit videos on why they'd like to participate, and not everyone is able to get into the competition. The program is open to students across the middle school.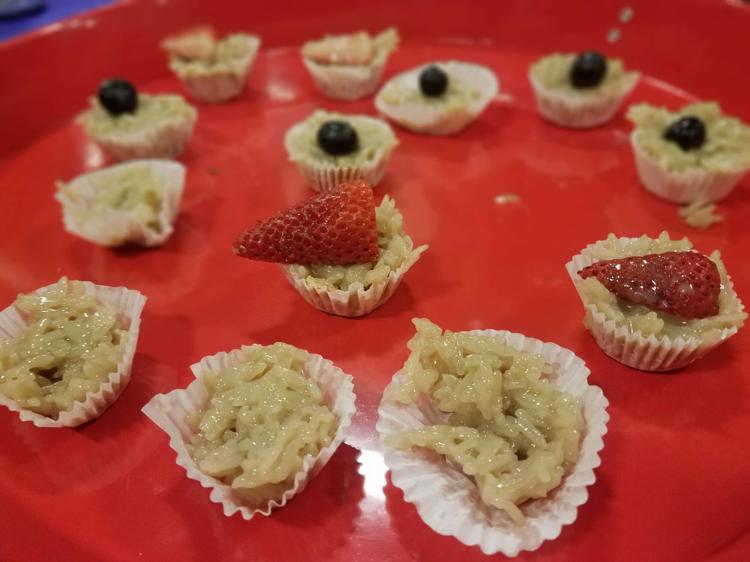 For the local restaurants represented, the Top Chef program provides an opportunity to give back to local public schools and help potentially spark an interest in the next generation's chefs and foodies.
"When I was younger and started cooking, there were not really opportunities to do this," chef Cooper Booth said. "I've lived all across the country and this is the first time I've seen something so focused on giving back to kids and really showing them where food comes from. For me, that's a really big thing about how I like to run my restaurant, showing my guys where the food is coming from."
Booth's Coopers Tavern team won an award for best creativity.
For many of these chefs, the competition provides a chance to expose students to foods and restaurants they might not have otherwise tried before.
"For me personally, getting these kids engaged and maybe a little bit outside of their comfort zone was a big thing for me," said Son Inthachith, chef at Lao Laan-Xang. "Whether it's the sauces such as oyster sauce, fish sauce, I'd put them out and insisted that they try it. Exposing the students to new things was my big mission. Food is a way you can connect with anybody."
"It's important to have events like this where we showcase a lot of different backgrounds and experiences," Chawla said. "The community really needs to hear about the positive work and things happening in our schools. We can show how the community comes together over delicious food."
"It's a wonderful experience for kids to be in the kitchen and figure a lot of these things out," she said. "These are life skills. The combinations of things the students were able to put together tonight was really impressive."