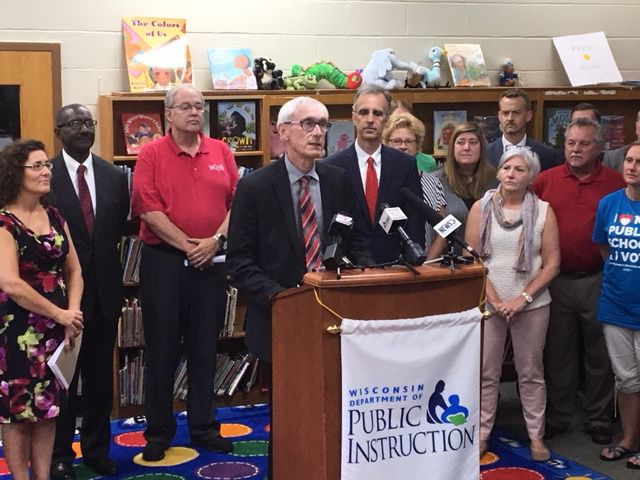 Calling state support for mental services in schools "sorely lacking," state schools Superintendent Tony Evers Monday called for a 10-fold increase in funding.
"This is a huge issue for the state of Wisconsin," Evers said at a press conference at Schenk Elementary School on Madison's east side.
Evers said he plans to include a request for $100 million for mental health support when he submits his full budget request for the 2020-21 biennium. He said he'd submit the request in the fall, weeks ahead of the November election in which Republican Gov. Scott Walker is seeking a third term. Evers, a Democrat, is leading a field of eight Democrats challenging him, according to recent polling.
"Not surprising, Madison bureaucrat Tony Evers is late to the game and has already failed to lead," said Republican Party of Wisconsin spokesman Alec Zimmerman in an email. "Scott Walker has prioritized mental health, school safety, and the well being of students across the state — including in his current budget that Evers called 'pro-kid,' and a school safety plan that allocated $100 million for districts throughout the state."
Earlier this year, Walker and the Republican-led Legislature passed $100 million in school safety measures during a special legislative session in the aftermath of the Feb. 14 Parkland, Florida, school shooting that left 14 high school students and three teachers dead. That funding included funds for mental health services.
In previous budgets, Walker has made steep cuts to K-12 funding. In September he changed course and signed a budget boosting school funding by $639 million and has recast himself as the "education governor."
Evers said that the mental health initiative is the first of a "handful of budget recommendations that will be released in the coming weeks."
"It's no coincidence that we're starting with mental health," he said.
He announced that Madison and 63 other districts will receive funding starting this year through School-Based Mental Health Services Grants, a $3.25 million item in the 2018-19 budget to provide mental health services in schools. But that funding is insufficient, he said.
"When we put the budget together last year, we did not anticipate the magnitude of the demand," he said.
Evers said about one in five students nationally and in Wisconsin is dealing with mental health issues, with 80 percent of those going untreated.
The funding he's proposing would go toward health care staff as well as training for school staff to identify and help students with mental health issues.
His budget request, he said, would "ensure that all applicants of school-based mental health grants would receive funding, because this work is simply too important only to fund some."
"There should be no losers in this race," he said.
He noted that the Mount Horeb School District, which is dealing with a string of recent suicides by current and recent students, did not receive funding this year.
During the press conference, Dane County Executive Joe Parisi said a pilot project in Madison, Verona and Sun Prairie provides mental health teams to districts both for crisis intervention and to work with schools to spot kids in need of services. The program is a partnership between schools, Catholic Charities and the county, which invests $1 million annually in the initiative.
"Due to state cutbacks, there are fewer staff, there is more trauma in many of our communities and a growing challenge and occurrence of mental health issues," Parisi said, "all the way from people being districted to people having a mental health crises in the class."
Share your opinion on this topic by sending a letter to the editor to tctvoice@madison.com. Include your full name, hometown and phone number. Your name and town will be published. The phone number is for verification purposes only. Please keep your letter to 250 words or less.