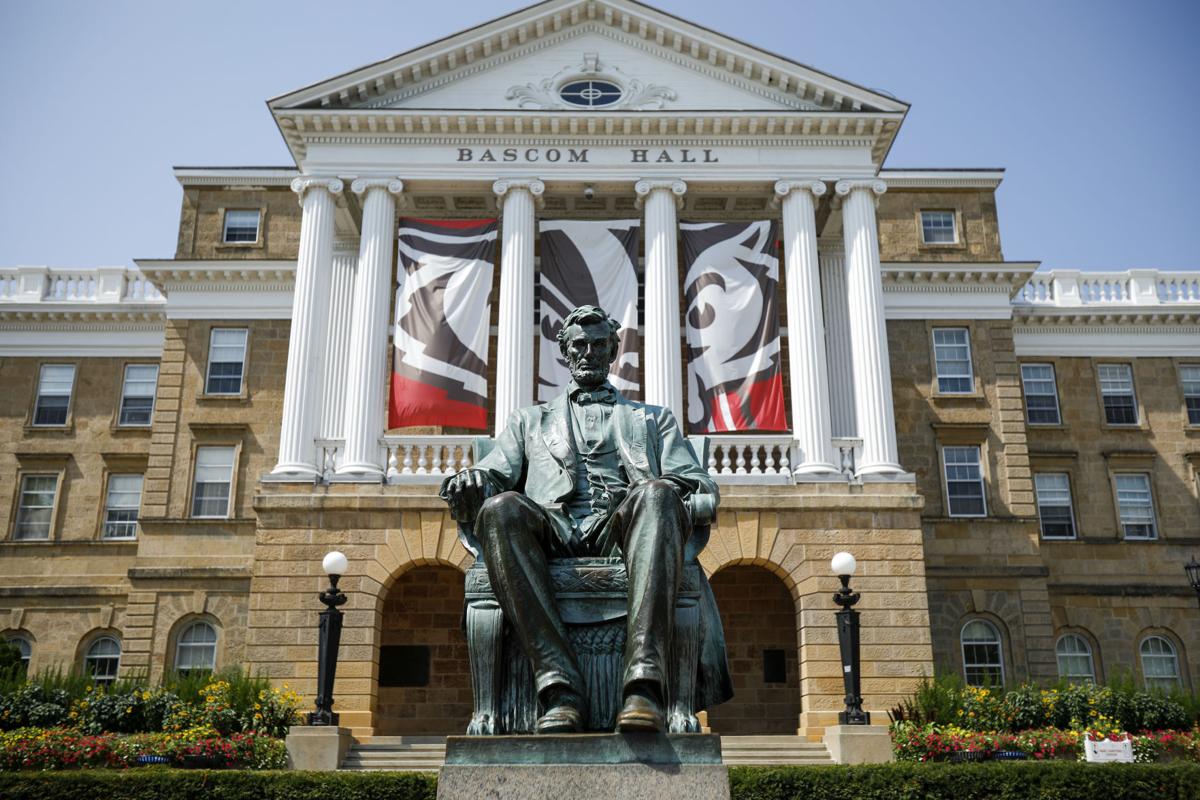 The nonpartisan Thompson Center published a report Thursday characterizing University of Wisconsin-Madison students' views on free speech as "troubling" and recommended increased First Amendment education on college campuses.
The Thompson Center, named after former Republican Gov. Tommy Thompson, and the UW Survey Center surveyed 530 undergraduate students, primarily between the ages of 18 to 23, on topics about free speech. Sixty-three percent of respondents agreed to some degree that "the government should be able to punish hate speech," 53% agreed the government should restrict the speech of "racially insensitive" persons and 35% agreed that a public university should be able to revoke invitations for guest speakers whose speech may be offensive.
Women and liberal respondents were much more likely to support restrictions on speech than men and conservative respondents, respectively.
"These results show that many students find it difficult to distinguish between, on the one hand, the moral concerns of speech or activities that are contested or even detestable and, on the other, the long run value derived from free speech and religious liberty," the report said. "The results are troublesome for an institution like UW-Madison, which must cultivate an unfettered marketplace of ideas and instantiate and inculcate those values among its students."
The Thompson Center and its faculty advisory board crafted and approved the survey, which was administered at the Survey Center. Ryan Owens, the Thompson Center's director, said the report's findings seem in line with general trends in society, where he said he sees a trend toward increased intolerance "across the board."
"The more and more I teach students the more I hear they say things before they even begin like, 'Well, I know this might be an unpopular thing to say,' or 'I hesitate to say this,'" Owens said. "It made me wonder where we are with things … The effort here is to figure out if there's a problem and, if so, how we can help resolve it."
University spokesman Greg Bump said in an email that UW-Madison believes strongly in First Amendment rights and has a "legacy of promoting free and open expression."
"Over the years the university has welcomed a range of speakers from across the political spectrum," Bump said. "Each fall, we communicate to all students and registered student organizations about freedom of speech, including clearly outlining expectations for students if they choose to participate in protests or demonstrations. Among those expectations is that one cannot disrupt another person's right to free speech.
UW-Madison political science professor Howard Schweber agreed with the report that students should know more about the Constitution, particularly the First Amendment. However, he said in an email to the Cap Times that the conclusions represent "very specific and highly politicized take" on students' responses and took issue with many of the questions, especially their use of the word "should."
For instance, Schweber said asking whether a university "should" be able to revoke a speaker's invitation not only ignores that public universities are not obligated to be politically neutral, but ultimately poses a policy question instead of a Constitutional one, "deliberately disguising questions about social attitudes as questions about the Constitution."
"A student could be perfectly aware that something is constitutionally protected and still not think that it should be granted that protection," Schweber said. "In courts across the country and in the halls of Congress there is currently extensive debate about appropriate limits to free expression on the internet. For students to feel, for example, that hate speech on the internet should not be protected by the First Amendment puts them in the good company of numerous constitutional law scholars."
Although the report acknowledges there is no official definition of "hate speech," Schweber added that the survey authors conflated multiple types of speech within a single question. He said many scholars and even the Supreme Court have found given examples, such as "abusive or threatening speech" and "writing that expresses prejudice against a particular group," to indeed be unprotected by the First Amendment.
Owens responded that the survey's goals were not to understand students' academic knowledge of the First Amendment as legal doctrine, but rather to gauge their understanding of free speech principles.
"Has the court ruled clearly on disinviting people on college campuses? No," Owens said. "Even if some of these concerns that they have about one or two questions are meritorious from one perspective or another, if you back up and look at the results holistically, you see very, very similar trends across all these questions."
Donald Downs, professor emeritus of political science, also said terms like "hate speech" should be better defined. But he agreed with the report's claim that the findings were troubling and contextualized them against broader changes in higher education, which he and other scholars have said are trending toward increased censorship.
The report concluded with suggestions for UW-Madison and the UW System, including requiring students to take First Amendment courses to graduate, departments and colleges to include relevant topics in their courses or incoming students to receive First Amendment training.
"I have no doubt that the results are not biased, but the way that people react to those results would be partly dependent on their partisanship to some extent," Downs said. "We do need education on these issues … If it's taught it should be taught in the right spirit. You teach the person the principles, but you critically discuss them and analyze them."
Schweber called for greater context in the report about the survey's findings, such as comparisons to the general populace or other time periods through history. For instance, people may be less supportive of free speech during times of heightened stress or insecurity: "That certainly characterizes the present environment," he said.
"I support the idea that a course familiarizing students with the Constitution should be a requirement at an American public university, but I do not know why the First Amendment is more important in that context than, say, the Fourteenth," Schweber said, referring to the amendment that granted citizenship to slaves and spelled out equal protection under the law and due process. "And it seems clear to me that the need for First Amendment education is at least as great among administrators and researchers as among students."