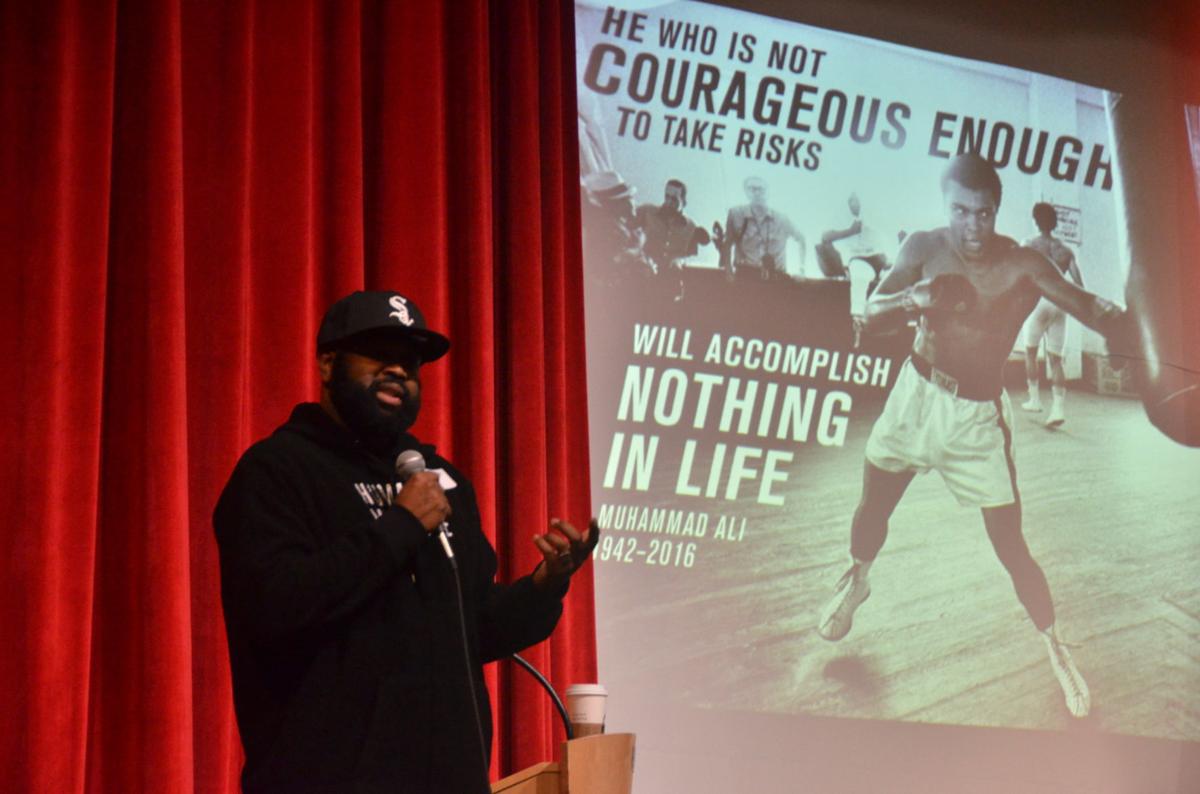 The national movement to hold a week of support for black students ran Feb. 3-7 this year, culminating Thursday night in Madison with a sold-out staff showing of the movie "Just Mercy" and a post-show discussion.
Participating staff led lessons about the 13 Black Lives Matter Global Network principles, intersectionality and black contributions to history: restorative justice, empathy, loving engagement, diversity, globalism, queer affirming, trans affirming, collective value, intergenerational, black families, black villages, unapologetically black and black women.
Cross categorical special education teacher Elizabeth O'Leary wrote in an email, one of several forwarded to the Cap Times by district officials, that the week helped provide her with reflection and and learning about her own implicit biases.
"This work is so crucial to creating people in our world who believe in justice and equity," she wrote. "(Black Lives Matter At School Week of Action) has not only learned about empathy, love, and history, it also has made our black students feel important and valued."
Madison Teachers Inc. staff member Kerry Motoviloff, who helps leads the union's social justice and racial equity work, said teachers customized the lessons for students in the age group they teach through an elementary and secondary curriculum provided through the national movement. She saw elementary teachers using things like picture books or having students illustrate how they knew black lives mattered, while older students had a chance to offer more feedback about how the school system was doing.
At Memorial High School, for example, the county's Black Student Unions gathered Tuesday in the auditorium to hear from a motivational speaker who told his "prison to Ph.D." story and answered questions about how the students could continue activism.
"This year we're seeing much more support for and engagement with our Black Student Unions, that's very helpful," Motoviloff said.
Illustrations provided from Muir Elementary School show students drawing interracial friendships and writing about how they know black lives matter at their school.
MTI president Andy Waity said the week is a chance to highlight work that needs to be ongoing.
"Our intent is to make them purposeful, meaningful and just go beyond any day, week, whatever it might be so it becomes embedded in the work that's going on," Waity said. "There's a lot of work to be done, but a lot of progress being made as well. We need to celebrate along with challenging ourselves."
Spring Harbor Middle School teacher Jen Vena Levesque wrote in an email that the week's highlights for her included a student who is not always present at the beginning of the day who "hurried in after the first bell of the day to give me a can of Arizona tea and Skittles to honor Trayvon Martin's birthday" and the class set up a memorial to the teenager shot dead in 2012. She added that she used photographer Eunique Jones' book "Because of Them We Can" as a discussion point for a restorative justice circle, which features photos of kids as famous black Americans.
"The very next day, one of my students brought in a poster of himself as Barack Obama which was taken by (book author) Eunique Jones as part of her project," she wrote. "It is displayed front and center in our classroom."
Over 300 MMSD teachers signed a pledge committing to the week of action, according to an MTI news release. The union celebrated participation with photos posted to its Facebook page of staff wearing Black Lives Matter t-shirts and showing student work throughout the week.
"Sometimes the problem's so big and we don't know where to start," Motoviloff said. "We can't change everything, but we can make systems to make sure students know they matter."
Share your opinion on this topic by sending a letter to the editor to tctvoice@madison.com. Include your full name, hometown and phone number. Your name and town will be published. The phone number is for verification purposes only. Please keep your letter to 250 words or less.
Be the first to know
Get local news delivered to your inbox!