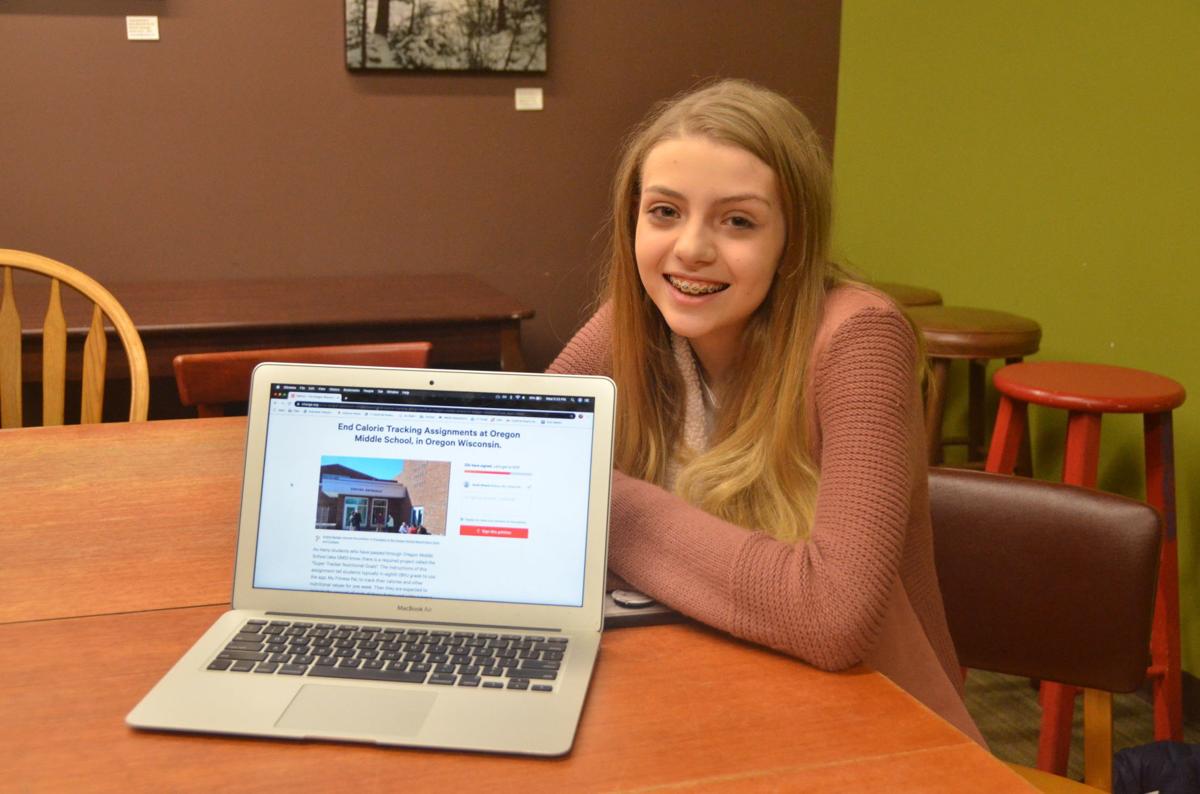 By the end of eighth grade, Wisconsin students should be aware of how the amount of food they consume relates to their calorie and nutrient intake and energy output, according to the state's model health education standards that provide optional guidance to school districts.
An Oregon High School sophomore is questioning if counting calories in health class, as she did with the MyFitnessPal application when she was in middle school, is necessary to do that.
Evelyn Becker started a Change.org petition to ask Oregon Middle School to stop having students count their calories, which she called a "dreadful" experience that led to disordered eating. She "became fixated on the numbers" two days into the assignment, she wrote on the petition website.
"At 13, you have enough in your brain that's, 'This is how you should look, this is how you should be,'" she said in an interview Wednesday. "When it was brought into an assignment and we were being graded on (the calorie count), my perfectionism lit up and ... turned into, if I try to fix my food, what if I just don't (eat)?"
Oregon School District superintendent Brian Busler said that while the "Health Extravaganza" assignment has already been completed for this school year, the district will review the practice, which he said has been part of the class for about a decade, for the future.
"As we prepare for the 2020-21 school year, we will look at the entire curriculum to make sure that it's all aligned and still moving in the direction that we would like it to move," he said. "The project was designed to help students be mindful of their habits regarding nutrition, exercise, sleep and how these relate to their overall wellness."
He said students' mental health is important in considering how and what is taught. If any student is uncomfortable in a class, he said, he hopes they have an adult they trust in the building to tell, and an alternate assignment can be provided if necessary.
"We don't want a single student to feel uncomfortable in a class that they're taking," Busler said. "We do know the sensitivity of eating disorders, body image, self-esteem issues and we want to make sure that all of our students are feeling comfortable at school."
When Evelyn participated, the unit had students track their eating for one week, write about what they should change to meet the limits set out in the app, and then track their eating for one more week, according to her petition, though it's now just one day of tracking, she added. The MyFitnessPal app allows a user to search for a food item, like "spaghetti and meatballs," and select a brand or portion that fits what they ate. It then breaks down the calories into nutritional categories, allows the user to log it as part of their day and measures it toward daily intake goals.
Evelyn found out the practice was still going on from a friend over the weekend whose sister is in eighth grade, which sparked the petition. It had 334 signatures as of 5 p.m. Wednesday.
Busler said he appreciated seeing a student advocating for change.
"Nothing is better than teaching our young people to stand up and share information in terms of what they believe in," he said. "I'm delighted that this young person took a stand, brought it to our attention, prepared a petition and without that, likely there wouldn't be a change."
District policy on nutrition education states it "aims to teach, model, encourage, and support healthy eating by students," including that it will "emphasize caloric balance between food intake and energy expenditure," which promotes physical activity.
Evelyn wrote on the petition site the assignment is "opening doors for unhealthy food obsessions" that can lead to more significant, long-term problems.
"Young people do not need more reason to feel that their bodies are inadequate," she wrote. "This assignment is a breeding ground for low self esteem students to develop unhealthy relationships with food."
She told the Cap Times Wednesday she would like to see the curriculum include more general information instead of focusing on students' specific diets — which can also highlight disparities in access to food and socioeconomic status, she pointed out. She suggested "framing it as a math problem rather than a person problem" by even looking at the different sizes of various animals and what they eat.
"Just giving examples of, 'Here's what a healthy diet would look like,' maybe having some sample diets they could go through," she said. "If you don't have access to three meals a day, you don't have access to proper nutrition, or you don't have a phone — it just makes it harder, especially when you have to do the change assignment afterwards. Thirteen-year-olds are not in control of their food."
Evelyn also stressed that she does not blame the district or teacher for the issue, given the complexity of teaching health to teenagers.
"This isn't about the teachers. In no way shape or form is this the school district's fault, (or) do I blame anyone involved," she said. "This is something now we as society have grown to see is not fitting, and I'm just advocating for that change for the school district to adapt a little bit to that current worldview."
The National Eating Disorders Association cites a study showing "dieting was the most important predictor of a developing eating disorder" in 14- and 15-year-olds.
"Those who dieted moderately were five times more likely to develop an eating disorder, and those who practiced extreme restriction were 18 times more likely to develop an eating disorder than those who did not diet," the association reports.
Busler said wellness for staff and students will continue to be a priority for the district, whose schools have received numerous recognitions for healthy practices in recent years.
"We know the importance of leading a healthy lifestyle and what effects it has on our body," he said. "This is an opportunity for our students to expand their skills and for us to take a pause and reflect on what we're doing because we want our students to be healthy and safe."
Evelyn said it's exciting to know the practice could change for future students with this petition, as advocacy is something she cares about a lot. Still, it's "sort of weird" how quickly attention has come, she added.
"We were just talking about how weird the assignment is," she said. "The next morning, I woke up and I was still kind of mad about it, so I wrote a petition, in bed, in my pajamas — and now people are listening to me."
Clarification: This story has been updated to state clearly that the model health education standards are not required practice but a resource provided from DPI to school districts.
Share your opinion on this topic by sending a letter to the editor to tctvoice@madison.com. Include your full name, hometown and phone number. Your name and town will be published. The phone number is for verification purposes only. Please keep your letter to 250 words or less.
Be the first to know
Get local news delivered to your inbox!