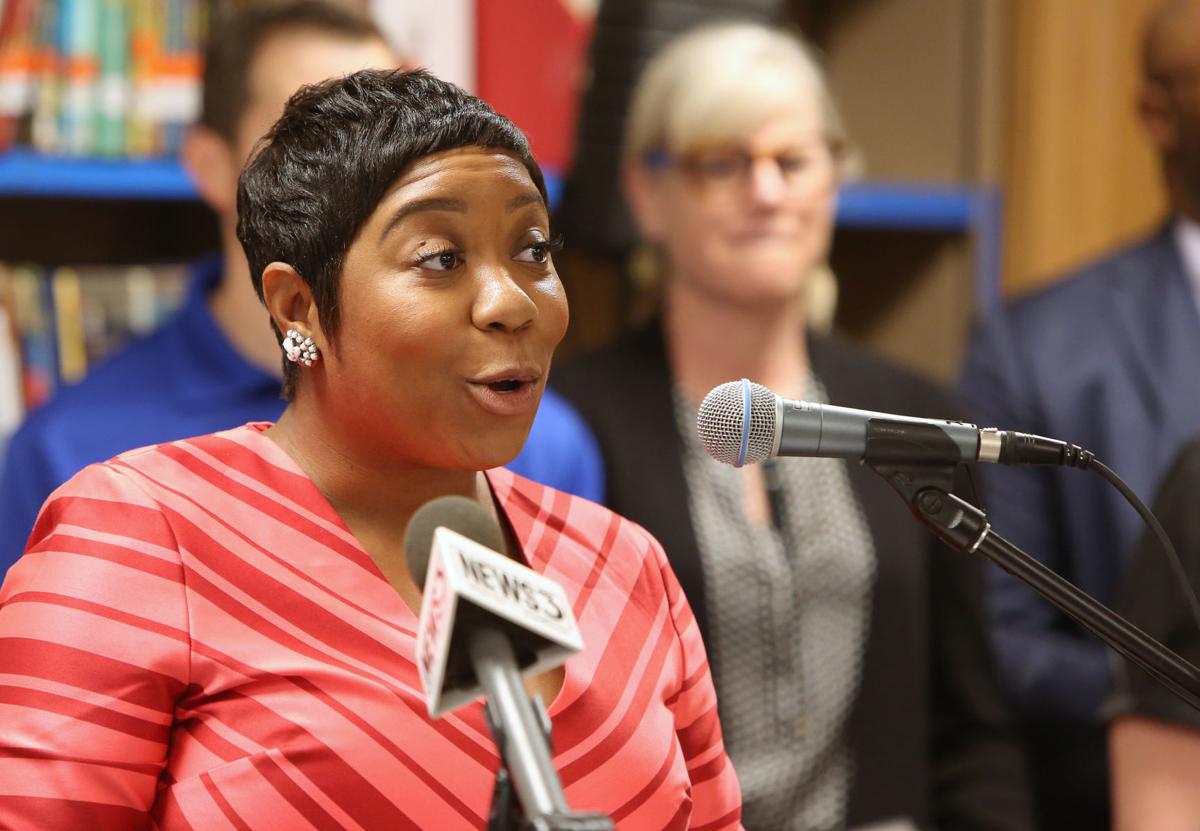 Madison Metropolitan School District Superintendent Jennifer Cheatham will leave her post just before the start of the 2019-20 school year, capping six years at the helm of the state's second largest school district.
A source said the Madison School Board, in a closed session Monday, authorized MMSD's attorney to enter into negotiations with chief of elementary schools Nancy Hanks to take over as interim superintendent.
There was no vote during the closed session, but there appeared to be an agreement among the majority of people in the closed session on the decision to enter into negotiations with Hanks, the source said.
On the board's agenda during the closed session was an item "on the consideration of employment of a district administrator," according to the publicly available agenda. A public records request was submitted by the Cap Times on Wednesday for meeting minutes from that closed session. MMSD did not immediately respond.
Newly elected School Board member Ananda Mirilli said Matt Bell, the district's legal counsel, has not engaged in talks with Hanks about being interim superintendent.
Mirilli said there's no definitive person yet who the board will appoint as interim superintendent, but that there is potential for that person to come from the Madison community.
"I do think that there is great potential in our community that we will certainly tap into and engage in conversation, but the process is that our legal counsel will reach out to those individuals to start a negotiation process," Mirilli said.
The district announced that Cheatham will join the faculty at the Harvard Graduate School of Education in a program that helps train superintendents. She pursued her graduate degree in the university's Urban Superintendents Program there and her early teaching career included stints in California and Michigan.
Isthmus first reported on Tuesday night Cheatham's plans to announce her resignation, and the district sent out a news release and letter to families confirming the news on Wednesday morning.
Cheatham's position at MMSD was her first as a district superintendent. Her educator license to be an administrator expires on June 30, and according to public data from DPI, she did not apply for a renewal of that license.
Cheatham previously served as Chicago Public Schools' chief of instruction, leaving in 2013 when she was hired by MMSD to replace then-superintendent Dan Nerad. The position was filled by Jane Belmore in the interim between Nerad and Cheatham.
"Jen has been an incredible leader for our district. She has put us in a powerful position to continue to move forward, and we thank her for tremendous work, her dedication, and her skill as superintendent," Board President Mary Burke said in a news release. "We have a strong team, united board, and we are in an incredibly positive position to move forward in our commitments to our community."
An 11 a.m. press conference on Wednesday with Madison School Board members, community leaders and staff is planned. It will be held at Mendota Elementary School, 4002 School Road.
Cheatham's resignation comes after a tumultuous year for MMSD, which she previously described as a "trying year." She has advocated for a Black Excellence Plan and a strategic framework aimed at making inroads in the large achievement gap between white and black students in the district.
Cheatham's departure leaves a slew of questions for the Madison School Board that was sworn in last month. With the exception of Burke, the other six board members have a collective five years of experience on the board. Cheatham's administration introduced a $462.6 million budget proposal, and the board is planning to vote on a preliminary budget in June.
Hanks, MMSD's elementary schools chief, also came to Madison in 2013 from Chicago Public Schools. She served as principal at Melody Elementary School on Chicago's west side, near the neighborhood she grew up in. She earned her Master's in Educational Leadership and Administration from Harvard. The Root previously recognized her as one of the 100 most influential African-Americans in the country.
Hanks, a black woman, would temporarily lead a school district that is majority-nonwhite if appointed. Cheatham's "trying year" comment in a speech to the Rotary Club of Madison followed high-profile incidents this past school year, including several instances where MMSD employees used a racial slur in front of students and another involving an altercation between a black girl and a white positive behavior coach at Whitehorse Middle School that did not result in any criminal charges. In a previous interview with the Cap Times, Whitehorse staffer Rob Mueller-Owens described how he felt thrown under the bus by Cheatham following the handling of school-based side of the investigation.