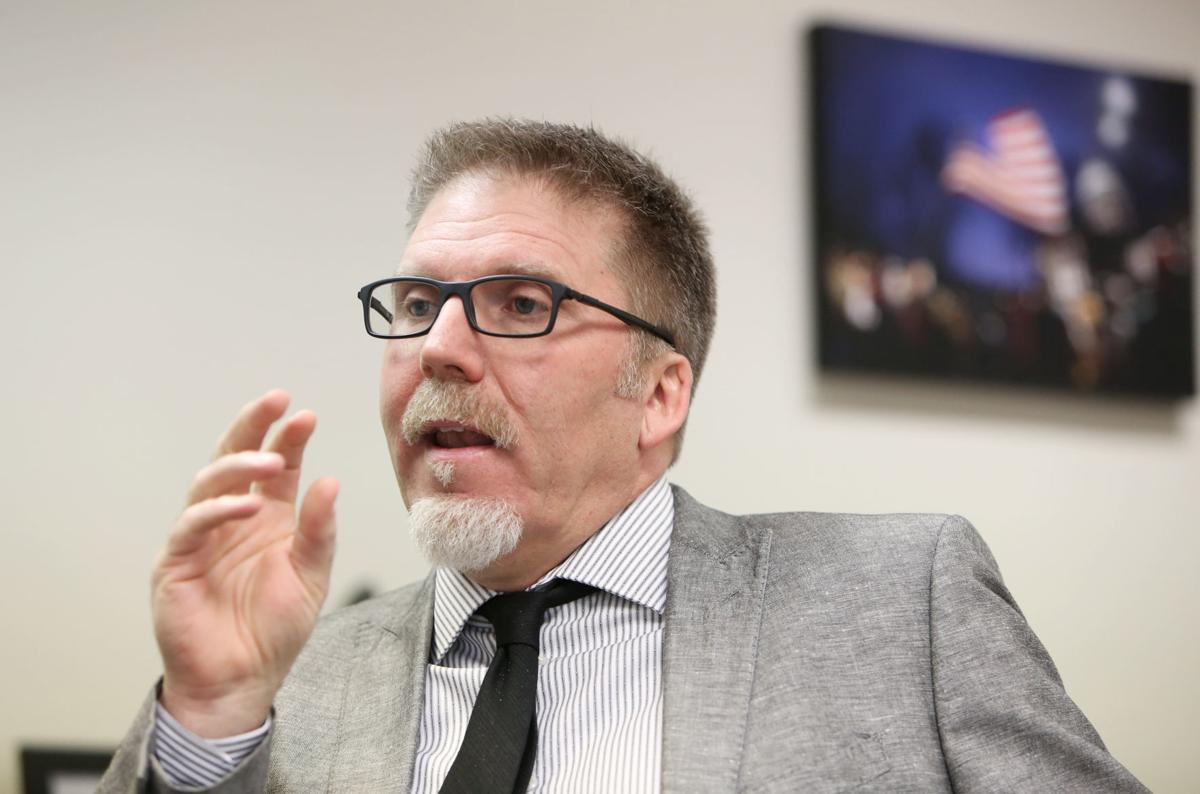 Nearly all current candidates for the Madison School Board have started to make their case to voters and potential endorsers as the primary election heats up. That included answering questions from Madison Teachers Inc., the city's teachers' union. 
Nine candidates are running for three seats on the seven-person School Board. MTI executive director Doug Keillor said candidates had to send in answers to the questionnaire by Jan. 11. On Wednesday, School Board candidates interviewed with the political action arm of MTI, which is comprised of 13 people who guide the union's endorsement process during each election cycle. 
Candidate Amos Roe, who is running for Seat 5, was the only current candidate who did not submit a questionnaire. Keillor said they reached out to Roe multiple times but did not receive a response. Skylar Croy, who withdrew from the race but whose name will still appear on the Feb. 19 ballot, also did not submit a questionnaire or interview with MTI.  
Keillor said the committee will meet to decide whether to recommend an endorsement to MTI's members. The union's bylaws require two-thirds of the committee to agree on a recommended endorsement in order for the recommendation to go to MTI's members for approval via an emailed ballot, which takes about a week. 
When the endorsements are made, they should be finalized by about Jan. 23, according to Keillor. 
Here's how each of the candidates responded. 
Kaleem Caire, an education activist and founder of One City Schools who ran unsuccessfully for School Board in 1998, said he plans to "make young people the number one priority in our city." He pointed to the achievement gap, a lack of joint efforts to help children and teacher vacancies as items he believes MMSD should improve on. 
Caire said he supports public charter schools "but only those that have produced higher levels of student outcomes and attainment, or that are designed to meet a particular need that traditional public schools either struggle with or do not offer."
He also said he does not believe school vouchers are necessary for MMSD.
Cris Carusi, a public education advocate who ran unsuccessfully for School Board in 2017, said that the district needs to improve on implementing the Behavior Education Plan, the condition of school buildings and educating all children. 
Carusi also said she would "push back against reforms that encourage privatization, diminish teachers and their profession, standardize classroom instruction and encourage teaching to the test."
David Blaska, a former Dane County Supervisor and conservative blogger, focused his questionnaire on one of his campaign's biggest priorities: school discipline.
Blaska wrote in his answers that he is running for School Board "because we can close the achievement gap only by restoring discipline and high expectations to Madison education regardless of race, income or other identity politics."
Blaska said in his responses that the district needs to return control of classrooms to teachers, approve more charter schools and lose what he called "the fixation on identity politics."
Laila Borokhim, a district parent and local restaurateur, said she is running for School Board "to be part of the group finding solutions to issues that affect all of our children."
Borokhim said the district needs to "do the work and not just talk about" racial equity, increase the amount of teacher, student and community voices in MMSD, as well as address low staff morale. 
Albert Bryan, a physician who works for a group of addiction clinics in Milwaukee and Madison, said he is running for School Board to reduce the achievement gap, which he said "threatens to change the character of Madison."
Bryan said the district needs to improve walk-in access to neighborhood schools, encourage maximum preschool attention to children and provide remedial attention to students who cannot read at grade level. 
Ali Muldrow, the co-executive director of GSAFE who ran unsuccessfully for School Board in 2017, said in her questionnaire that she is running for School Board "for the love of learning."
Muldrow cited diversifying staff and increasing pay and benefits for teachers as particular issues the district could improve on.  
TJ Mertz, the incumbent who has served on the School Board since 2013, said the district needs to make "the rhetoric of shared decision-making and collaborative problem solving a reality."
"I struggled with the decision to run again; in the end because I have seen democratic practices at all levels of the district erode, too many students falling too far behind, too many staff members being disrespected, I think my knowledge, skills and commitments are more important than ever," Mertz wrote. "Other than my family, serving on the School Board is the most important thing I do."
Ananda Mirilli, a Department of Public Instruction equity consultant who previously ran unsuccessfully for School Board in 2013, said she is running "so our children can experience educational justice and educational equity." 
"Addressing district gaps starts at the board level first, a strong board well versed in educational equity and the impact of systemic oppression is critical to move the district to yield the results they intend to achieve," Mirilli wrote. 
The primary election is Feb. 19, which will narrow each race down to two candidates. The general election is April 2.