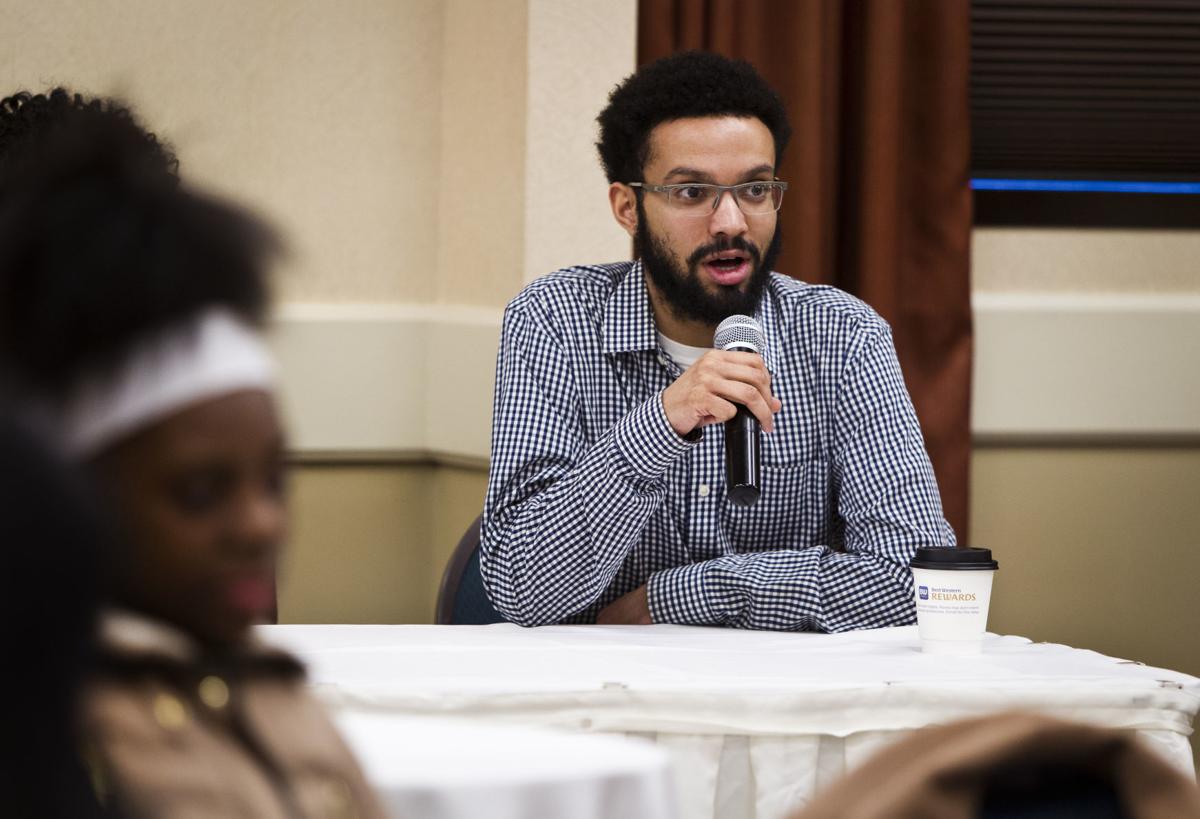 In the run-up to the 2014 gubernatorial election, Savion Castro, then a University of Wisconsin-Madison student and PEOPLE program scholar, interned for the Democratic nominee and Madison School Board member Mary Burke's campaign. 
Five years later, Castro — who has worked for numerous progressive causes and campaigns since his days at La Follette High School, will fill a vacant seat formerly filled by Burke, who resigned earlier this month. 
The board voted unanimously on Monday night to appoint Castro to the now-seven person group. Castro, who cited in his application the knowledge he gained while attending the Madison Metropolitan School District as a black student with special needs, will serve on the board as it prepares for major decisions in the coming months.
"It's kind of a surreal feeling," Castro, 24, said after the meeting. "It's a surreal feeling, having gone through what I've grown up with, but I was really heartened by all the community support, folks who voiced their support for my appointment to the vacancy through email, Facebook and social media. It was surprising. Folks like me typically don't get to sit at a table like this."
Castro's appointment also moves the board closer to reflecting the Madison School District's racial demographics. A majority of the board's members will be people of color, and will lead a school district that is majority-minority. 
Just under 30 people applied to serve on Seat 2. Applicants had a wide variety of experiences that they argued would help the board as it enters a new school year with critical decisions to make, including hiring a new superintendent and preparing for a referendum in 2020.
Several board members said they hoped to see some of the applicants who were not selected run in April 2020. Seats held by Kate Toews and Nicki Vander Meulen will be up for re-election next year.  
Anyone 18 years or older who resides in MMSD was allowed to apply for the position, only having to submit a letter of interest totaling 700 words or less on what qualities they can bring to the School Board, as well as statements on several issues the board member would work on if selected. 
Monday's meeting did not include any public comment period. Several dozen community members, including several applicants, were in attendance. 
Several board members said their decision came down to weighing several priorities, including whether to turn to one of the five applicants who had experience serving on a School Board, or to turn to an applicant whose voice and experiences they felt were not already represented among themselves. 
"Experience is important to me, but experience isn't the only thing," board member Nicki Vander Meulen said. "Sometimes you have to see what is missing. MMSD has a problem that the majority of the United States has: individuals who are black and brown with disabilities are the least heard, the least listened to, the least respected and often the least hired."
Three of the board's six current members were elected in April and the other three are in their first term on the School Board. 
Board president Gloria Reyes said she initially went into the appointment process thinking the board needed someone with experience, but moved away from that mentality as she read through the applications over the past weekend. 
The vote to appoint a board member is a rare event. The board last appointed a member in the 1990s. 
Castro, who will be sworn in on July 29, will serve a nine-month term until April 2020. He said he plans to run in the April 2020 election to serve the remaining year of Burke's term, which ends in 2021. 
In his application, Castro emphasized a desire to tap into the potential of Madison's schools to more equitably serve its students, particularly students of color. 
Castro currently works as a legislative aide for state Rep. Shelia Stubbs, and has held several public policy-related posts, including at the Center on Wisconsin Strategy.
"Policy work cannot be done as an abstraction; we must intimately know how the decisions we make will impact people's lives in a tangible way," Castro wrote. "I want to work collaboratively with fellow School Board members, teachers, students and community members to craft that policy." 
Though Castro, who graduated from UW-Madison with a degree in sociology in 2017, is one of the board's youngest members, the rest of the board repeatedly pointed to his application as one that stood out.
"Thank you for your confidence," Castro said to the members of the audience. "I'm really looking forward to engaging with all the members of the community to bring new voices to the table."