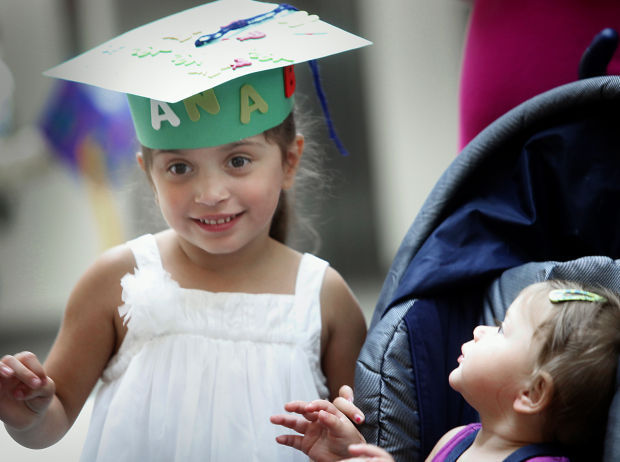 A study by the Madison Education Partnership found that Madison Metropolitan School District students enrolled in 4-year-old kindergarten have stronger literacy and classroom behavior skills by the time they enter kindergarten than their peers who did not enroll in 4K.
MMSD's 4-year-old kindergarten is an optional, free program for students offered at 26 elementary schools and 25 early child care centers across the city. 
MEP is a partnership between the University of Wisconsin-Madison's School of Education and MMSD. MEP conducts education research with a mission of improving the school experience and educational outcomes for students. 
To measure literacy, MEP compared students' performance on the Phonological Awareness Literacy Screening, or PALS, an assessment of students' familiarity with literacy fundamentals like letter recognition, spelling and sound awareness.
On average, 4K students scored higher on PALS than 53 percent of their peers who did not enroll in 4K. Students of color, students from low-income families and students of non-college educated parents also benefited from 4K enrollment when compared to their peers of similar backgrounds. On average, the PALS scores of African-American and Latino students enrolled in 4K were higher than 58 percent of their peers of the same background who did not enroll in 4K.
Low-income 4K students also scored better on PALS than 58 percent of their peers from similar socioeconomic backgrounds.
In a press release accompanying the report, MEP's co-director Beth Vaade said the results offer opportunities for MMSD to improve their 4K program. "This report shows where the district is having success, but also highlights the potential of the 4K program to be even more impactful than it is now," she said.      
In the release, MMSD Superintendent Jennifer Cheatham said the report's results "confirm the work we are doing and point us to important ways to make the program even stronger."
The largest disparity existed between students with parents who did not complete high school enrolled in 4K versus students who did not enroll in 4K. On average, 4K students scored higher on PALS than 63 percent of their peer group.
The study found no appreciable difference in PALS performance for students enrolled in an MMSD school-based 4K program versus an MMSD early childhood center.
MEP's study also compared MMSD's 4K student performance to children enrolled in Milwaukee Public Schools' 4K program. MPS was chosen as a peer district because of its urban setting, large size and diverse student body.
On average, Milwaukee 4K students outscored their non-4K peers on the PALS assessment 76 percent of the time, far ahead of Madison's 52 percent average. The report did not conclude why the gap between MMSD and MPS student performance is so large but mentioned that MPS only offers full-day 4K, while MMSD students attend half-day programs.
To measure classroom behavior, MEP used student report cards from the 2011-2012 through the 2015-2016 school year. Kindergarten teachers graded students on "pro-social" behavior, like their ability to accept responsibility for their behavior, follow directions and resolve conflicts.
On average, 4K students scored 3 percentage points higher in the probability of engaging in pro-social behavior than their peers who did not enroll in 4K.
Although students of color, low-income students and children of parents with less than a college education who enrolled in 4K had better literacy outcomes than their peers who did not, MEP's study found that attending 4K did not make a difference on pro-social behavior grades.
For example, the report found that African-American students across the board were 12 percentage points less likely to be rated as engaging in pro-social behavior "most of the time" when compared to their white peers.
Students enrolled in school-based 4K had slightly stronger pro-social behavior grades when they entered kindergarten than their early childhood center peers.
Report authors concluded that MMSD's 4K program is "associated with substantial reductions in inequality in literacy skills at the start of kindergarten" when it comes to serving students of color and low-income students. Authors suggested that MMSD explicitly define the goals for the 4K program and work with MPS staff to learn more about the success of their program.