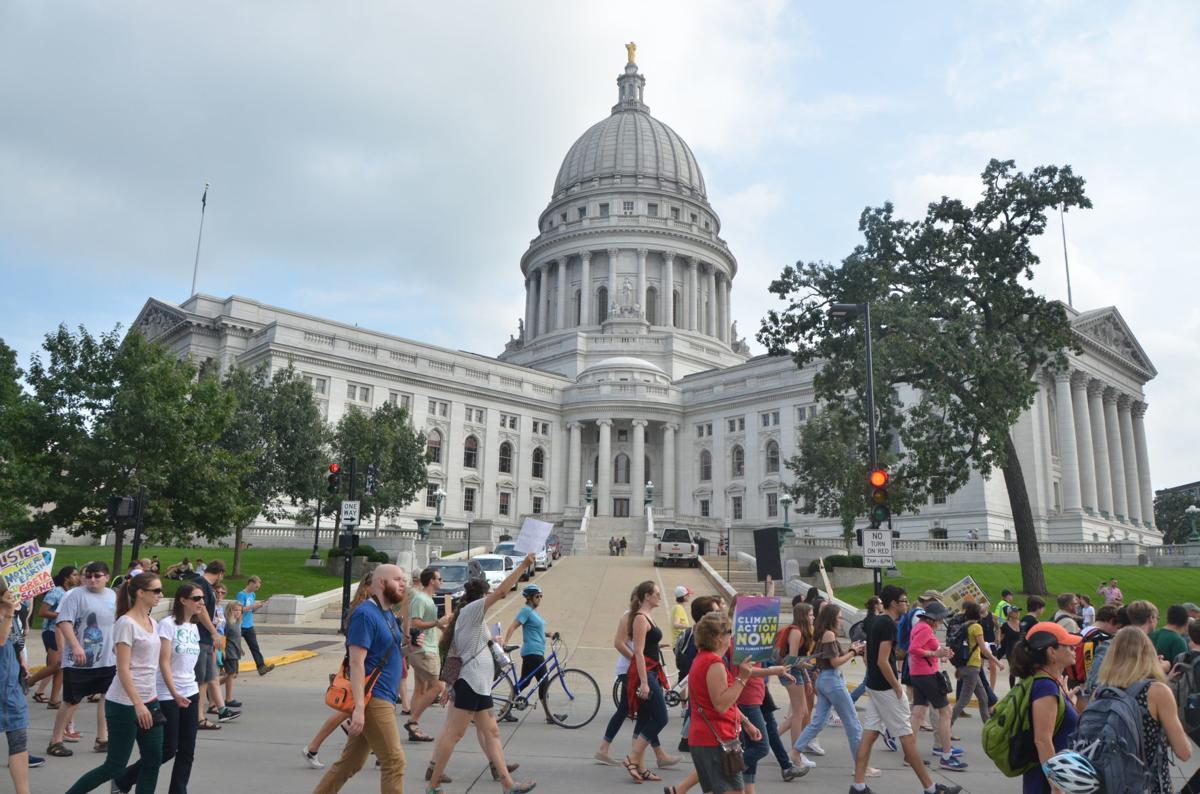 Maggie Di Sanza and Anika Sanyal have co-organized the Madison chapter of the National Period Day Rally, planned for 2-5 p.m. on the Capitol steps at the end of State Street.
"It's all about promoting menstrually equitable policy and the removal of stigma associated with periods," Di Sanza said.
The two took on the work of organizing the rally just four weeks ago after being asked by The Period Movement, as they are members of the Wisconsin chapter. Di Sanza, a Madison Memorial High School junior, runs an advocacy organization, Bleed Shamelessly, that promotes similar ideas.
Speakers planned Saturday included State Rep. Melissa Sargent, D-Madison, and School Board member Ali Janae Muldrow. The rest will be youth speakers, an important aspect to the movement, Sanyal said.
"We really want to keep this with the youth, that's where the future is," she said. "Making our voice come through, especially with issues that directly affect us."
There will also be a menstrual product drive to donate to those with housing insecurity and a "menstrual packing party" to make kits of items to donate, Sanyal said.
Sargent proposed a bill in August that would require buildings owned, leased or occupied by the state as well as those operated by schools to have tampons and sanitary napkins available at no charge in restrooms. Di Sanza said they hope legislators, both at the state and national level, will see the importance of the issue at the rally, one of 55 planned nationally.
"This is not just a women's issue," Di Sanza said. "This is a human issue."
The "stigma" about discussing periods and a lack of access to menstrual products comes from "deeply rooted sexism," Di Sanza said, and "the way to combat it is to combat sexism."
Sanyal said that while she's always been privileged to have access to menstrual products, she knows that's not the case for many in the community — and it's an even more significant problem in other countries.
"When I go to India, that's unfortunately not the case," she said. "In addition to having an impact in the United States, the issue plays out to a much larger scale in the global community."
The pair of students said they've paid close attention to the diversity of the speakers planned Saturday, wanting to make sure women of color and those who do not identify as female but do menstruate are represented.
Di Sanza's Bleed Shamelessly project began in summer 2018 after she attended a writing camp at the University of Wisconsin-Madison, where she developed her writing skills "through the lens of social justice and activism."
"Activism involves changing hearts and minds, and changing public policy," she said.
She had to pick an issue she "cared deeply about," and after starting with feminism, decided to focus in on the lack of diversity represented in the menstrual equity conversation.
"Menstruation is definitely something that is so heavily associated with womanhood and so heavily associated with femininity that we often ignore the experiences of people who are not feminine who menstruate or who are in extreme poverty and menstruate," she said.
Di Sanza said "it's hard" to lead activist movements while continuing high school, but "it's all about prioritization." For Sanyal, who is the student member of the Madison School Board, those priorities will have her taking the ACT Saturday morning before heading to the Capitol for the rally.
"We shouldn't have to strike, but on the other hand, no one else is," Sanyal said. "Someone has to make the difference in society and someone has to work to change the system."
Share your opinion on this topic by sending a letter to the editor to tctvoice@madison.com. Include your full name, hometown and phone number. Your name and town will be published. The phone number is for verification purposes only. Please keep your letter to 250 words or less.
Be the first to know
Get local news delivered to your inbox!