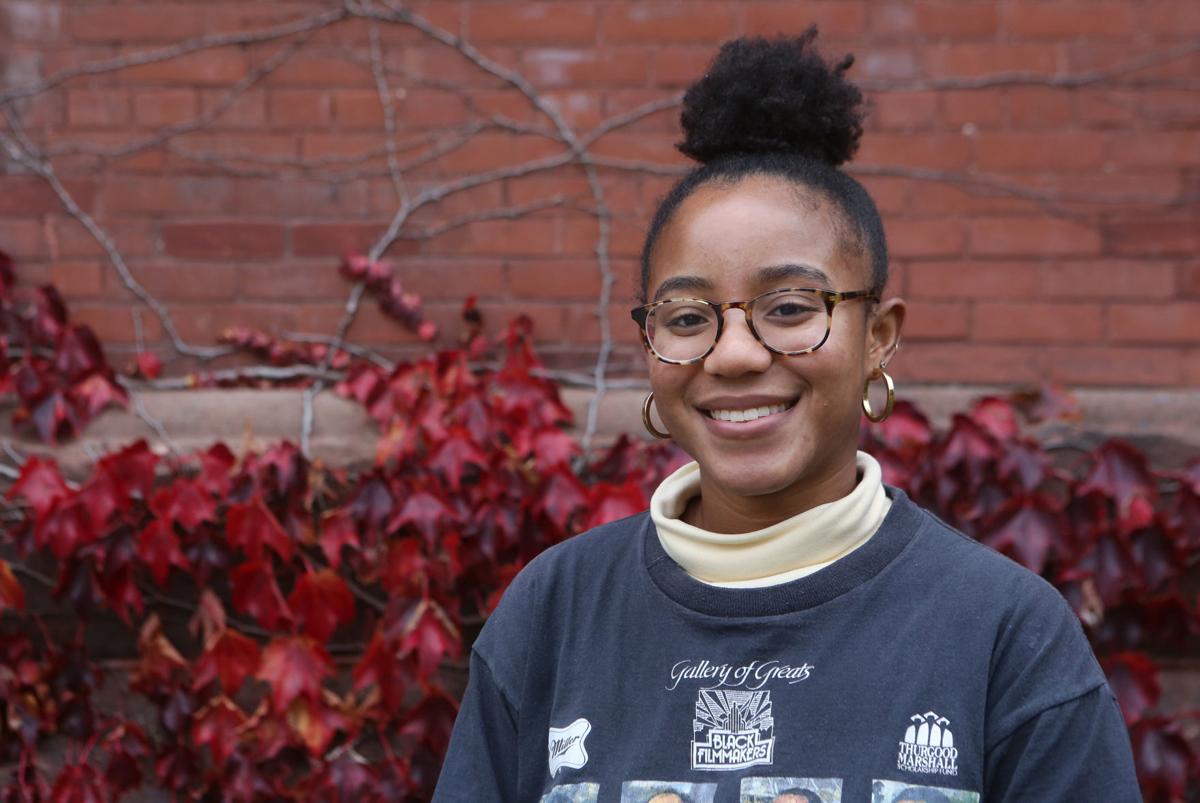 Shiloah Coley remembers the first time she saw Madison on a visit to the University of Wisconsin campus from her home on the south side of Chicago.
"So we're driving and I'm looking out the window and I'm like, 'Mom, where's the city?' And she's like, 'I think this is it,'" Coley recalled. "For me, I wanted to go to school in a major city."
Soon enough, Madison had made it to the top of her college list — mostly by process of elimination of other schools — and as she settles into her senior year, she's appreciated being pushed out of her comfort zone here. Her tenure has included studying abroad in Brazil, working on a project with the Madison Children's Museum that took her to South Africa, displaying a project at the Metropolitan Museum of Art in New York and receiving a prestigious Truman Scholarship, which gives her $30,000 toward a graduate degree along with research and leadership development training.
"I've had so many opportunities made available to me here that I've had the chance to take advantage of," Coley said. "Being in a space that I was uncomfortable, it forced me out of my comfort zone and challenged me to be more willing to talk with people, communicate with people, speak up in the classroom, get involved in student orgs that I'm passionate about. If I'd been some place where I was comfortable, I might've been less likely to do that."
The children's museum project, in partnership with South African children's museum Play Africa, allowed Coley to tap into her love of working with kids and finding similarities between cultures. She had visitors draw pictures and write a sentence about something from their daily life, like going to school or eating dinner, and then put the projects from South Africa on display in Madison earlier this year.
That work also led her to an opportunity with the Met. Her project, conceived in South Africa and then presented at the Met's annual World Culture Day Festival, had children take pieces of art from the museum's archives and recreate them in their own image. Through that project, Coley noticed and called out the lack of diversity in the museum's archives.
Also the co-editor-in-chief of The Black Voice on campus, Coley is a journalism major with certificates in African American studies and studio art. She expects to graduate in May 2020 and eventually pursue a PhD in sociology, though she wants to take a year or two to focus on research without the school part involved.
Coley spoke with the Cap Times about her projects with the children's museums and the Met. 
A lot of your research has centered around children. Why is that important to you?
I've always been drawn to kids. I just think that there's so much untapped potential, especially when you look at low-income, under-served urban areas. I also think there's overall just a gaping hole in access to arts education specifically, especially looking in the U.S. and in the inner cities. It's also a lot more fun to work with youth. I learn from them every day. They challenge you to think about the world in a different way as opposed to how an adult might challenge you to think about it.
What did you learn from children while working on the project at Play Africa?
I was reminded of what it's like to be fearless, not scared of failing, not scared of messing up. When I thought about the Met kids program, I thought, "Wow, it's going to be pretty intimidating for kids to take these images from renowned painters and be like, 'I'll recreate it and I'll do my own thing with it.'" That's something as an adult ... you learn to be intimidated by certain things. So many of these kids just weren't even intimidated at all. That was super beautiful and I think it reminded me of what it's like to not view challenges as challenges but just an opportunity.
How did it feel having your projects on display at the Met's summer event and at the Children's Museum here in Madison?
Coming back to the Met and seeing the work of the children displayed, for me that was super big. It really came full circle for me knowing that when I was younger I always wondered why didn't I see representation in art museums and in a small way, to have created a bit more representation in an art museum like the Met, I was like, "Wow." I realized I am capable of having an impact even if it was in a small way. All the kids ... got to see the work that the children created from Johannesburg. (It) has an impact on them as well and how they conceptualize who belongs in art and who it's acceptable taking portraits of and making work about.
(At MCM), what I get the most out of is seeing other people look at the exhibit. I loved seeing parents or kids sit down and do the program by themselves or to watch kids look at what the kids in South Africa had drawn, what the kids in Madison had drawn. I think what people realized is that there's way more similarities than what we think.
What was it like to receive a Truman Scholarship?
It was really rewarding to feel like someone else cared about the work I was interested in. Sometimes I view my interests as very niche, and I tend to feel this sense of imposter syndrome in the room. Everyone else is doing this incredible work with immigration policy or health care reform. There are some folks doing school-to-prison pipeline. To be sitting in the final interview room and hearing about everybody else's incredible research, sometimes I tend to minimize myself and be like, "My work is on art."
For me it was actually a super encouraging space. Even when I would discredit my own work, people would be like, "No, your work is really important and what you're doing is super interesting and there aren't a lot of people doing what you're doing."
The money is great, but I also think the sense of confidence it gave me in my own work, that it's purposeful work that's important, that's invaluable in a sense. That's what I really got out of it.
How has your journalism major played a role in these projects?
I saw journalism as a way I can just keep learning. I'm just a giant nerd with unique interests. For me to have the opportunity, "Oh, I can just keep learning different things that aren't necessarily in my area of focus but I'm still really interested in," that was perfect for me.
The skills that journalism gives you in regards to being fearless with talking to people and talking to strangers and also just the communication skills of being able to write well, being able to craft a really strong email, be able to communicate with people in the workplace. Those are huge transferable skills that have played a huge role in my work at the Met, Play Africa and the Madison Children's Museum.
Share your opinion on this topic by sending a letter to the editor to tctvoice@madison.com. Include your full name, hometown and phone number. Your name and town will be published. The phone number is for verification purposes only. Please keep your letter to 250 words or less.