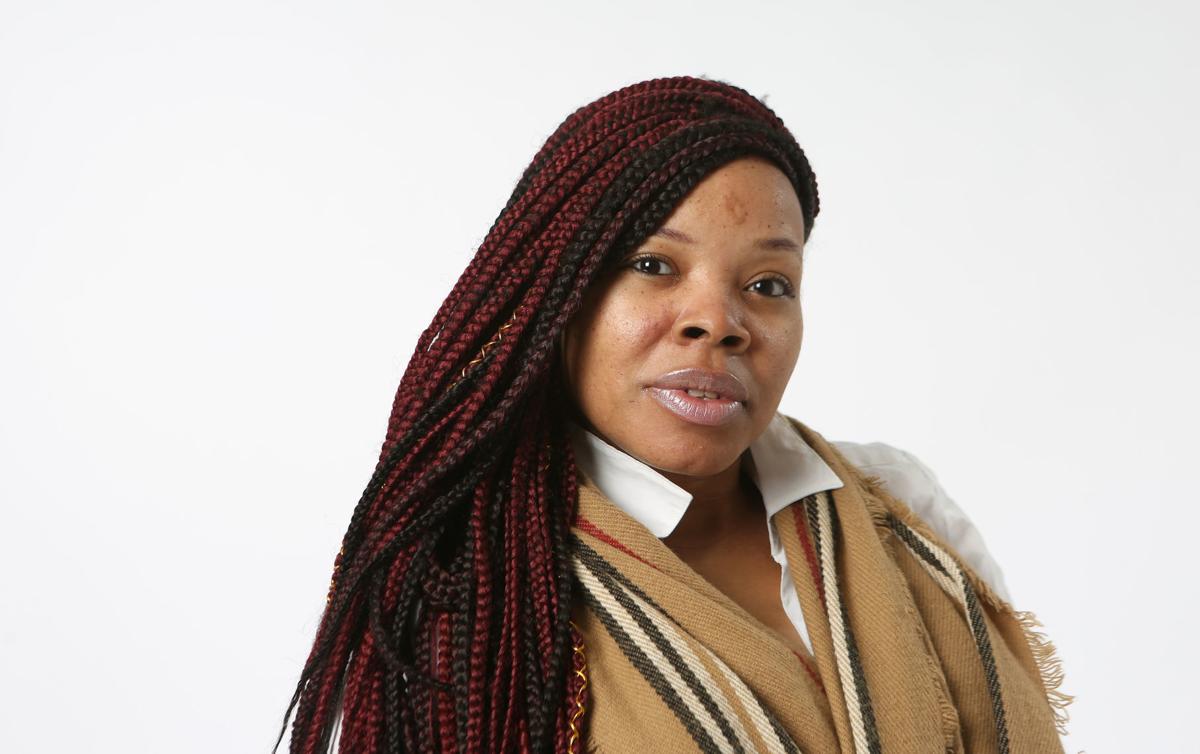 Jevon Diming is bothered when people describe black girls as "at-risk," "disadvantaged" or "low-income." Young people can internalize those words, she says, even when the real problem is the institutions that are failing them.
Diming is a youth mentor who says that her training as a psychologist — she's pursuing her degree at Edgewood College — combined with her lived experience growing up in a "culture of poverty" in Chicago puts her in a unique position to help struggling black girls in Madison. The self-described "inner-city psychologist" said that she understands the culture and the inter-generational racial trauma that shape those girls' behaviors, in ways that other educators or mentors may not.
Through her counseling group Peer Outreach Services, Diming worked with girls on their problems during lunchtime sessions at Memorial High School. As a participant in the Social Good Accelerator, a program to help entrepreneurs achieve social good, Diming has also been working on a new project: A safe house where black teenage girls can go to get one-on-one mentorship with Diming, and to learn "self-love, confidence and dignity."
When did you first begin your work as a mentor for black youth in Madison?
There was a fight where families, parents went into Memorial High School (in 2016). This was an incident I was particularly concerned about, because it put African-Americans in a bad light. They put us on the news and portrayed black people across the board as, well, like savages — I'm trying to choose a good word for it, it just wasn't a good image. That was embarrassing to me as a black woman. And a mentor of mine told me at the time, "These black girls need you." And I said, "Well, OK."
They portrayed it so bad. And knowing what's going on in the community, that led to that happening, the pain that African-Americans suffered through that we passed down to our kids ... we had parents coming up into the schools, fighting for their kids. That's a cultural issue, a cultural dysfunction, generationally, that we pass on to our kids.
And y'all don't know what to do with that, white folks. Because that's our pain. This is our stuff to deal with. I understand the issue. I understand the pain. And I understand the struggles these girls go through. 
Tell me more about the struggles those girls are going through.
For African-American teenage girls, high school age, and who just made it through middle school, they tell her that this is when she's going to realize that this world's not for me. The system isn't working for me, so I'm going to act out.
They're just lashing out — lashing out against a reality they don't have the words for. And they don't have a complete understanding of why.
Why would anyone want to go to school knowing if they're going to get jumped on that day? Why would they want to go to school, when officer so-and-so is going to be after me? Who wants to go to school, when the staff and the administration thinks that I ain't shit? It's a self-fulfilling prophecy.
What exactly did you do during your lunchtime sessions with the girls at Memorial?
The most important things we worked on was the things they were facing, their realities at the moment. If they were in conflict with one of the other girls, we were addressing it. And I would explain to them, why they were feuding, and where it came from.
We did a lot of acting out. Role-playing. Like, about bullying. How sometimes you don't even realize you're a bully, but you become a bully, because you feel you have to protect yourself. And you've become a meaner bully to another girl, who's thinking the same thing. And then the mother of both of these young girls are like, "Now, you don't let those girls do that to you." Because no one wants their child to get bullied.
It's generational pain — it comes from pain, from our mothers, and from her mother, and from her mother. And then we're acting out on each other, because all we have is each other. And I know you, you're familiar. You look like me. And I hate me, so I'm going to hate you.
And now, you're trying to open a safe house. Why?
The safe house came from when the girls were coming to my house. Even when I was out in the community, I've run into so many girls who tell me their problems when they're out in the street. There's a trust factor there now. When they would get into it with their mothers, they would ask, "Could I come over?" And I'd say sure.
But I don't have any resources. What can I do for consistency?
It sounds like this is what the safe house would be that way to offer that consistent form of support. What would it be, exactly?
The safe house will be a one-on-one mentoring reality. One girl will come to stay with me for six to eight weeks, and we'll work on whatever we need to work on with her behaviors in that time. I'm going to make sure she goes to school. We'll work on transitional living skills. She's going to learn self-worth. We're going to work on her self-esteem. Once a child loves themselves, everything else is going to fall into place.
Every individual is different ... I may be working with a girl who may not know how to read so well. She may not feel comfortable working on a job application. I'm going to be there, side by side with her, showing her with dignity. And she's not going to be embarrassed, 'cause it's just me and her. We'll walk her through everything she needs to know.
Let's work on what you want to be, and what you want to become. It's my job to find the resources this kid needs. If you want to be a nurse, let's go talk to nurse so and so. Let's talk to her, and see how she can help us. You wanna be a teacher? Let's talk to a teacher to find out how this person can help us be where you need to be.
It sounds like you want to teach these girls a lot about self-love and confidence.
If you lack those things, you're going to give up and become another statistic. With those things, you move forward and keep pushing.
Why is the one-on-one component of this important?
One-on-one ensures that that child is getting the proper help that child needs. From my experience at community centers, they're throwing Band-Aids at the problem. I'm going into the cut. For me to go into the cut, I would like to personalize things so that this child isn't embarrassed — give her a little privacy and dignity along her healing journey.
Sometimes those group homes can be just as retraumatizing becaues of all the conflict that can go into that situation. Not to say anything bad about group homes, but ... it's not working. Those group homes for young African-American girls, sometimes in my experience, you can learn even more bad stuff from other girls. It reinforces the same things, perpetuating the same old things.
So it sounds like the safe house project is still relatively young. What do you need?
We need funding for the safe house, and I need someone to help me structure the safe house, someone who knows the code for the city of Madison. I'm struggling with the question of whether to buy or build the safe house. I still struggle, from my past experience, with raising capital through grants and stuff. I don't feel confident when it comes to raising money that way. It's just so tricky there.
I just want to do my part, because I know how. And I hope, when I'm old, and I get to the end of my life, I can say I did something. I did something huge when I was on this planet. In the creator's eyes, I did something, and he or she can be proud. I'm good at this, and I can help these girls.
Be the first to know
Get local news delivered to your inbox!