As Mayor Satya Rhodes-Conway walked out of a La Follette High School science classroom Tuesday morning, she quietly told the assistant principal guiding her around the school, "I want to stay for class."
She was visiting LHS as part of the Foundation for Madison's Public Schools' "Principal Experience." In its 16th year, the annual event offers an opportunity for Madison community members to shadow a principal for a morning and discuss what they saw and learned over lunch with their fellow "principal partners."
"The schools are so critical to our community that it's really important for me to know what our kids are experiencing, but also what parents and teachers are experiencing and the work that they're doing to appreciate it," Rhodes-Conway said. "To have the up close and personal appreciation for the work that goes on in our schools every day is really important.
"Not just for me, but for everybody."
Her guide, LHS assistant principal Jennifer Ploeger, said, "It was wonderful to be able to showcase the positive things happening at La Follette," and discuss strengths, challenges and potential partnerships with community members.
"The school, in an ideal sense, is a hub for the community," Ploeger said. "We cannot meet the needs of all of the students on our own. We really rely on the expertise and partnership with those in our community."
FMPS executive director Melinda Heinritz commended the 115 participants who gave up much of their regular work day — both visitors and principals — to learn or share information about the schools.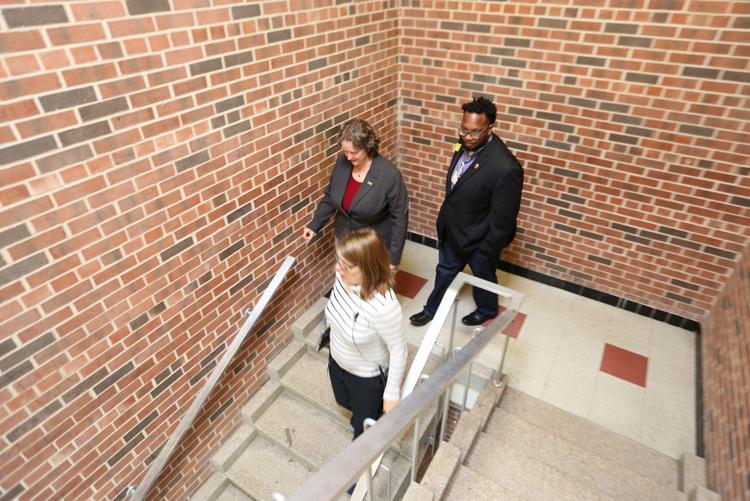 "It is so eye-opening for people to come in, and whatever their perceptions might be of our schools and our staff, they are amazed," Heinritz said. "Our kids sometimes bring a lot of challenges and situations into our school buildings, and it really does take the community coming together."
The day could pay long-term dividends for at least one school, as Robin Worth of the Wisconsin Center for Educational Research said she hopes her organization can partner with Capital High School in the Foundation's adopt-a-school program. Worth toured Capital High with the principal Tuesday and appreciated how much "amazing work" is being done at the school.
"What we saw today was someone who was really invested in the human beings," Worth said. "She knew who they were."
At Sennett Middle School, LocknCharge salesman Kyle Jacobson said it was interesting to learn "the inner workings of the social structure that exists in a school." Led by principal Dan Kigeya, Jacobson said he was impressed with the community feeling of the school he saw during student-led tours and classroom visits.
"This school setting is a lot different than I remember school settings," the 37-year-old said. "It's important to really see firsthand what life is like there."
Urban League of Greater Madison Board Chair Derrick Smith, who was also at Sennett for the morning, said the visit highlighted "a lot of great things going on" in the schools that the community doesn't always hear about. For Rhodes-Conway, one of those was LHS' Center of Learning around American Sign Language, "which is totally fascinating and I didn't know we had that in Madison."
As an elected official, she said she's glad she had a chance to learn about the school, but added that such visits are just as important for people who aren't making policy but are affected by the schools and their work.
"Everyday folks can have the experience of, 'This is what our schools are about, these are ways we could help, these are ways we can be engaged,'" Rhodes-Conway said. "That is super important, because our schools do need support and they need engagement."