There is no typical day for Justin Creech.
Creech, a Madison police officer, sits back in a chair in a closet-sized, makeshift office on the second floor of Madison West High School. It's only midmorning, but his day has already been busy, from coordinating an emergency call after a student experienced a medical issue to meeting with the school dean and security staff to map student behavior trends observed in the last few days. On this late April morning, he takes a breath and reflects on his time as the school resource officer at West. His future with the school is unclear.
"We are police officers, but we're humans as well," Creech said. "We're coaches, we're mentors, we're teachers and parents. We eat, sleep and breathe like everyone else and we want to make schools a better place. I think having a school resource officer does that."
Creech is one of four officers stationed at Madison's four comprehensive public high schools — West, East, La Follette and Memorial. Officers have been at all four high schools since the mid-1990s, but the contract the School Board approved earlier this month allows for one of the schools to experiment with not having an officer during the 2020-21 school year.
That decision needs to be made by Sept. 15, but nobody seems to know which school may undergo an experimental year without an officer or how that school will be chosen.
Despite the SRO contract's renewal on a narrow vote earlier this month, MMSD and the city are at the crossroads of a much larger national debate on what school safety looks like, who it affects and who it is designed for.
Decades of police in schools
During the 1995-96 school year, a pilot program placed police officers at West and La Follette for most of each school day.
At West, the idea to bring officers into schools — instead of having detectives assigned to schools on an as-needed basis — came after a group of students in student government did an exchange with Janesville Craig High School.
"We took about 50 kids to Janesville Craig," said Mike Lipp, a former West High teacher who was the staff adviser for student government at the time. "(Officers) were not in uniform, but were in a blazer and were armed. They were oftentimes in classrooms such as social studies classes and discussed things like the rights of citizens."
Lipp and then-West principal Libby Burmaster thought the Janesville model could work in Madison.
"Libby and I agreed that an officer assigned to the school on a regular basis who interacts with the students during good times as well as during times of stress was a better model," Lipp said in an email.
In 1995, the district and city began experimenting with the idea. Four officers split up part-time shifts at La Follette and West that year. After deeming the pilot program successful, a full-scale program took off during the 1997-98 school year, stationing an officer at each school. Officers were assigned for four-year stints and had the chance to be renewed for a fifth year if everything went well.
School resource officers were previously called educational resource officers, or EROs.
Police Chief Mike Koval, then a sergeant, was one of the officers assigned to West High School when the pilot began. Now, nearly 20 years later, he's fighting to keep the school resource officer program in place.
"We want to cast police beyond the blue suit and get rid of our rigid inflexible image," Koval told Ben Rubin for a Wisconsin State Journal story in 1995. "Our presence is an acknowledgement that our schools are a mirror of our greater society."
Rubin, who at the time was a sophomore at West, wrote that student's weren't as supportive of the program as parents and teachers. He quoted a student who warned "the School Board is taking away our rights one by one. Soon we'll be walking through metal detectors and being strip-searched, always under constant surveillance."
The concept of SROs followed the rise of the neighborhood officer movement, according to Joe Balles, MMSD chief of safety and security. The neighborhood officer concept, introduced in Madison in 1986, sought to get police out of their squad cars and into the community so they could build relationships.
"If you look at the roots of the SRO concept, it's really rooted in community policing and problem solving," Balles said.
Balles, a retired police officer, worked as a neighborhood officer in the late 1980s and early 1990s before being part of the first cohort of officers in Madison schools. Balles served at La Follette.
"We wanted to make (the SRO program) like the neighborhood officer program, where we worked with the unions and officers could apply to be in this position and interview with school staff and the police department," Balles said.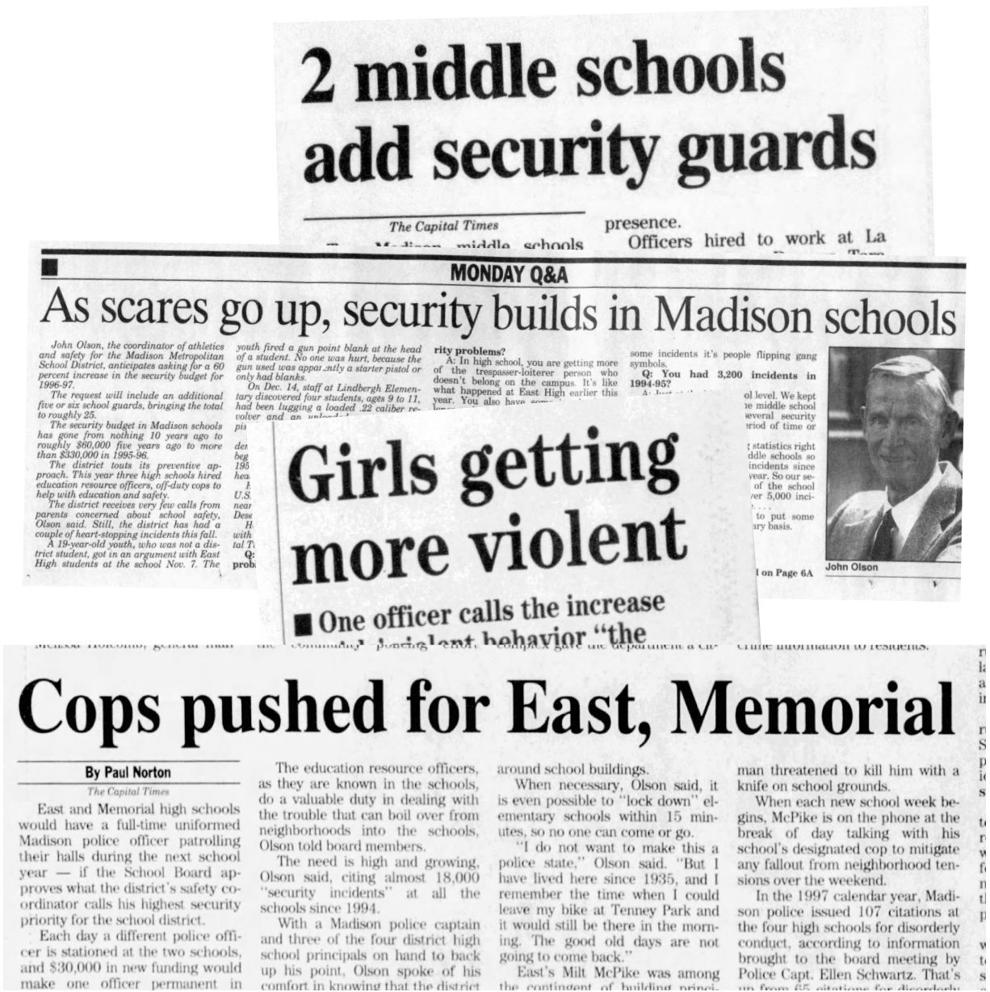 The growth of the police presence in Madison schools mirrored a national trend, according to Balles. Part of the 1994 crime bill passed under former President Bill Clinton's administration included a goal to provide federal funding that would lead to the hiring of 100,000 more police officers across the country.
"After Clinton introduced the cops office, many communities were applying to get more officers for a few years," Balles said. "A lot of communities saw that as an opportunity to introduce officers into schools to do problem solving."
At the same time, MMSD's spending on security-related measures skyrocketed. A Cap Times article from 1996 reported that MMSD's security budget went from nearly nothing in 1986 to $60,000 in 1991 and to $330,000 in 1995-96. The 2019-20 preliminary budget calls for $859,392 to be spent on security from the district's general fund. That's separate from the cost of the four school resource officers, which is just over $377,000.
"I think when we have that influx (of gang violence) in the late '90s, early '90s, there was a mutual desire to try to prevent these issues from occurring," said retired assistant police chief Ted Ballistreri, who served as an assistant chief when the SRO program started, in an interview earlier this year.
In asking the School Board in 1998 to approve full-time SROs at Memorial and East high schools, then-MMSD security director John Olson cited a growing number of security incidents throughout the 1990s.
"I do not want to make this a police state," Olson said in a January 1998 Cap Times article. "But I have lived here since 1935, and I remember the time when I could leave my bike at Tenney Park and it would still be there in the morning. The good old days are not going to come back."
At the start of the 1999-2000 school year, then-Attorney General Jim Doyle recommended that every school in Wisconsin have an on-duty police officer and that school districts should receive exemptions from state revenue caps to pay for their presence. The proposal, which came just months after the deadly school shooting at Columbine High School in Colorado, signaled a trend toward deploying police officers in schools across the United States.
SRO programs differ nationwide
There's no national database that tracks how many school resource officers there are across the country, but the National Association of School Resource Officers, or NASRO, estimates that there are between 14,000 and 20,000 SROs nationwide, based on the number of officers they have trained, along with a 2007 survey conducted by the U.S. Department of Justice.
A 2016 report by the National Center for Education Statistics found that 42% of public schools in the United States had at least one SRO present at least once a week during the 2015-16 school year.
In some urban districts like Baltimore City Public Schools, officers serve under a school police department that has a joint jurisdiction agreement with the city, as opposed to districts like Madison's, where SROs are employed under the city's police force but whose salary is covered by MMSD.
In other districts, such as the Wake County Public School System in North Carolina, school resource officers' salaries are entirely paid for by the various municipalities the school district serves.
"We are education professionals and we are in the business of education," said Lisa Luten, a spokeswoman for the Wake County Public School System of the district's decision to have municipalities pick up the tab on officers' salaries. "It's not our core competency to run a police force. We would like to stay within the core competency of our professionals, which is educating children."
NASRO, where officers like Creech trained prior to serving in schools, was founded in 1991 as the number of police officers stationed in the nation's schools began to grow. 
NASRO's training is rooted in what it calls a "triad" model, where SROs' primary responsibilities include being teachers, informal counselors and law enforcement officers.
"Policing in the street is very different than how you police in schools," said Creech, who joined the Madison Police Department in 2012 and started at West in 2017. "It's really focused on the teen brain and adolescent mental health, as well as teen-based behavior. You have to see everything that kids go through during that demographic."
Creech said Madison's SROs participate in ongoing training.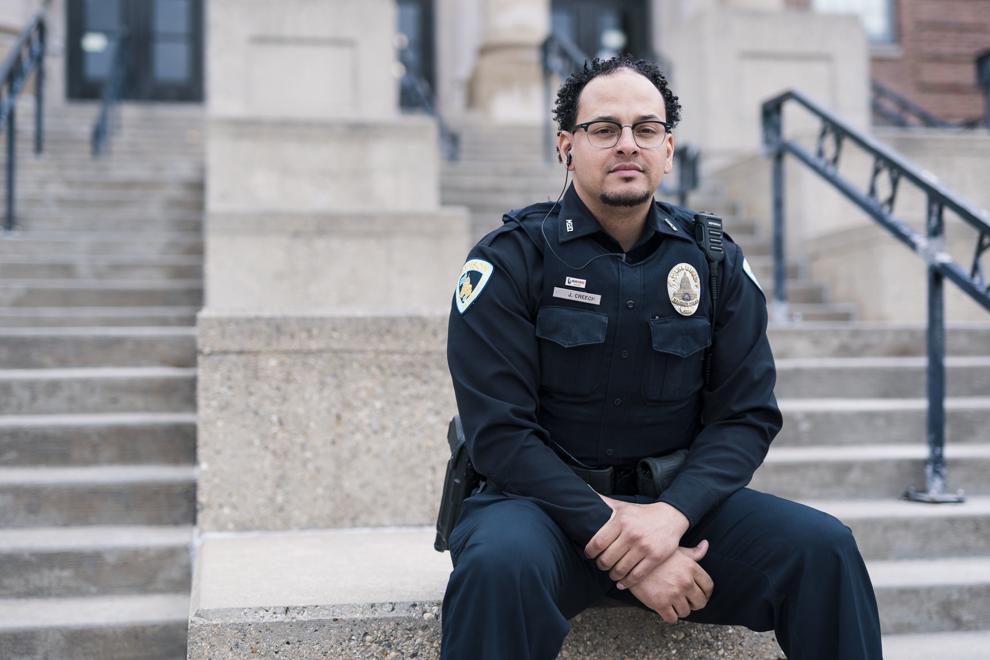 Despite SRO advocates saying an officer's presence makes a school safer in a post-Columbine era, not all officers are confident about their preparedness for school shootings. Nationally, one in five school resource officers said their school is not prepared to handle an active-shooter situation, the likes of which prompted many districts to hire officers in the first place, according to a 2018 survey by the Education Week Research Center. Others in the survey reported they hadn't received adequate training to work in schools.
"I do feel adequately trained," Creech said. "That absolutely does not mean I know everything or that we are going to stop our training. It has to be ongoing and continuing. MMSD has taken this seriously and they've allocated annual money for us to go to more trainings."
Kenneth Anderson, an associate dean at Howard University's School of Education, has studied school resource officer programs around the country. He said the many different SRO models can make it difficult to compare and contrast nationally.
"Though SROs do get some training on working with young adolescents, they don't necessarily get the same training that counselors get," Anderson said. "It's just not as extensive as the ones that professionals who are trained to do that work get." 
Building relationships
During the lunch hour, Creech walks through the West High cafeteria to get to the front of the school as students disperse into the neighborhood. He bumps into a security guard and starts a conversation.
School safety assistants, who serve in various Madison schools, also play a role in ensuring safe school environments. In contrast to an SRO, they don't have the authority to arrest a student and deal with low-level issues such as students roaming the hallways or other behavior incidents that aren't necessarily criminal.
"I'm part of the security team at West, but I don't have the same role and responsibilities as a school security assistant," Creech said. "I'm here only to address criminal behavior that surpasses the school's ability to address a situation, in addition to guest-speaking in classrooms and relationship building." 
During a passing period between classes, several students walk into Creech's office and wish him a happy birthday. In a school with nearly 2,300 students, he knows most by name.
For some students at West, being able to have positive interactions with a police officer can change perceptions about law enforcment.
"My freshman year, when I knew that we had an SRO, I didn't feel the best about it," said Cytearria Burks, a sophomore. "Just knowing how they treat people in the neighborhoods outside of school, I wasn't a big fan of having one around me. But then officer Creech became someone you could talk to also in the building, and he changed my perspective of police officers a lot."
Cytearria's classmate, Virginia Quach, got to know Creech when he came to her class to talk about his work as an officer and as lead discussions on race and equity in policing.
"I feel safer with him around. Just the idea of if we need that support, he will be there," Virginia said. "Sometimes we have chaotic things happening in the hallways, and knowing that someone is dealing with the situation if it happens is helpful. I would hate for a fight happening in the hallways to disrupt having to learn, so the need for security here is important."
Virginia and Cytearria are two of more than a dozen students and teachers serving on ONE West, an advisory committee that provides guidance to West principal Karen Boran. A survey the group conducted of 332 students and staff at West found that 76% of respondents supported keeping Creech at West. 
"I think people in the community don't understand the role of the SRO," said Tony Zappia, a West High teacher who serves on ONE West. "The SRO is helping the administration. People think we have a cop doing cop things in the school. His job is public relationships and breaking those stereotypes, step in when he needs to. They really serve at the administration's disposal."
In May, the Wisconsin State Journal reported that MMSD's administration blocked a four-question survey from the National Police Foundation of high school staff across the district on whether they wanted the officers to stay in the high schools. A district spokesperson said the survey didn't happen because the city's SRO ad hoc committee had already finished its work, so the timing did not work out. 
The ad hoc committee, which operated from 2016 to 2018 and comprised board members, community members and district representatives, reviewed the district's current use of school resource officers and provided recommendations to the board in Sept. 2018.
Boran stressed that having an officer who knows the school well is important to making sure students aren't put at risk.
"When we have to call the (non-SRO) police in, they don't know how we operate. They don't know me, and it leaves a lot of unknowns. They often bring whatever mentality and belief system they bring outside the building into the school, which can sometimes be at odds with the culture and climate we are trying to create in the building. That's why I want to know the officer that's helping me avoid arresting my students," she said.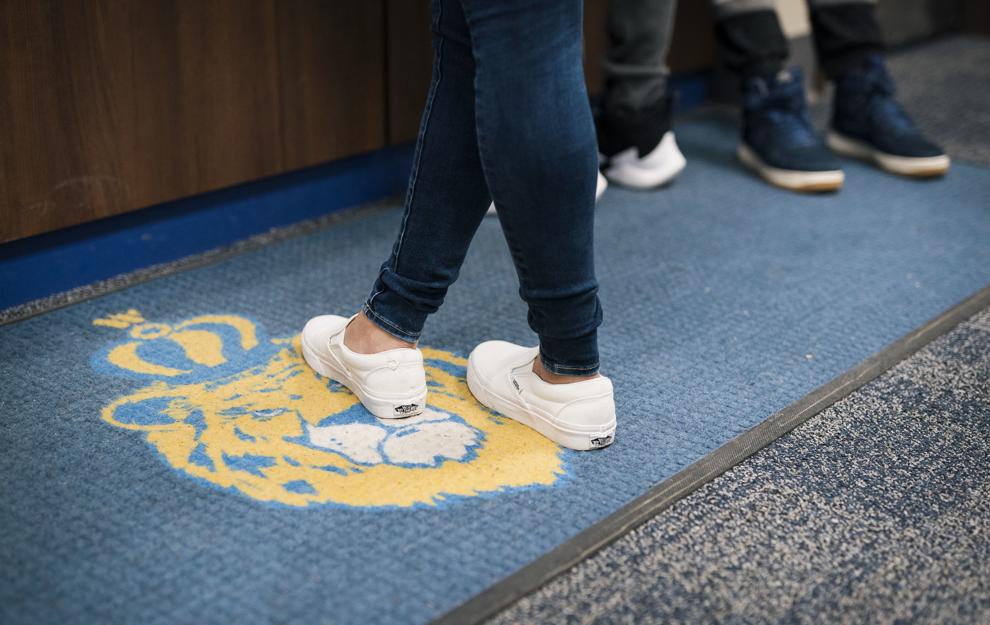 Which school will lose an SRO?
Though the proposed contract, awaiting City Council approval, allows for the district to go from four school resource officers to three, it's unclear how the district would select a school for the pilot program and how the school would adjust.
The district doesn't have to move to three officers, but board members expressed support for going in that direction during negotiations in May.
It's also unclear if any information on the selection process has been relayed to principals. East High principal Mike Hernandez said he's spoken to individual board members about their thoughts on SROs, but hasn't heard any conversations about how the selection process will happen.
"Not it," said Hernandez when asked how he responded to the idea of going without an SRO. "I wondered how they're going to select, and who is going to sign up to volunteer. I know in speaking to the other principals — I'm not sure who is going to volunteer. I'm not volunteering for that. I guess maybe if I heard a little bit more about the rationale around why and understood that I would be able to have a conversation about it, but that's never happened."
Hernandez praised the work of East SRO Zulma Franco, who he said is a role model, particularly as a Colombian-born immigrant.
"It's more than her being a police officer," Hernandez said. "She is an excellent role model in the building. I guess it's person-dependent, but for me, the positives that she brings far outweigh the negatives. I personally have not had a conversation from any of my affinity groups — Black Student Union, Latinx Student Union, Asian United, Equity leadership, the principal student advisory group — saying they want police out."
Hernandez said if he had a large percentage of students that came to him wanting SROs out of East, it could be a different conversation.
Liz Merfeld, MMSD's communications coordinator, said the district hopes to have conversations with each of the high schools throughout the summer in order to determine which school might be part of the pilot. 
"If we don't have a school ready to commit by the September deadline, we'd likely continue the exploration phase through the school year," Merfeld said in a statement.   
Stark disparities remain
Though officers and advocates for SROs point to the positive relationships that can be built with students, an SRO still has the authority to cite and arrest students — a power dynamic seen most clearly through how students, particularly black, are arrested or cited in Madison schools.
Not all school arrests are made by SROs, as the data can include patrol officers, detectives and other law enforcement officials, as Koval pointed out when MPD released updated data in February.
"We know that the data is not showing the full story," said Zon Moua, Freedom Inc.'s director of youth organizing. "We need to go back to our communities and build them up. A lot of people like to say that arrest and citations are going down, but they're actually not because when you look at the disparity rates, they're still there. Who are they going down for? They're not going down for black students and that's alarming."
The total number of arrests at Madison's high schools have decreased in each of the last three school years for which data is available, a total drop of nearly 45%. Still, even as the number of black students arrested decreased, they still represented more than 80% of arrests made in each of the last three school years.
"I am supportive of no racial disparities in the arrests of students," School Board member Ali Muldrow said after the board approved the new SRO contract earlier this month. "I am not against the police. I'm against the disproportionality in terms of arrests of black children."
The approved contract includes a clause calling for the quarterly review of arrest and citation data disaggregated by race, gender and disability, as well as data on whether calls were SRO-initiated or initiated by school staff members.  It also calls for MPD and MMSD to develop ways to eliminate disparities in the data.
But in a city where black people are arrested at a significantly higher rate than white residents, it's unclear how much of a dent the district and city can make in the school-based arrest disparities without any significant changes.
"I'm a barrier in getting kids entangled in the criminal justice system. There's this notion that all (SROs) are doing is locking up black kids," Creech said. "While there's absolutely a racial disparity in suspension data, citation data and arrest data, the disparities in data are in the entire city ... We obtain so much information about our kids and are dynamic in the community so we know that citing and arresting is going to be used as a last resort."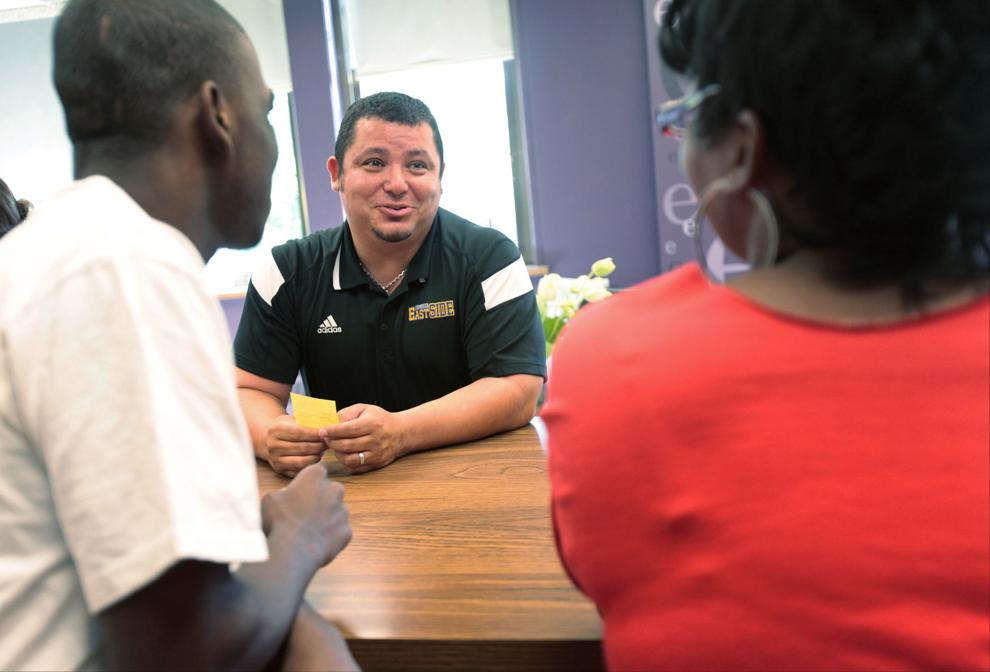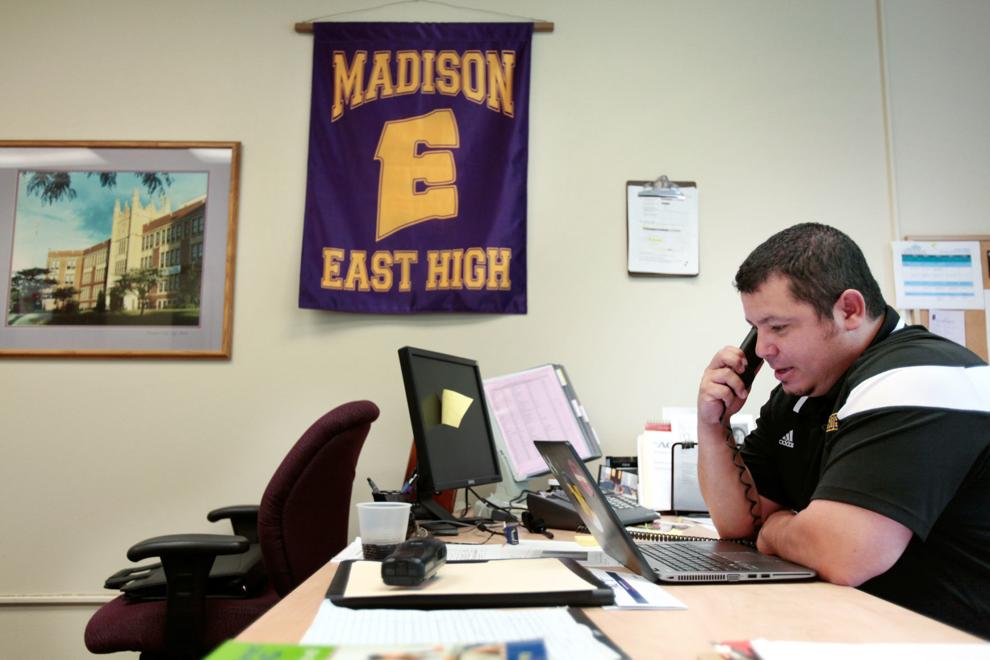 Still, some students say they're not made any safer by having police in schools.
"Cops are not placed at my school to protect colored students," one recent West High graduate who served as vice president of the school's Black Student Union said at the School Board meeting on Monday, while calling for more funding to  support programs that help marginalized students. "They're placed to put fear in them."
Though the public conversation about the role of police in Madison schools will continue as the new contract ensues and decisions are made about the pilot program, the conversation on what safety looks like for all students is a much broader issue that must be addressed, according to Anderson of Howard University.
"We really need to move away from focusing just on the SRO. We really need to get back to school climate and school culture and think of safety on a continuum," he said. "There are different perspectives on what it means to have a safe school … SROs are only one part of achieving that safety goal. There are other things that we can do to reach those goals."
Anderson said in order for SRO programs to be successful, they must have clear definitions of what success looks like, which is important for a district like Madison. Can a school survive without an officer stationed in the building all day?
"One thing (districts) often don't do a good job of is evaluating programs. If you decide to go with this pilot program and there are three other schools who will still have officers, how do you plan to evaluate that and define what success looks like?" Anderson said. "Because if you're only focused on school shootings, I think that can be short-sighted. There are so many other safety issues that occur in schools, from physical safety to psychological safety of students and staff."
Merfeld said MMSD hopes that the conversations with school communities will inform what measures of success might look like if the pilot program starts.
Freedom Inc., a group that has spoken out consistently over the past several years about taking officers out of schools, isn't planning to stop its efforts now that the School Board has approved the new contract. But the group also wants the district to pay attention to students' desires for more support of students of color beyond what's sometimes described as empty rhetoric.
"We're going to continue to do what we've been doing, really building up the community, building up our leadership and sharing their experiences and stories, showing up at public meetings and hearings," Moua said.
On Monday, dozens of speakers at the School Board's meeting spoke out about the SRO contract.
As for the future of officers like Creech, there's an acknowledgement that at a certain point, it's going to be up to Madison and the community to decide whether police should be in schools.
"I think (SROs) are at a point where we are kind of tired with justifying our existence because we know the good work that we do," Creech said. "We know the benefit and believe the children do as well, and I believe the majority of this community at West High School is supportive of the program. At this point, we are at the mercy of what the community and the school district decides."