Open doors: Madison's community schools initiative is up and running for students and families
Naeco Huntley was out of breath on a recent afternoon after completing a rousing round of soccer golf with her classmates from Mendota Elementary School. Her mother, Monique Stokes, arrived at Cherokee Country Club to pick her up, but she wanted to make sure her opinion (and image) were captured in the best possible light before she departed.
"Can you get my good side?" Naeco asked the photographer as she posed for a portrait.
Cherokee Country Club is a partner in the community school initiative at Mendota, located on Madison's north side. Community schools work with neighborhood centers, families, students and other groups to identify the community's needs. Ideally, the school becomes a hub for families and community members to address those needs. Leopold Elementary School, on the south side, also launched a community school program in September.
As the Madison Metropolitan School District works to select two more community school sites for the 2017-2018 school year, the programming at Mendota and Leopold is taking shape and providing examples of what might be seen in the future at schools throughout the city.
Naeco and 14 of her classmates make up the pilot group of students from Mendota that participated in The First Tee this fall. The program started in 1997 to provide access to golf for all kids, regardless of their backgrounds. Students are taught to apply character-building tenets like teamwork, respect and perseverance to golf and everyday life. Since its inception, The First Tee has reached over 10 million participants across the country.
Although Cherokee is only two miles from Mendota, for many of the students, this was their first visit to the club.
"I really like the program. It's very awesome and it helps me practice with my soccer and golf," Naeco said. In addition to an hour of physical activity on the golf course, students get an hour of individualized reading instruction.
Joe Loehnis is the executive director of The First Tee of South Central Wisconsin. He said Cherokee Country Club is the first site in the country to combine reading and golf fundamentals. The program started last spring and reaches students from Mendota, Vera Court Neighborhood Center and East Madison Community Center.
"We know that reading is a challenge for a lot of kids," Loehnis said. "It is very fortuitous that we had everything aligned. We had a willing partner on the golf side, a willing partner on the reading side, and there was a need for the reading program."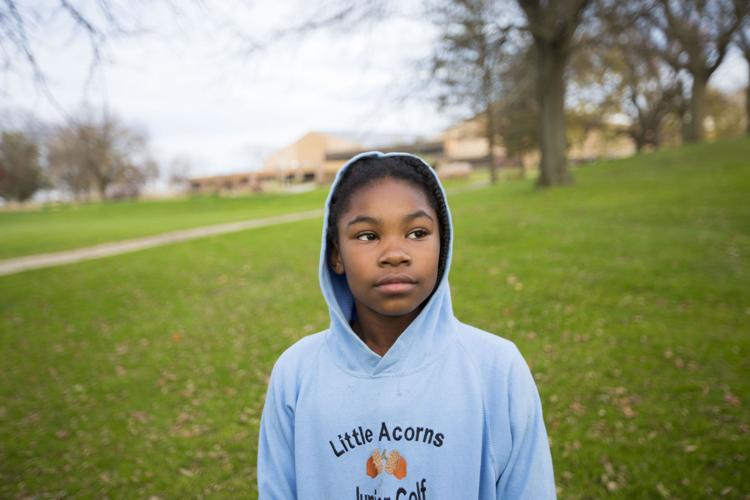 "I think the partnership is pretty cool," said Monique Stokes. "Naeco decided that she wanted to work on reading chapter books, and she finished her first one about a week ago."
Naeco chimed in: "It helps me read more fluently."
Each community school site has a dedicated coordinator responsible for partnering with the community to figure out its needs and implementing strategies to address them. Stacy Broach is the resource coordinator at Mendota and Samantha Clausen-Ruppert is at the helm at Leopold.
Broach said the partnership with The First Tee was a quick win to tackle one of Mendota's focus areas: engaging out-of-school time activities for students.
"The reading levels for African-American students are not where they should be," said Broach. "The First Tee was an easy implementation, and it is also fun. We thought it would be a good start to address one of our needs."
In addition to out-of-school activities, Mendota's other two focus areas are support for homeless or highly mobile families and employment/training opportunities for families and working age students.
Leopold also identified out-of-school time as a need. Opportunities for people of color to be in positions of power and increased academic support for students of color rounded out its list. 
'We've become very cohesive' 
On the last day of The First Tee program for the fall semester, tutor Maureen Holzem was not quite ready to say goodbye to her group of students. There is a lot of demand among Mendota students to get into The First Tee, so many of this semester's participants will not return in January.
"I am having a hard time letting go of them because they are such a good group," Holzem said. "The kids were actually better at (letting go) than I was. They said, 'No, there are a lot of other kids who would like to do this and we want to give them the opportunity.'"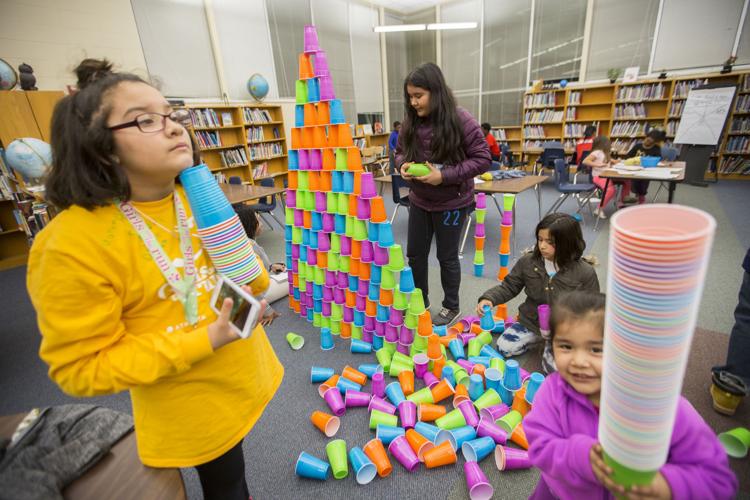 Holzem started volunteering with The First Tee after she retired from teaching in Sun Prairie. Her 39 years of experience includes over 15 years in the classroom and time as a reading specialist. She is also an avid golfer.
Holzem's session was reminiscent of a college seminar. Her students, Joey Sprader, Claire Pietruszka and Tessa Pietruszka, sat around the table with their copies of "Because of Winn-Dixie" open and notebooks ready. As the students finished reading a chapter, the conversation turned to some heavy themes, including processing the loss of a loved one and compassion for others.
"Maybe Amanda acts that way because she is sorrowful. I remember when my cousin died, I got really, really mad," Joey said.
"I think Opal wanted to know why Amanda was so pinch-faced and why she was always so mean to her. I think Amanda is still really hurt that her brother died," Tessa added.
The students were able to speak candidly and respectfully to one another about how the themes in the book connected to their personal lives. Holzem said the tone of their discussion had a lot to do with relationship building over the course of the nine-week class.
"They've talked about where they've known different people who have been in similar situations," Holzem said.
"We've become very cohesive. I think there is a comfort that (the students) feel as time goes on," she said. "I think some of that comes from the golf aspect where they are all working together." 
The doors of the house are open
Across town, in the Leopold Elementary School library, Bianey Miranda, Julissa Armenta, Pamela Vazquez and Paola Vazquez worked together to construct an imposing tower out of multi-colored, plastic cups.
"It's taller than you!," fifth-grader Bianey said to third-grader Julissa.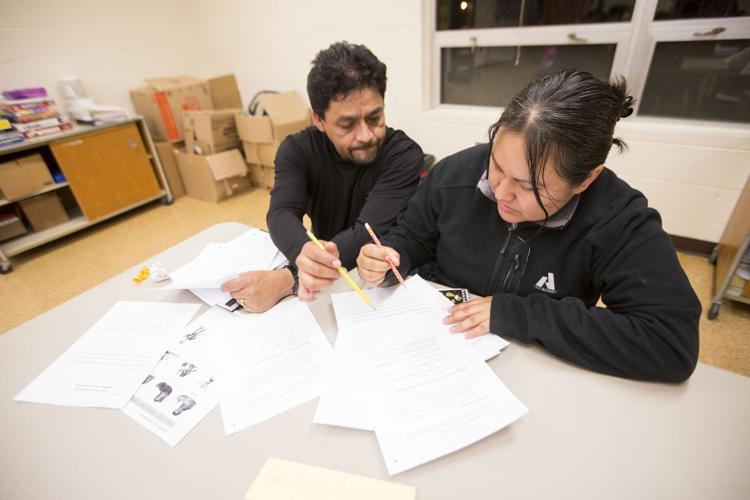 The girls are just a few of the dozens of students and parents who enjoyed the activities at a recent open schoolhouse at Leopold, held each Tuesday from 6 p.m. to 8 p.m. Leopold opens its doors to the community for an evening of dancing, rock climbing, computer programming classes, English as a Second Language classes and arts and crafts. Leopold is not a newcomer to the community school model, having run the open schoolhouse program for three years, but employing a dedicated staff member to manage it has expanded programming.
"I have two support systems who are focused on the needs of this area," Community Schools Coordinator Samantha Clausen-Ruppert said.
Leopold is in Madison, but it is right across the street from Fitchburg. Many students at Leopold are Fitchburg residents. The school gets programmatic support from both cities, the Madison Public Library's Bubbler program and the Fitchburg Public Library system. UW-Madison also runs a "Scratch" computer programming class for students. Open schoolhouse offers services for parents too, including ESL classes and a legal assistance clinic.
Clausen-Ruppert said she wanted to continue the open schoolhouse and offer more services and programming that fit the school's community needs.
"We know that we need job training, so we are going to do a resume building workshop this day. Or we are going to bring in Legal Action (of Wisconsin) services so families can get in touch with those contacts," Clausen-Ruppert said. "Just those little easy wins."
A lot of folks just come to the open schoolhouse for fellowship, like Kari Stampfli whose son, Sam, is a first grader at Leopold. Sam took advantage of open gym at Leopold as he bounce-passed a small, red kickball to his friend.
"It has been nice to give my son a chance to interact with kids at his school. It's allowed me as a parent to reach out to and connect with other parents who live outside of my neighborhood," Stampfli said.
Stampfli and her family live in Fitchburg. She chose Leopold for her son because of the school's relationship-building with parents and the community.
"The relationship was good from day one," she said. "I think (the community schools program) has enhanced that."
"Look mom, that's us!" Sam said as he enthusiastically pointed to a photo slideshow on a screen just outside of Leopold's main office.
"Oh that is us!" Stampfli chuckled. "See what I mean?"
A draw for English learners
Back in the library, Pamela Vazquez keeps a watchful eye on her younger sisters as the plastic cup tower comes tumbling down.
"We've been working on this for like two hours!" moaned Bianey as she re-stacked the cups.
Pamela is a sixth grader at Cherokee Middle School, and is back at Leopold for the open schoolhouse.
"Leopold changed a lot. They did not have this program when I was here," Pamela said. "This school is starting to get better. It seems like there is a lot more opportunity to learn more stuff."
Pamela said this is the first year her parents, Erika and Hector, spent a lot of time at the school. They are participating in the Family Literacy Class taught by the Literacy Network. The class is for English language learners and aims to teach parents how to be active partners in their children's education. The program focuses on topics like navigating the American educational system, communicating with school staff and common classroom vocabulary.
Hector Vazquez said his daughters did not participate in any after-school activities before this year. He said the open schoolhouse provided a chance for his children to interact with one another and for him to spend some quality time with his wife.
"I think this class is good. (The girls) play on the computers or in the library and (my wife and I) enjoy this time together," he said.
Both Leopold and Mendota plan to expand their program offerings next semester. The schools want to be intentional about the process, to make sure the programs they offer are in service of their needs.
"It's been exciting to take the time to listen and do all of that work and not just put in ideas because you think that is what is best for people," Clausen-Ruppert said. "Soon, there will be these big priority programs and partnerships that are right on the cusp of getting started."
Broach is thrilled with the success of the community schools program so far, especially how it focuses on student and community needs, both inside and outside of the classroom.
"The one thing I always saw when working with students was yes, I am helping them academically. But there were always these other barriers that they encountered," Broach said. "Of course, you are not going to be able to fix the academics if other things in their life are not right."