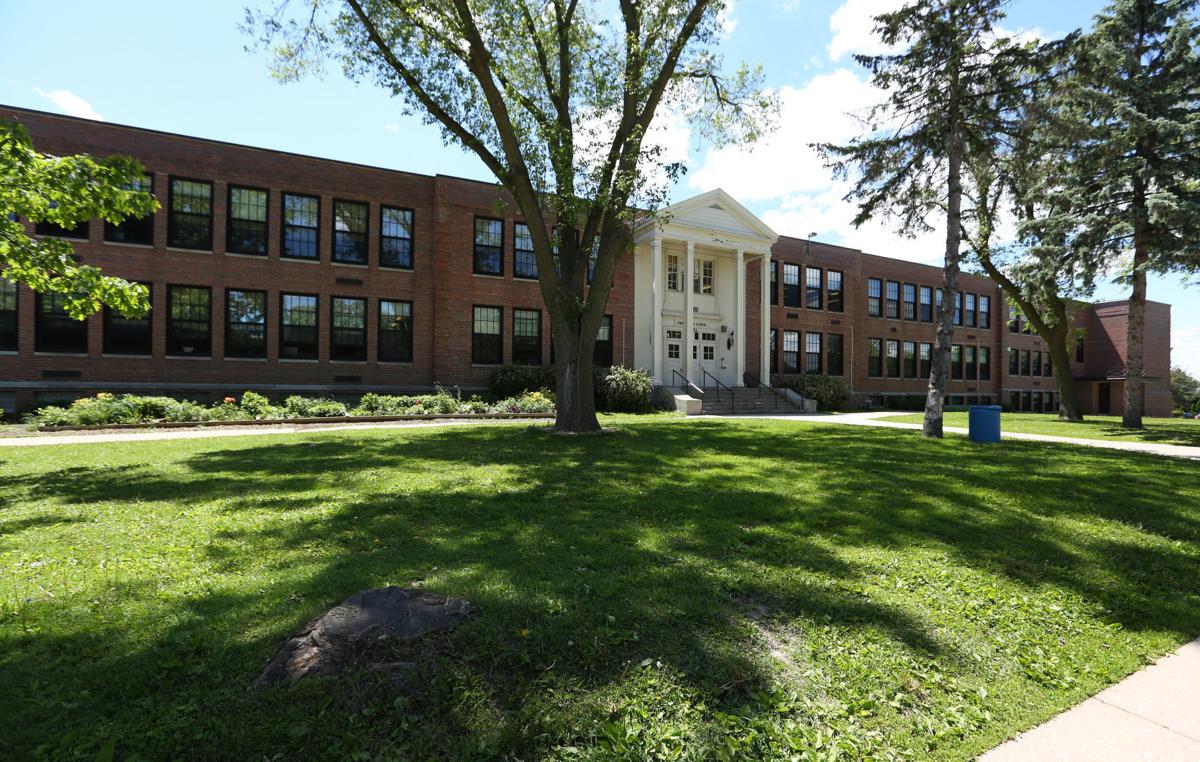 Should Madison Metropolitan School District staff use the same bathrooms as students?
That question has been discussed at the district's central office over the past couple of weeks after a transgender teacher at Frank Allis Elementary School accused the district of implementing a transphobic policy. The teacher said staff have been asked to only use the school's all-gender bathrooms following a complaint.
A letter published in Our Lives Magazine's January issue from Vica Steel claims that she used the women's bathroom across from her classroom beginning in January after coming out last March, but after receiving a complaint, the district asked her principal to implement a practice that bars all staff from using the same bathrooms as students.
MMSD spokesperson Tim LeMonds wrote in an email that no official complaint was made to the district.
"An Allis parent, (whose) child reported feeling uncomfortable using a children's bathroom while an adult staff member was also using that same bathroom, contacted MMSD central office to inquire about what district practice was regarding adults using children's bathrooms," LeMonds wrote.
The district has no formal policy on bathroom use, nor does it appear in the employee handbook. LeMonds said Thursday the district considers staff using a different bathroom than students "a best practice for adults to use about bathrooms."
He said there are exceptions given the challenges of older buildings like Allis and that the district will work with school officials to outline a practice that works for staff.
"For us, it's an issue of the availability of adult-designated bathrooms in that school," he said. "The district will be working with leadership of that school to develop a plan moving forward."
Steel said she has continued to use the bathroom across from her classroom, and feels district officials have been listening to her concerns in recent days.
"I can't say what will happen next, but I am hopeful that they will proceed with more care and that they will bring more voices, especially transgender voices and the voices of other marginalized people, to the table so any change of policy or practice is non-discriminatory," she wrote in a Facebook message Thursday.
Two teachers in other schools contacted by the Cap Times said they use the same bathrooms as students, and Steel said it has never come up as an issue for straight or cisgender staff.
MTI executive director Doug Keillor wrote in an email that the union is unaware of any policy against staff using student bathrooms.
"The District does not have a sufficient number of staff restrooms to accommodate staff needs without allowing access to student restrooms," Keillor added.
LeMonds acknowledged that point.
"It's an aging infrastructure and the process isn't consistent throughout the district based on bathroom availability for adults," he said. "It's a best practice that we would like all of our schools to have a voice (in), but it's more of a question of whether or not they are able to do that."
Steel wrote in her letter to Our Lives that the district's requirement, while on its face an attempt to be non-discriminatory, will have a discriminatory effect.
"Complaint based policy. That's what this will be," she wrote. "A policy that is on the books, unenforced, unless there is a complaint. And who do we think those complaints will be about? Darlings you know there won't be complaints about heterosexual cisgender staff. The complaints will be about gay or lesbian staff. The complaints will be about transgender staff. We will be the ones who are disciplined. We will be the ones required to watch where we pee."
At Allis, Steel wrote, the practice would require the entire staff to share four bathrooms "which are not conveniently located for at least half of the staff" and three of which are also shared by students.
The district does not have any guidance on its website regarding staff bathroom use. A guidance document focused on students states "students shall have access to the restroom that corresponds to their gender identity consistently asserted at school."
"All MMSD schools have at least one single stall All Gender Restroom in their building that all students have the right to use," the guidance states. "No student shall be required to use such a restroom. The All Gender Restroom may not be given as the only option for students who identify as transgender, non-binary, or gender-expansive."
The guidance, which is under threat of a lawsuit from a conservative advocacy group for some of its privacy guidelines, also states: "Having safe and respectful access to restroom facilities is important to the health and wellbeing of those who identify as transgender, non-binary, or gender-expansive."
A 2018 video from MMSD announcing a commitment to provide all-gender bathrooms in every school is focused on students, but states that "no one will be required to use them."
Steel came out to her school community last March and detailed how her life has changed since in a November column for Our Lives Magazine. She said in a Feb. 11 interview that bathrooms separated by age "doesn't happen anywhere in society," even if the idea is "very reasonable sounding if you're not in a school" and don't understand the demands on teachers.
"I love my school and I love my kids and I have always loved this district because it's always felt like, even though we fail … I thought our school district was working on being better about transgender and queer and lesbian, gay, bisexual, all of us," she said. "That doesn't seem to be the case right now and they need to be called on it."
Share your opinion on this topic by sending a letter to the editor to tctvoice@madison.com. Include your full name, hometown and phone number. Your name and town will be published. The phone number is for verification purposes only. Please keep your letter to 250 words or less.