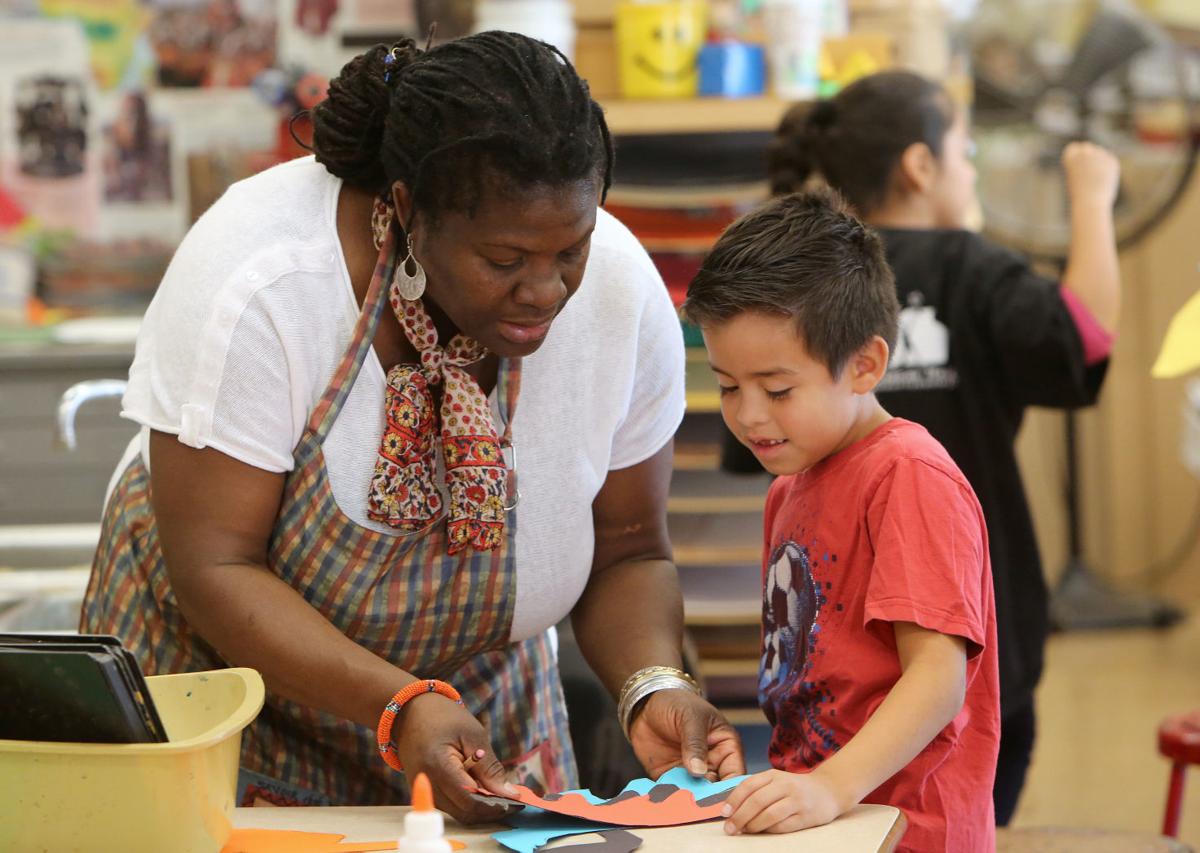 Though the Madison Metropolitan School District and local teachers' union do not expect any teacher layoffs in the upcoming school year, parents and staff have expressed heightened anxiety over potential staffing levels at Aldo Leopold Elementary, one of two MMSD community schools. 
Just under 700 students are enrolled at Leopold, making it the largest elementary school in the district. It's widely recognized as one of the highest-needs schools. Forty-one percent of its students are English language learners and 68 percent of students are low-income, both above district averages. The community school model is built on emphasizing parent, student and community involvement in identifying school issues and working together to address them. 
Details of a draft staffing plan were sent to Madison Teachers Inc. by several Leopold staff members who were concerned, according to Doug Keillor, the group's executive director. The draft, which is based on projected enrollment numbers and is subject to change, included a reduction of five classroom teachers — two at the kindergarten level, one at fourth grade, and two at fifth grade. The plans also detailed reductions of three special education assistant positions and several other support staff.
"What's a little bit different here is that the cuts at Leopold seem to be strikingly large compared to what is typically experienced, and I think that's why we're trying to find some rationale and reasoning underlying this decision," Keillor said. 
Ricardo Jara, who serves as Superintendent Jen Cheatham's chief of staff, said in an email that the current draft staffing plans are driven by projected enrollment at Leopold being down, as well as the community having a highly mobile population.
"Still, it is quite early in the process (and why any current staffing plan is just a draft). For Leopold and all schools, we will continue to watch enrollment closely through the spring and early summer," Jara wrote. "If numbers grow, we make adjustments. It's much easier to add if need be, but it's very difficult to over-allocate to a school too early, and then force them to make cuts later."
Jara and MMSD spokesperson Rachel Strauch-Nelson emphasized that any notion these draft changes are final, or that class sizes would swell to over the district's class size limit is misinformation. 
"Even in the draft plan, the only changes are based on projected enrollment numbers. There are no other changes," Strauch-Nelson said in a statement. "If those projections come in differently, more would be added. This is a common part of the process at all schools."
All class sizes are currently below the optimal level recommended in the district's class size policy under the draft plan, according to Strauch-Nelson. She said that would continue to be true if adjustments are made to the current draft plan.  
Strauch-Nelson declined to provide a copy of the draft staffing plan. 
Keillor echoed that MTI typically receives calls this time of year from members whose school assignment is changing due to staff allocations at various schools adjusting to enrollment numbers. 
"The effects at Leopold would be humongous," Angie Oler, a Leopold parent, said of the reductions in the draft plan.   
It's unclear exactly what has driven enrollment numbers down. District officials pointed to Leopold's highly mobile community. Last month, officials during a budget presentation said enrollment in 2018-19 was lower than projected due to several independent charter schools and voucher schools. One City Schools, an independent charter school founded by education activist and Madison School Board candidate Kaleem Caire, was approved for an expansion. According to district figures, MMSD projected district enrollment to decrease by 67 students next school year. 
In that same budget presentation in February, MMSD said the 2019-20 staffing allocation would include a reduction of about 45 full-time staff members across elementary schools, while adding several at the middle school level and leaving the high school staff allocation essentially the same. The total staff level change is just under a 1 percent reduction. 
Staffing projections were released to schools across the district in February. MMSD plans to present a preliminary budget proposal on April 29 to the Madison School Board.
Parents at Leopold have also expressed concern about the use of Title 1 funding for an additional assistant principal. 
School Board member TJ Mertz said in an interview with the Cap Times that he offered an amendment when the past budget was released in April 2018 to not have Leopold use Title 1 funding for an additional assistant principal, but was told by district staff that it was too late.
"It says something about the power of the School Board in the budget process that the day the budget comes out, it's too late to make changes," Mertz said.   
Parents have claimed that more Title 1 funding should go to having support staff such as reading interventionists, and have asked the School Board to find alternative ways to fund the additional assistant principal.
Jara said in an email that the additional assistant principal has always been funding out of Title 1 "as part of an intentional school support strategy."
"This strategy will continue into the coming school year," Jara wrote.
Oler said that since more schools have become Title 1 schools recently, there have been less resources for each school to use. Having to fund an assistant principal with those funds would drain more resources that could go to hiring more support staff at the high-needs school, she said. 
Peg Keeler, Leopold's principal who is in her first year at the school, did not respond to a request for comment. In conversations with nearly half a dozen Leopold parents, she's been credited with helping address issues the school has faced, from decreasing behavioral calls to providing additional support staff so students can access learning more easily. 
Mertz said the administration does not give school allocation information to the School Board, and that while he has lobbied for that to change, a majority of the board's seven members have not supported it. 
"The board is not privy to school level staffing, which is just absurd," Mertz said. "Just last week, we got school level staffing for this year, the year that we are in the middle of. That's how in the dark the administration keeps the board on important things like this ... how we staff our schools is one of the most important things we do."
Be the first to know
Get local news delivered to your inbox!