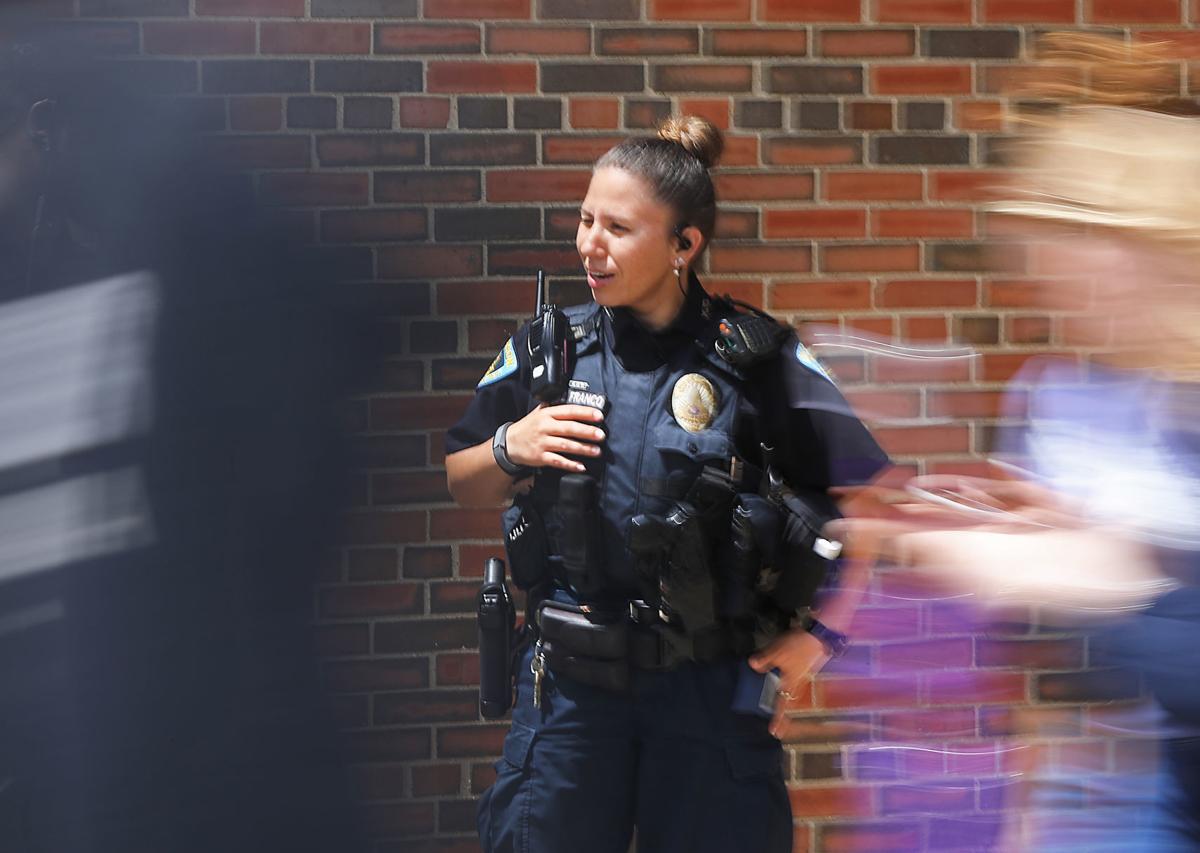 A letter to families from Madison Metropolitan School District administration Tuesday encouraged them to communicate with their children about the two incidents in Wisconsin this week in which a student with a weapon was shot by a police officer.
"We are deeply troubled by these events, and our thoughts are with the Waukesha and Oshkosh Area School Districts," interim superintendent Jane Belmore wrote. "Our hearts go out to the students, staff, families and first responders in these communities."
Monday, an officer at Waukesha South High School shot a 17-year-old student who was in possession of pellet guns that looked like real guns, according to police. Later that day, Waukesha North High School went on lockdown for a report of a student in possession of a firearm, but the student in question was not on school property and was arrested at his residence.
The next morning, a student and an officer at Oshkosh West High School were both injured in an incident. The student stabbed the officer, who then shot the student, according to police.
Other schools throughout the state have also received threats this week, including the Sparta Area School District, which shut down classes Tuesday following reports of a missing handgun potentially in a student's possession, according to a district Facebook post.
The MMSD letter offers the National Association of School Psychologists website as a resource for parents to use in planning a conversation with their children. Tips include reassuring children they are safe, making time to talk and listen to questions, keeping explanations appropriate for the child's age, reviewing safety procedures, observing their emotional state and maintaining a normal routine. The organization also suggests limiting television viewing of the events.
"News travels fast among our youth and many of our students are likely aware of these incidents and are discussing them with peers," Belmore wrote. "Some older students may have personal connections to students at these high schools. As parents and guardians, you may also be feeling heightened anxiety about school safety."
The district has a school resource officer stationed in each of its four comprehensive high schools. Their presence has been controversial over the past few years, as some community groups have said the impact on minority students is negative. The School Board has the option to pilot one high school without an officer next school year, with a decision required by June 15, 2020.
Belmore emphasized the importance of a "see something, say something" culture in the district, encouraging students to come forward when they see or hear concerning information.
"It is so important for students to speak up and say something to a trusted adult if they are ever aware of information that concerns them," she wrote. "Your child's school staff is always available to talk if you or your child have concerns about anything happening at school."
She also stressed the district's investment in preventative measures.
"Safe schools also happen when we invest in preventing and preparing in the event of an emergency," she wrote. "I want to assure you that our schools have strong emergency procedures and safety protocols in place, and we've made them even stronger in preparation for and throughout this school year."
Share your opinion on this topic by sending a letter to the editor to tctvoice@madison.com. Include your full name, hometown and phone number. Your name and town will be published. The phone number is for verification purposes only. Please keep your letter to 250 words or less.
Be the first to know
Get local news delivered to your inbox!