Madison West High School security assistant Marlon Anderson recalled the "worldwide support" he received upon his firing last fall as "overwhelming" and an example of the importance of building community.
Speaking at the second annual "MLK Forum for Social Action" at Middleton High School Saturday, Anderson — fired for using the N word while telling a student not to call him that and later reinstated — encouraged the audience of about 100 to "treat people with love; it ain't hard."
"It still blesses me to think about it, because when I think about it I think about the community," he said. "Everybody knows it takes a village, but nobody wants to do the work to build the village."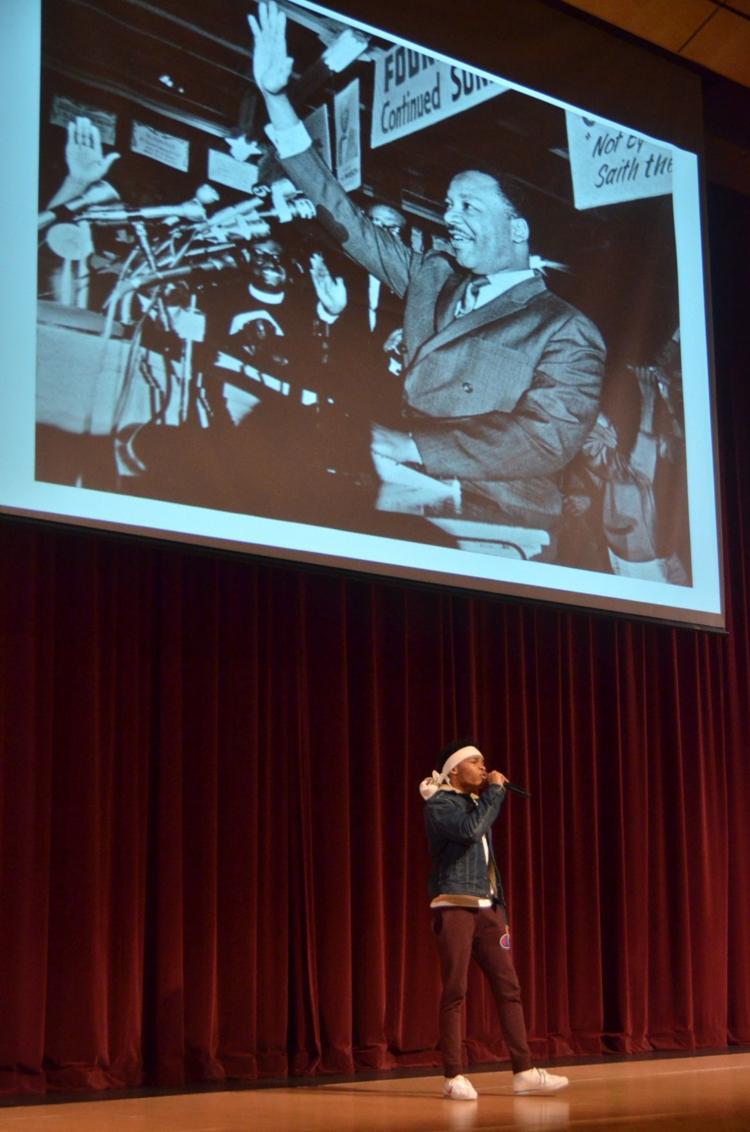 His reflection on the events of last fall was complemented by spoken word performances by his son, Noah, a step routine from Omega Psi Phi Fraternity and a speech from organizer Percy Brown on the legacy of Martin Luther King Jr.'s Letter From the Birmingham Jail.
While love was a common theme throughout the two-hour event, Brown's presentation focused on the progressivism many in Dane County take pride in, even as progress is elusive for many black people here.
"When it comes down to racial progress in the great state of Wisconsin or in Dane County or in the City of Madison, it's a different story," Brown said.
Bringing up King's disappointment with white moderates, Brown said everyone needs to be part of the solution — and soon.
"I have heard the word 'Wait!' It rings in the ear ever Black American with piercing familiarity," Brown quoted from King's letter. "This wait has almost always meant 'Never!' Justice too long delayed is justice denied."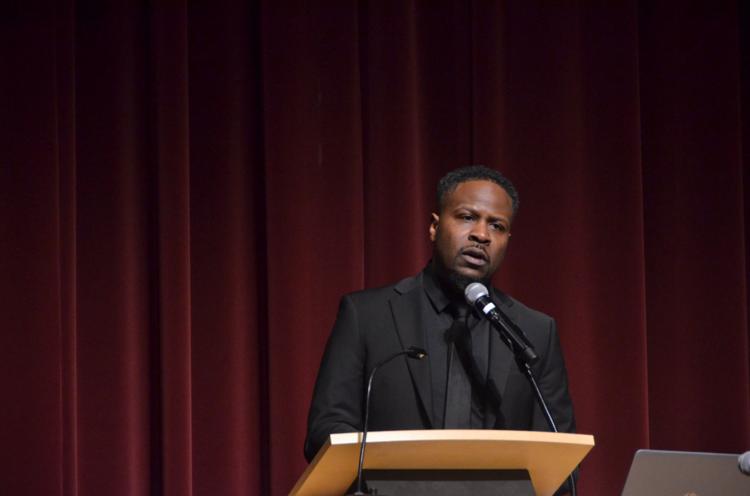 Following Anderson's example of getting to know students of different cultures and languages, which Anderson said came back to help him following his firing, Brown said it's important to "first know thyself" and then get to know other cultures as much as possible.
"Until we start to do our own identity work, we will not be able to bring about the change that we need to see," he said. "If we don't have anti-racist identity, we can't dismantle structural, institutional and individual racism."
He added that it can be hard work for white people, who will have to overcome a sense of white fragility to truly become anti-racist and could lose some social capital along the way.
"If you end up becoming an anti-racist and you're white, you might lose some loved ones," he said. "You might lose some close friends. You might be having some battles with your parents or your grandparents."
He and event moderator Everett Mitchell, a Dane County Circuit Court judge and pastor, both offered hope that Madison and Dane County can be a leader in "deconstructing racism."
"That's our biggest cultural issue," Brown said. "We can be the community that really starts to do that work."
Brown said that work needs to happen in specific areas including education, health care infrastructure and accessibility, food and nutrition, homelessness and housing. Calling out some of the influential white people throughout his life, Brown said black people cannot be alone in the work.
"My white brothers and sisters, you truly need to believe in yourself, because I believe in you," he said.
Mitchell closed the event with a reiteration of the hope he and Brown have in the community.
"If we can collectively come together and solve this, we can be leaders not just here in our community, but we can be leaders in our nation," Mitchell said.
That coming together can start with love, Anderson said.
"You never know when you'll need somebody in your village to hold you up," he said. "It'll work for every one of us. Show somebody some love today and tomorrow."
Share your opinion on this topic by sending a letter to the editor to tctvoice@madison.com. Include your full name, hometown and phone number. Your name and town will be published. The phone number is for verification purposes only. Please keep your letter to 250 words or less.