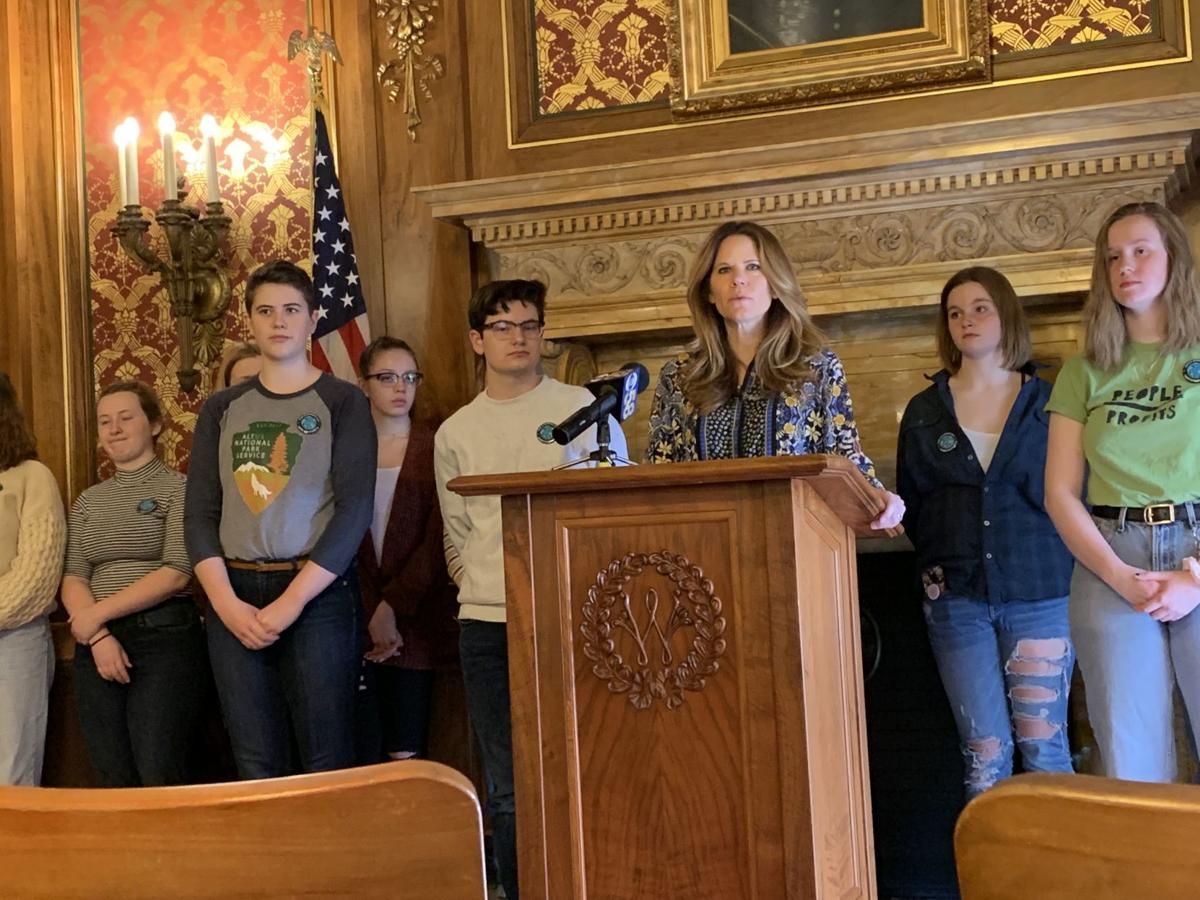 Madison student organizers are planning to walk out of classrooms on Friday, March 15, to demand action at the local, state and national level on climate change.
In a news conference at the state Capitol on Friday, organizers said it's important to act soon before the negative effects of climate change are too late to reverse or slow down.
Their demands span a variety of environmental causes, from pushing school systems to use 100 percent renewable energy to reintroducing municipal composting in Madison and other communities.
The strike is part of a growing movement started by students in Europe last year calling for more action to prevent global warming and climate change.
Greta Thunberg, a ninth grade student in Sweden, started the movement after she decided not attend school due to the lack of attention paid to the issue. Her strike has inspired students across Europe and the United States, many of whom will also strike on March 15 along with Madison students.
Students will march from Madison East High School to the state Capitol and conclude the strike with a set of speeches. Several elected officials and political candidates, such as Rep. Mark Pocan, D-Madison, state Rep. Chris Taylor and Ali Muldrow, a Madison School Board candidate, are planning to participate.
Students from Milwaukee and Appleton are also planning to attend the strike.
Parts of Gov. Tony Evers' proposed budget are items the students said they support, including the creation of a Bureau of Natural Resources, an Office of Sustainability and Clean Energy, as well as fixing ground water contamination and lead pipes.
The group of students is also calling to bring the Green New Deal, a signature piece of legislation proposed nationally by Democratic Rep. Alexandria Ocasio-Cortez, to Madison. They plan to introduce a resolution to Madison's Common Council on March 19.
Though the group sees some new hope with the election of Evers, members realize there's still an uphill battle and work beyond a strike will need to happen before more concrete steps are taken by legislators and the community.
"Young people have made our choice clear," said Max Prestigiacomo, a senior at Middleton High School who has helped to organize the strike. "Protect our future and listen to the scientists."
Stephanie Salgado, a junior at Madison Memorial High School, said the strike hopes to highlight that climate change is intersectionally related to other issues such as racial justice and economic inequality.
"Poor communities are being antagonized for trying to speak up … we need to include marginalized groups in the conversation," Salgado said.
"This is not a one-time thing," Isabella Spitznagle, a junior at Madison West High School, said. "Climate change will not be fixed after just one strike. This climate strike is to empower youth to tell them to scream from the mountaintops. If we want change, we have to start now."
Despite serving in a divided state government, Taylor said she thinks people across the state don't view environmental issues as inherently partisan.
"Since when is protecting the earth a partisan issue?" Taylor said. "It wasn't 30 years ago, but it feels like in this building and in capitols around the country, and certainly in Washington, D.C., politicians have refused — not because they can't but because they won't seriously address the issue of climate change and preserving our planet for these wonderful students and for our future.
The strike on Friday will come just about one year after students walked out of classrooms as part of the March for Our Lives, an event held in support of the survivors of the school shooting in Parkland, Florida. Many organizers for Madison's March for our Lives event last year have been helping to organize the Youth Climate Strike.
Hundreds of students are expected to participate, according to Prestigiacomo.