Madison students took center stage at High School Friday, an annual event celebrating learning and literature at the Wisconsin Book Festival. Over 100 students from Madison East, Madison LaFollette, Capital East and Capital West high schools filled Overture Hall and Madison Central Library for a day of author talks, interactive activities and performances.
UW-Madison's First Wave students hosted "Giving Voice." The program featured spoken word and dance performances by the Midwest Hip-Hop All Stars. The artists were high school students from Green Bay, Minneapolis, Detroit, and Indianapolis who were top competitors at Thursday night's Passing the Mic Festival. Madison's own SooDoNIM and Protege had audience members rapping along to their single, "Home Slice."
In front of an audience of their peers, the young rappers, poets and dancers who took the stage at the Overture Center bared their feelings on topics including body consciousness, sexual assault, racism and domestic violence. After the performance, students responded to questions. Iman Siferllah-Griffin performed a dance piece with her twin sister Khadijah. An audience member asked what inspired each person to want to entertain.
"For me, it was when I thought about how my art affected other people," Iman said. "Dance is a universal language; you don't have to know English to understand my movement. Being able to break barriers and connect with people from different backgrounds kept me going."
Both Iman and Khadijah are Muslim and wore hijabs during their performance. Khadijah was inspired to perform after she met a young girl who looked up to her because she was a dancer.
"Dancing is a controversial thing in Islamic culture. After (the young girl) told me (that she looked up to me,) I knew that I needed to keep doing this to show young girls that we can be dancers," she said. "We can do what we want to do. We can just be."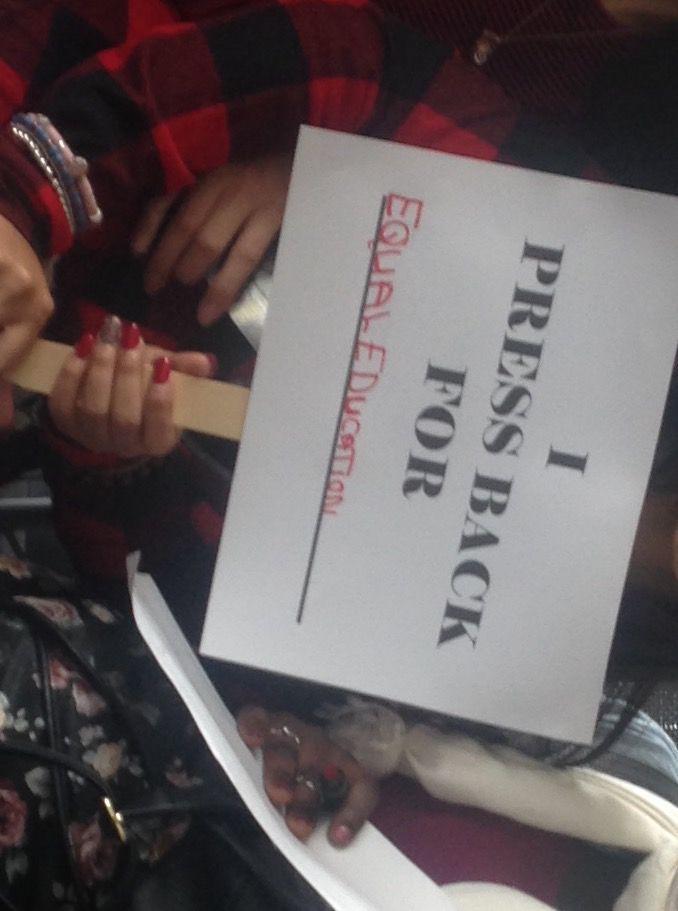 The second and third session of High School Friday included a book talk with young adult fiction authors Kristin Simmons, Paula Jones and Box Brown. Students were able to hear the authors read selections from their novels and ask them questions about their work.
Simmons' novel, Metaltown, chronicles the lives of young people working in a factory who "press back" against oppressive working conditions. The characters in Simmons' book were willing to risk their lives for their beliefs. The author asked the students to examine the same question and articulate their "press-back" message.
Darcy Poquette's students at LaFollette "pressed-back" for knowledge, family and equal education for all people. Poquette's students are well-versed in analyzing complex themes like the ones in "Metaltown." She sponsors an after-school reading club called "Read It and See It," where students read books before they are released as movies later in the school year.
"I decided to bring my reading club today because I thought the students would be super engaged in hearing from authors. A lot of the kids like to write themselves," Poquette said.
"I want the kids to see themselves as readers and writers. Adults who read and write (attend book talks.) I wanted to give (students) an authentic experience."
Nadine Connell and Aurora Burris are sophomores at LaFollette. The best friends have participated in the Read It and See It club since their freshman year.
"It is a really diverse club. There are ninth through twelfth graders. People of all different backgrounds. It is always fun. I look forward to it every week," Connell said.
"You can have an open discussion," she said. "It's very relaxed, encouraged reading."
Burris is a writer who has already published her work on Wattpad, an online forum for writers to share novels, fan fiction and cultivate a following. Burris described her writing as modern fiction with a focus on fantasy. High School Friday allowed her to meet young adult fiction authors and engage with them as they talked about their writing process.
"I want to be an author. (The book talk) was a setting where I could get tips, ideas, and better myself as a writer," Burris said.
Burris already has her writing career mapped out after she graduates from LaFollette.
"I plan on majoring in English as a technical editor when I get to college," she said.