During her 12-hour day visiting the Madison Metropolitan School District, Marguerite Vanden Wyngaard faced plenty of questions.
One of three finalists to become the next MMSD superintendent, Vanden Wyngaard said students "asked the best" of them, mentioning a second grader who asked, "How are you going to make my life better?" It was "consistent" with the ideas she heard throughout her day meeting with community groups, students and interviewing with the School Board, before taking part in a public forum at East High School, she said.
"The biggest surprise was hearing the same questions ... all day," she said. "It's a common thread: How are we going to work together to work on organizational change?"
Questions at the forum — taken from the audience of about 75 and on the Facebook Live video that got up to 100 viewers at one point — ranged from Vanden Wyngaard's views on school resource officers and definition of Black Excellence to the best way to teach reading and support teachers.
"Students first always," she said, summarizing her philosophy during an introduction. "My philosophy has always been social justice and equity. I live it, I breathe it, I can't help myself."
Vanden Wyngaard is currently an assistant professor of educational leadership at the College of St. Rose in Albany, New York. She previously served as superintendent of the Albany City School District from 2012-16 and as a deputy superintendent in the Paterson, New Jersey, school district before that.
The other two finalists, Matthew Gutiérrez and Eric Thomas, will have their visits Wednesday and Thursday. Gutiérrez's public forum will again be at East, while Thomas' will be at La Follette High School.
School Board members will meet in closed session Friday at noon to deliberate on the candidates, and board president Gloria Reyes said they hope to make a decision during that two-hour meeting. The choice will not be announced until later, however.
Throughout Vanden Wyngaard's conversation on stage with School Board member Savion Castro, who moderated the forum, she stressed the importance of involving the community in efforts to improve student learning.
"I don't expect Doyle has the answers," she said of the central office building. "I expect you do."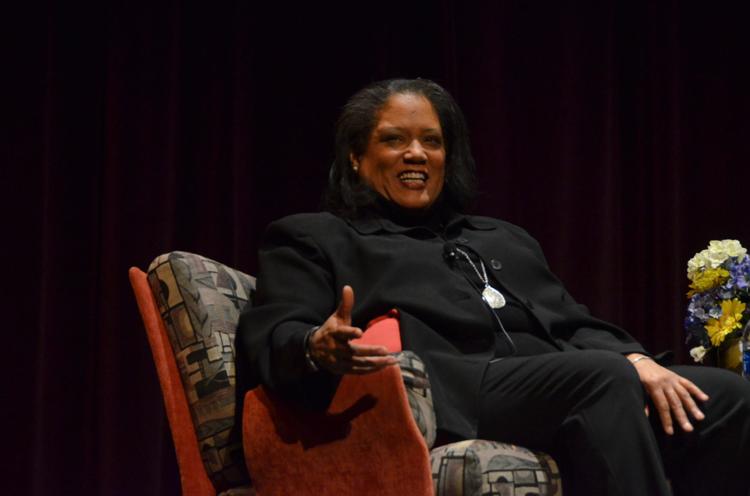 She promised to visit "every school at least every three months" if selected to be the next superintendent to ensure she's hearing from a variety of voices — especially staff and principals in buildings who can help her understand how policy turns into practice and what they need to do their jobs well.
"We treat teachers better, number one," she said of keeping teachers in the profession. "Every once in awhile we should probably listen to them. They are the number one person that changes children's lives. The principal is second. I am nowhere on that list."
All students need the opportunity to achieve, she said, whether they're an English Language Learner, advanced student or someone with a disability.
"For me this is not a conversation of us versus them, this is not a zero-sum game, folks," she said. "This is what we do."
She said solving the achievement gap would require "the systems and the infrastructure" to allow students to succeed, while also making sure that goals and ideas of Black Excellence are truly felt by staff.
"What it means is that the community and staff and everyone in Madison actually believes that black children can excel," she said. "Black Excellence means that we welcome black kids everywhere and they have a feeling of belonging that this is their school, that this is their work, that this is their excellent way of living and that nobody is going to stop them."
With multiple questions on school resource officers, Vanden Wyngaard said she was fine with officers being "in proximity" to schools — but that district-staffed security should handle anything that doesn't rise to a felony investigation. The key to that system, she said in a press conference after the forum, is having clear guidelines for when a police officer responds and when they do not.
"Other than that, I don't expect to see them," she said. "They should be invisible."
She suggested the "perception" of behavior in the schools — and the Behavior Education Plan that plays a role — could be misguided. While she said changes might be needed to the BEP, she was not familiar enough to make specific recommendations Tuesday. She added that unless most people are going home every day saying "something happened today," it's not as big a problem as it seems.
"It appears, just like in previous districts I have been in, it appears we have a perception issue in the community," she said.
With a pair of referenda on the horizon for whoever takes over, Vanden Wyngaard also said during the press conference she's confident in her ability to get one passed. During the forum, she cited her experience bringing in community members in Albany on a bond referendum for a high school project.
"The bottom line, I think I can pass this referendum," she said. "I think together we can do that."
The former choir teacher, who started her career in Racine, said she "loves" the fine arts and social justice work, and said she hopes that her philosophy came through to those she met throughout the day.
"I am seeking an investment from all of you to change the lives of children," she said. "Whatever that investment is that you can make, I will invest all of me into that.
"I know that together we can do this work."