On Thursday night, Madison Metropolitan School District Eric Thomas made pointed comments about politics in education during his public forum.
A day later, the context behind those comments became much more clear.
Eric Thomas' resignation letter from his position as Chief Turnaround Officer for the Georgia State Board of Education.
Thomas resigned from his position as the Chief Turnaround Officer for the Georgia State Board of Education Friday during a called meeting. He was the first to hold the position, which was created in 2017.
School Board president Gloria Reyes did not immediately respond to a text message Saturday requesting comment on whether Thomas remains under consideration. The board met in closed session Friday but did not come to a decision, according to an email from district spokesperson Tim LeMonds. The other two finalists, Marguerite Vanden Wyngaard and Matthew Gutiérrez, visited the district Tuesday and Wednesday, respectively.
In his resignation letter dated Jan. 14, Thomas wrote that he had conversations with a pair of state representatives about his planned resignation in August and October, but had hoped to "keep this confidential awhile longer." Writing that it was his "third 'attempt' at resigning since" last year, he states he "appreciated and was deeply humbled by Board members and others asking me to forgo previous resignations."
It now comes amid an audit of his office based on allegations of discrimination, conflict of interest and misuse of funds. The discrimination allegations by a former employee also triggered an Equal Employment Opportunity Commission complaint, though documents provided to the Cap Times show the state Department of Education found no cause and recommended the EEOC dismiss the complaint.
Thomas says the state's audit also began from those same employee's complaints. The state board forwarded the audit, performed by the state superintendent's office, to the state's Inspector General's office Friday.
Eric Thomas' statement regarding the Georgia Department of Education's audit into the Chief Turnaround Office.
Thomas said in a statement that the superintendent's office "has a hostile relationship with the Chief Turnaround Office." The Atlanta Journal Constitution reports "long-running tension" between the two offices based on the state superintendent wanting control over the turnaround program.
"Observers say the two agencies have mixed as well as oil and water," the AJC reported in December when Thomas' name as a finalist here was made public.
The office has previously denied to the AJC that the audit was politically motivated.
While in Madison Thursday, Thomas said near end of his public forum that, "Anyone who thinks there's not politics in education, there's politics in education."
"People have different agendas," he said. "Being able to navigate the politics of this sort of work is not easy. The moment someone thinks that you're going to take something from this kid or this group … you've got to manage that conversation. That's really hard work."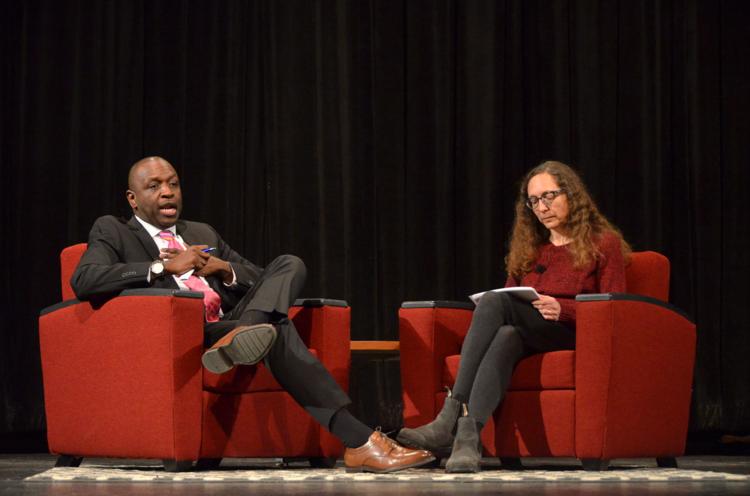 He said in an email Saturday he still hoped to be considered for the position here.
"I am not sure where the Board stands, but I remain excited about the prospect of joining the Madison community," he said. "Regrettably, Georgia politics have created this difficult situation.
"I felt really at home in Madison," he added. "I truly believe something special could take place."
Thomas said in his statement he has not seen the audit and was not interviewed in person throughout its creation.
"My belief is that a more neutral party, like the IG's Office, will more effectively manage this," he said. "From the onset, I was mystified at how GaDOE's internal 'audit' team could be expected to be neutral and unbiased – since it reports directly to the Superintendent's Office."
The resignation is effective May 30, but AJC reported the board decided to replace Thomas with an acting chief immediately.
Correction: The story has been updated to reflect that the Georgia Department of Education recommended the complaint be dismissed, not the Equal Employment Opportunity Commission investigation.