Eric Thomas noticed the Madison Metropolitan School District's strategic framework mentions "every child" and "every school" before it gets to Black Excellence.
"I've looked at your numbers," Thomas said Thursday night. "Quite honestly, there's a whole lot of kids that need help, not just black kids."
The third of three finalists for the MMSD superintendent position spent Thursday in the district meeting with community groups and students, interviewing with the School Board and holding a public forum at La Follette High School. Seated on stage with board member Cris Carusi, Thomas answered questions from the audience of about 40 and more than 100 watching on Facebook Live.
Questions for the longtime Cincinnati educator, now the director of the Chief Turnaround Office for the Georgia State Board of Education, covered school resource officers, literacy, management and student behavior.
He made clear during his introduction that he wants to focus on all kids, and "all means all."
"Every black kid, every Latino kid, every Asian kid, every white kid, every kid whose parents make a lot of money and every kid whose parents maybe don't make quite so much money, every kid who has a disability," he said. "Every child means exactly that, every child.
"The worst thing that this community can do … is start gravitating toward this subgroup or this subgroup and we get into fights over which subgroup needs the most help."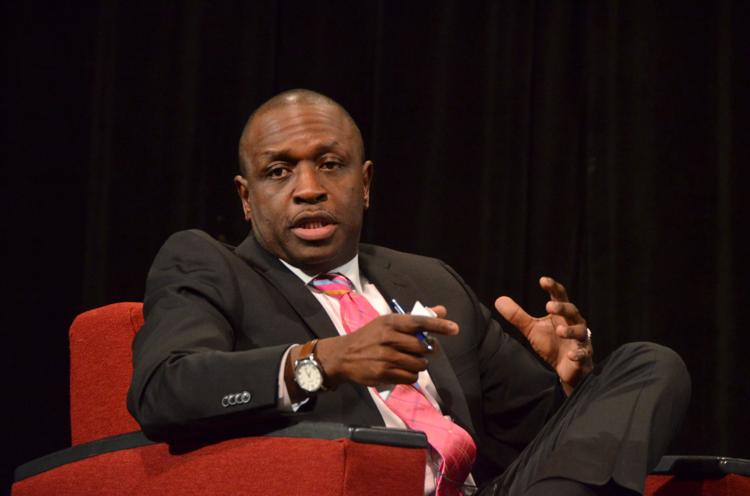 School Board members are meeting in a closed session on Friday to deliberate on the candidates, and board president Gloria Reyes said they hope to make a decision during that meeting. The choice is not expected to be announced Friday, though.
Touting his longevity in various places — he's worked with four organizations in his 25-year career, he said — Thomas explained his management style creates "high expectations" and offers opportunities for staff members to weigh in on decision-making.
"I work really hard to give power away," he said. "Good leaders give power away. You empower other people."
That empowerment can create buy-in from the people you most need it from, he said. In a school district's case, that's often teachers. He said creating "teacher leader" programs and allowing staff members to be part of evaluating each other and improving each other's practices would be part of that.
"If you want to improve the practice of a seventh-grade language arts teacher, individuals who might be best suited to do that might be other seventh-grade language arts teachers," he said. "How do we create that strategy to do that and do that well?"
Once the district has identified its best teachers, it's key to "do just about everything possible" to keep them in the district, he added.
"If we already have some really good teachers, we need to make sure they don't end up somewhere else," he said in a press conference following the forum.
Good teachers alone won't change the academic outcomes, though, he said. That can only be accomplished by "transforming mindsets and recreating the organization of the school district," he said.
"We have a district that is successful for a group of kids. We have a different district that's not being successful for a group of kids," he said. "That means our organization is uniquely and excellently designed to get the results that we're presently getting.
"If we keep doing it, I can't imagine why anybody thinks we're going to get different results."
To get to the academics, however, staff must first work to support students' non-academic needs, Thomas said, and schools "have to acknowledge there are some students who arrive at the schoolhouse every morning and some of them didn't eat the night before."
"Many of our kids are walking into the schoolhouse with non-academic challenges," he said. "We can argue whether the school should be responsible for addressing those … or we can acknowledge that the goal is every child, every school, with an additional focus on African-American students, and simply execute strategies related to health and wellness."
Through a mix of building relationships, setting clear expectations, making class and learning fun and then creating consequences for misbehavior, Thomas said the district can solve the controversy around the Behavior Education Plan that he heard from both teachers and students.
"You want kids to read? Let them pick what they want to read," he said. "We've got to create engaging, fun activities and experiences in the classroom."
He's hopeful that could eliminate the controversy around school resource officers, expecting that about 90% of behavior issues could be solved by those strategies — leaving little need to even have the conversation about SROs.
"I'm convinced that if we do these things really, really well, I don't think there will be a huge discussion about whether we need SRO or don't need SRO," he said in the press conference. "I don't necessarily have a position about whether SROs should be in buildings or not."
He's hopeful that a community with "an incredible commitment to improving the school district" like Madison would provide the opportunities for him and district staff to do that work. He encouraged piloting various programs at schools to see how they worked and using data to assess them throughout the school year — not waiting until the end of each school year to look at state test scores.
"If I'm your next superintendent, I can assure you I'm going to focus on every child," he said. "If there's a group that thinks that's a bad idea, then you probably don't want me as your superintendent, and I'm OK with that."