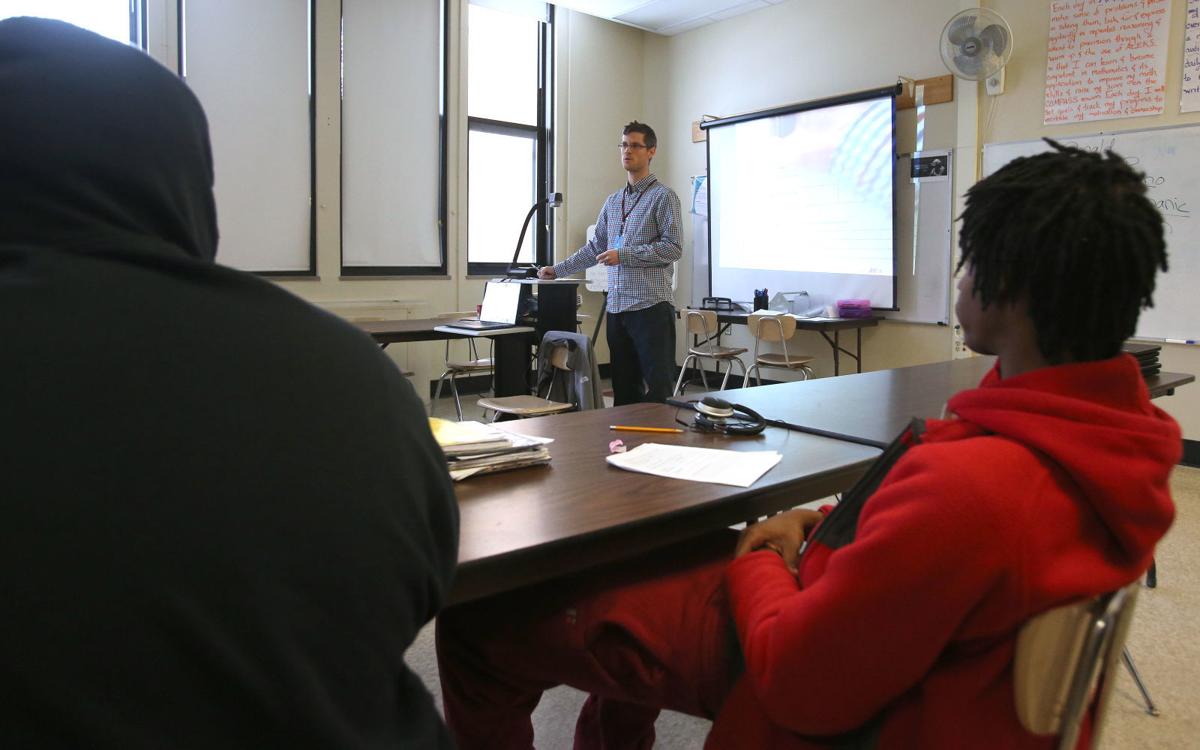 Capital High currently serves about 172 students across two locations — the third floor of the Lapham Elementary School building on the east side of the city and part of a strip mall across the street from Memorial High School for the west side. MMSD pays a significant amount to rent space for Capital's west-side location, including a $114,000 per year lease and between $5,000 and $10,000 in utilities.
That lease expires in July 2020, just months before a potential facilities referendum that would be voted on in November 2020.
"Resoundingly, we see the benefit of having one location site for us that's central to Madison with easy access to transportation," Karyn Stocks-Glover, Capital High's principal, told the Madison School Board during its operations work group meeting on Monday. "We're really interested in pursuing year-round access and the potential for year-round school or access to year-round school."
Stocks-Glover said Capital High, the current iteration of which started in 2016 to foster a more individualized learning environment for students who needed something different than conventional high school, is held back from expanding due to lack of space.
Stocks-Glover and Chad Wiese, the district's director of building services, said having one centralized location was one of several recommendations developed after conducting focus groups with students and staff.
"We have students in our high schools that are disenfranchised, that aren't having the experience they were looking for, and need something new," Wiese said. "And so often we send them to a site that doesn't convey that we're giving them the extra support and fresh start and really what they need. I think we can do better."
Under an expansion, Capital High would increase its enrollment to 300-350 students.
The district's Capital High plans could be coupled with finding a new space for its special education alternative programs. MMSD rents out just over 16,750 square feet in a building on Olin Avenue for $243,000 per year for several special education alternatives. Jon Harper, the director of student services, said the district hopes to expand therapeutic day options for high school-aged students, but would also need additional space.
Though the School Board acknowledged Capital High's need for a different space that isn't rented, there was some disagreement on how to make space available. MMSD officials initially suggested the possibility of purchasing property or land to build a larger space for these alternatives, but it was met with some resistance.
"Whatever recommendations come forward, I want them to include using underutilized space we have in the district," said School Board member TJ Mertz, Seat 5.
Mertz said that redrawing district boundaries could also help find space without having to build an entirely new building.
"I think that if we want to be good stewards of the investments we're entrusted with, I think some set of those options need to be on the table," Mertz said.
Another option that seemed unpopular would be to close a currently operating school in order to make more space available.
A challenge for having just one site is finding a location that is easily accessible via public transportation for all attendance areas. The idea of building a new space when not all district properties are at full capacity also raised concerns.
"We've got space and we're not growing as a district (student-wise), and we need to use our space better," said Kate Toews, Seat 6.
But for some, having one site provides an opportunity to put the needs of students at Capital High at the forefront.
"We have neglected their needs and their accommodations for years," said Gloria Reyes, Seat 1. "It's an opportunity for us to do what we've neglected to do in the past."
Nicki Vander Meulen, Seat 7, emphasized after the meeting that students with special needs shouldn't have to be put in a separate location when the district has existing properties that could utilized.
"They want us out of sight and out of mind. They see us as disruptions, as problems. That's all they see us as, an IDEA check," said Vander Meulen, who has autism. That's all we are to them financially is a check and kick them out."
Vander Meulen said the district's equity goals need include students with disabilities and not solely focus on race.
"What I want to do is make sure people of color who have disabilities are given the same options as every other student," Vander Meulen said.
More than three-fourths of students at Capital High are nonwhite. About 20 percent of students at the school have a disability.
There's a sense of urgency among board members that the facilities dilemma for Capital High needs to be addressed.
"I don't think this is something we should nudge along. This is something we've been nudging along for years," said Dean Loumos, Seat 3. "Six years I've been here — we should speed this up and make some commitments."
Facilities issues are likely to gain more traction in the community as the possibility of a 2020 referendum nears. The public comment period at Monday's meeting, for example, was dominated by parents, a staff member and several student athletes from West High School detailing the abysmal state of the school's athletic facilities compared to the rest of the district and Big Eight conference schools.