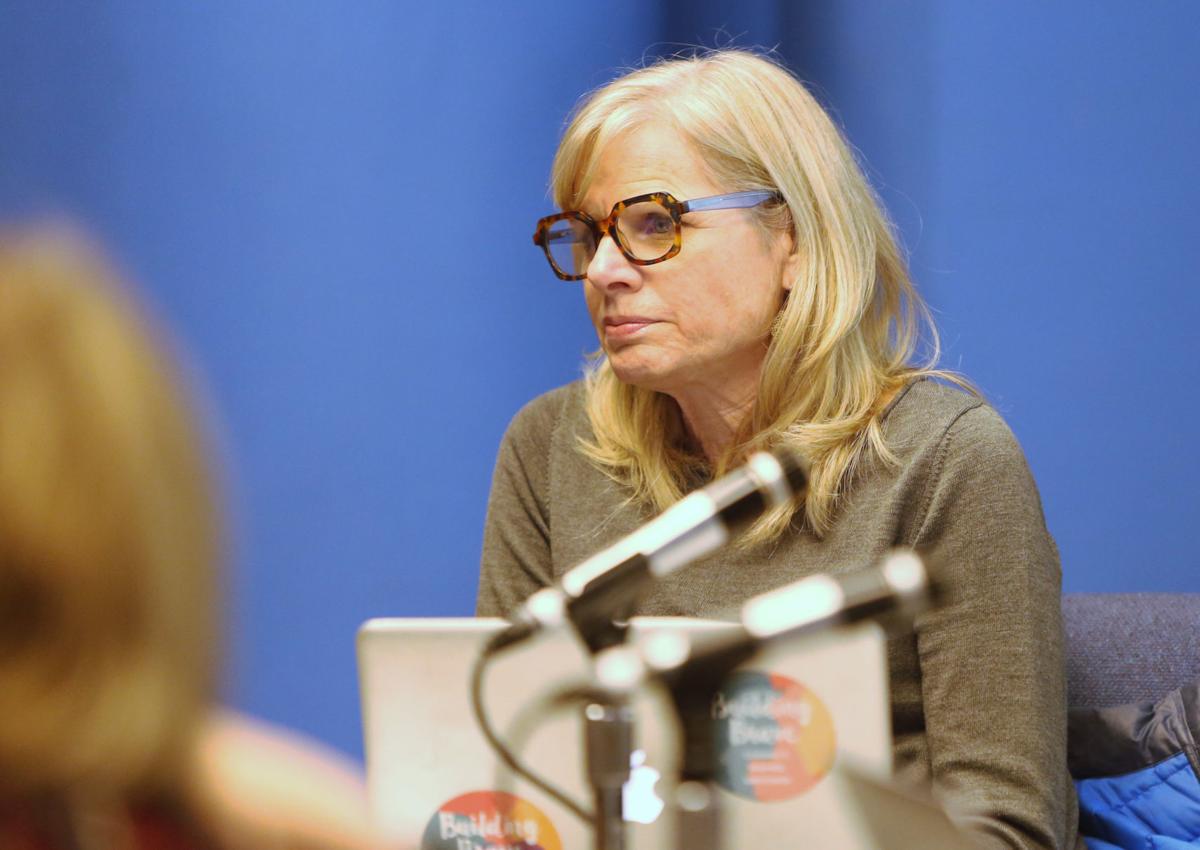 Despite a heated public discussion period where many speakers urged the opposite, the Madison School Board voted 4-2 Monday night to continue to have police officers in the city's four high schools through June 2022.
School Board members Kate Toews and Nicki Vander Meulen were the two nay votes. Gloria Reyes was not present for the vote.
The contract that passed Monday included amended language aimed at giving the Madison Metropolitan School District final authority over the hiring and firing of the school resource officers. The amended contract now goes back to city officials for approval. It's unclear if they will support the amended language.
The amended contract also refers to the officers as school resource officers, or SROs. The current contract refers to officers as educational resource officers, or EROs. The change in terminology was recommended by Madison police, as other parts of the country use the term SRO instead of ERO.
The current contract between the city and the Madison School District ends when the current school year concludes. Controversy around what to do next has dominated the public discussion period of the School Board's meetings for months. In October, protests led by Freedom Inc., the local social justice advocacy group that had launched a "No Cops in Schools" campaign, shut down the School Board meeting. Increased security measures and updated public comment procedures at the November and December meetings followed.
Also in October, the School Board voted to accept a report from the Education Resource Officer ad hoc committee, which was charged with studying best practices related to the use of police officers in schools.
The report, which detailed 16 recommendations aimed at providing oversight for the school resource officers, was intended to guide the board on how to best move forward on the issue.
Not all of the recommendations are clearly detailed in the contract, which calls for Madison Police Chief Mike Koval to continue to assign a full-time police officer to West, East, Memorial and La Follette high schools. School Board member TJ Mertz, who voted in favor of the contract, said not all of the recommendations from the ERO ad hoc report deal with the contract itself and that it would still be studied by the School Board.
The contract "is just one piece of a larger puzzle," Mertz said.
An open workshop session before November's monthly board meeting had district staff discuss how MMSD should utilize SROs in schools. The recommendations at that meeting included cultivating better relationships between officers and students, and investing in youth of color.
Many speakers Monday night said the district's use of terms such as black excellence and investing in youth of color ring hollow when police officers are still in the city's high schools.
The "No Cops in Schools" campaign's goal was to have school resource officers completely removed from the city's four high schools.
A wide range of speakers presented during the public comment period, from a 7-year-old student to a 78-year-old resident.
Members in favor of keeping SROs through 2022 said they would rather have the officers who respond to incidents such as a school shooting or other violent events be officers that MMSD has some control over. Mertz and Mary Burke, the School Board president, pointed to a recent state law that requires school staff to call the police if there is an imminent threat.
Student Senate School Board Representative Imaad Said, who usually provides an advisory vote at School Board meetings, said he couldn't vote in favor or against the amended contract and would have to do more research on the topic.
"The reason I support continuing the program is because I believe that this program gives us the opportunity to have a great degree of influence on how the police are in our schools," Mertz said. "I know that police officers will exercise their discretion. I know that the police chief said 'police will do what police do' regardless of what we do. But I still think that in partnership and collaboration and with checks and balances and public reporting and a complaint procedure that we've never had before, and a lot of other things, that we have clearer language around the distinction between criminalization and school discipline."
Mertz, who is running for re-election this spring, said he believed having officers in schools can help minimize the potential for harm, though not eliminate it.
Mertz proposed the amendment to the contract about giving MMSD the power to select or deselect officers, which passed unanimously. 
James Howard, the School Board's only black member, also voted in favor of the contract. Howard, who represents Seat 4, has not said if he is running for re-election this spring.
Howard said he understood speakers' concerns about the presence of police in schools and their affect on communities of color.
"The notion that somehow, fighting in schools, cell phone policies, things that we've heard — that somehow police should be integrated in that, I have a big problem with," Howard said. "My biggest thing is a couple of things Mary mentioned — the proliferation of guns in society. My biggest thing is all about how do we keep weapons out of schools."
Burke largely agreed with Mertz, stressing that having SROs gives the school district power over which police officers respond to incidents.
"Unfortunately, yes there are downsides, unintended consequences and impacts on students that are not positive," Burke said. "But the reality is that we do have an unprecedented number of school shootings. We do have an abundance and easy access to guns, and third is I think the change in state law. If police are going to be called, I want it to be officers that we have been a part of selecting, officers who have been trained to work with kids … the minute we do not renew this contract, we have absolutely no control over what police are going to come into our schools."
Vander Meulen said she voted against the contract because she did not believe the officers would be able to get the proper training to deal with the variety of situations they may face.  "I ran for office a few years after a girl was removed from East High School and dragged out by police on a trespassing charge when she had a Behavior Education Plan due to her disability," Vander Meulen said. "That could have been me ... for us to have to provide, pay for training when we're not trained to teach EROs is just not something I could ever support." 
Toews said before the vote that she was unsure of how she would vote. She said that the public process, including having the ERO ad hoc committee, has led to a better contract, but she was not sure it was as good as she wanted the contract to be.
Though the auditorium at the Doyle Administration building was largely empty by the time the School Board voted on the amended contract, nearly every member prefaced their public comments by thanking speakers for participating in the public process about SROs.
Matt Bell, the district's general counsel, said it's unclear how the city will respond to the amended language in the contract, as having the final say over an officer's assignment was a sticking point for the Madison Police Department.