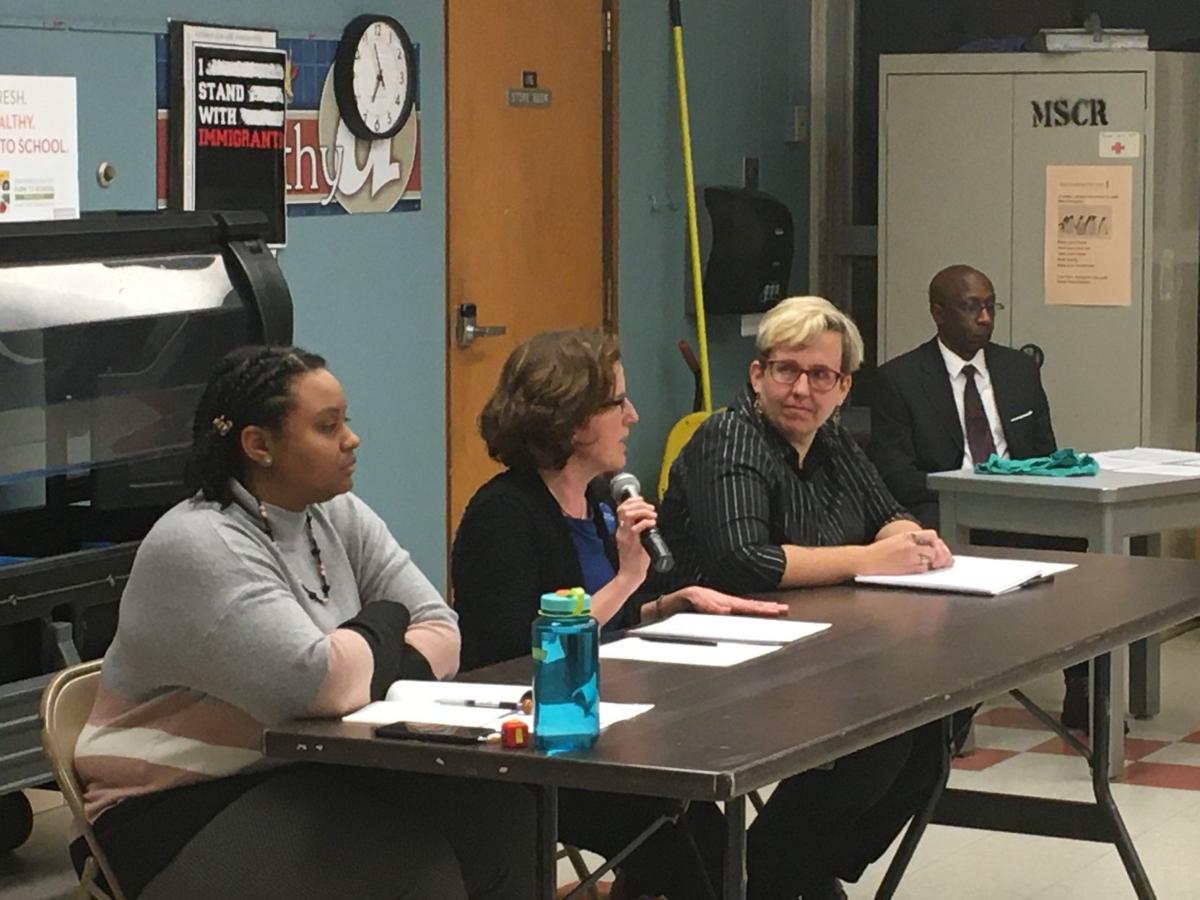 The three Madison School Board candidates on the Feb. 18 primary election ballot made a final push for votes Monday night at a forum hosted by 100 Black Men of Madison.
In the Lincoln Elementary School cafeteria, Seat 6 candidates Karen Ball, Christina Gomez Schmidt and Maia Pearson shared their views with more than 50 attendees on the Black Excellence initiative, the racial achievement gap and their work in the black community.
The three are running to fill the seat left open by Kate Toews, who decided not to run for re-election. The top two vote-getters in Tuesday's primary will advance to the April general election, which will also feature the race for Seat 7 between incumbent Nicki Vander Meulen and challenger Wayne Strong, and the uncontested race for Seat 2 with Savion Castro the lone name on the ballot.
All three candidates stressed the urgency of closing the achievement gap and pointed to hiring teachers of color as one solution, though they said retaining those that are already here also needs to be a top priority.
Ball, the director of academic success at Edgewood College and a West High School graduate, has two children in the district, one at Nuestro Mundo Elementary School and another at Sennett Middle School. She said Monday that she'd hope to see good progress on closing the achievement gap by the end of her three-year term, suggesting "letting our teachers lead the way."
"Teachers are ready to do this work, but for whatever reason there's a barrier set up in front of them," Ball said. "A goal is to have no gap. I know we can do it in this community."
Gomez Schmidt, the director of enrichment at test prep and college admissions tutoring service Galin Education, is a Minneapolis native with two school-age children — one at Memorial High School, another in seventh-grade at EAGLE School in Fitchburg — and a third that graduated from Memorial. She stressed the importance of the district's work toward adopting a new literacy curriculum, expected to be rolled out in fall 2021, as a tool to help close the gap and develop children's reading skills early.
"We have to go back to the basics and we have to find a curriculum that teaches explicit phonics and teaches kids what they have to know to read," Gomez Schmidt said.
Pearson, a revenue agent with the state Department of Revenue, has three children in Madison schools, all at Lincoln. She pointed to herself Monday as an example of what Black Excellence can look like in Madison, as someone whose family has been here for three generations, despite the ongoing disparities.
"When you have three generations of families really dealing with the achievement gap, that really says something," Pearson said.
The candidates were also asked how they would define white supremacy and work to dismantle the "system of white supremacy" that the district and other institutions are built on.
Pearson said acknowledging the issue is the first step.
"What I can bring is just my own experiences as a black person, the experiences of other people in my community to be able to push forward," she said. "We have to make sure that the white allies that we have really do understand that when we're talking and we're expressing what we feel, this is a lived experience."
Gomez Schmidt said it was "a tough issue as a white person to sit up here and answer this question," and that she would hope to continue to work on her own understanding of the issue from her personal context and background.
"It's really hard work and it's really messy work," she said. "We need to make sure that the systems that we have are not perpetuating discrimination and bias."
Ball defined white supremacy as "the power that comes with being white," and said it's something she and others need to listen and ask questions about, keeping it in the conversation.
"We have some real problems," she said. "I believe that one of the most racist things that we do as a district is allow our kids to leave the K-12 system underprepared for what's next."
Gomez Schmidt had raised more money than her opponents combined as of the Feb. 10 pre-primary reports and received an endorsement from Toews. Pearson has been endorsed by three current board members — Castro, Ali Muldrow and Ananda Mirilli — as well as Madison Teachers Inc.
Share your opinion on this topic by sending a letter to the editor to tctvoice@madison.com. Include your full name, hometown and phone number. Your name and town will be published. The phone number is for verification purposes only. Please keep your letter to 250 words or less.
Be the first to know
Get local news delivered to your inbox!