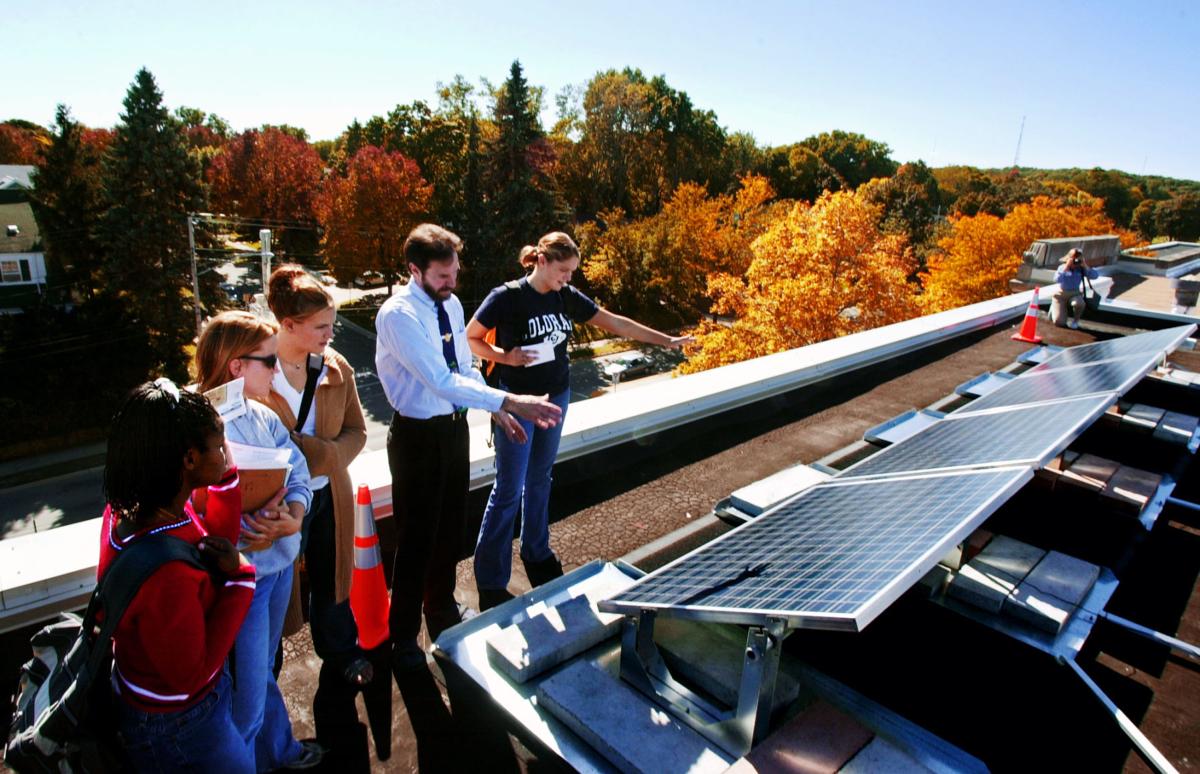 As the Madison School Board prepares to vote next month on putting two referenda on the November ballot, members are considering some late changes to the plans to more directly call for sustainability and health-focused projects. 
Staff have been working with a plan for a capital referendum around $315 million that would provide for major renovations at the four comprehensive high schools, a new elementary school building on the south side and renovations to Hoyt School that would allow the alternative Capital High School to operate there.
The second referendum question would give the board additional taxing authority for operations on a yearly basis for the next four years — $8 million in each of the first two years and $10 million in the second two, under the current plan.
The board is expected to discuss any changes to those plans at its March 9 Operations Work Group meeting and vote on the ballot questions March 23.
District officials presented sustainability plans to a small audience at La Follette High School on Tuesday. School Board member Cris Carusi, among the presenters, said the board received feedback that sustainability was a priority and was considering lowering the operating referendum ask by $3 million while adding the sustainability funding into the capital question.
"We heard you," Carusi said. "The board is talking about adding a sustainability effort to the referendum."
According to a handout at the meeting, sustainability projects that would be added with an additional $2 million on the capital referendum ask include more efficient and innovative mechanical systems, an additional $250,000 of solar allowance per comprehensive high school and mindfulness spaces for staff and students at each of the high schools, including Capital High. Additional items that would require beyond the $2 million include green roofs, greenhouses, electric vehicle charging stations and shared spaces for community use at each comprehensive high school.
"We wanted to let folks know we haven't lost track of what's possible even outside that $2 million add," said Madison Metropolitan School District director of building services Chad Wiese, mentioning that if projects come in under budget they could add in some of the additional work.
Sustainability projects already included in the base plan include window and door replacements, roofing improvements, asbestos and lead abatement, environmental curriculum, student fitness centers and additional natural lighting at the high schools.
Wiese said staff calculated that sustainability projects in the base plan would pay for themselves through energy cost savings in 13 years, and with the additional items it would take 12 years.
Staff had identified sustainability as a general interest for both students and the community during the community feedback period last fall.
"Participants expressed, for example, that it should be a priority for the district to invest in ecological sustainability and conservation as it engaged in any renovation, including through the use of alternative energy sources (e.g., solar power) and 'green' building materials," according to the district's Research and Program Evaluation Office report on the feedback.
Current plans — without the additional sustainability projects and before any operating cut — would, on average, cost homeowners $135 per $100,000 of property value. Of that, $69 is from the capital and $66 is from the operating referenda.
School Board member Ananda Mirilli pointed Tuesday to the board resolution in 2019 focused on energy efficiency with a goal to meet 50% of all operations energy needs with renewable energy by 2030 and 100% by 2040.
"We certainly cannot do this alone," Mirilli said. "We need all of our families to continue to support our collective commitment to move into renewable energy."
Current energy efficiency practices include solar projects in progress at West High School and geothermal energy sites at West and Olson Elementary School, Mirilli said. Carusi said sustainability projects can also help in "educating our kids about sustainability and connecting them with nature so they really understand the how and why" of sustainable practices.
"This isn't part of the facilities referendum necessarily, but this is a really important part of becoming a green district," she said.
Share your opinion on this topic by sending a letter to the editor to tctvoice@madison.com. Include your full name, hometown and phone number. Your name and town will be published. The phone number is for verification purposes only. Please keep your letter to 250 words or less.
Be the first to know
Get local news delivered to your inbox!