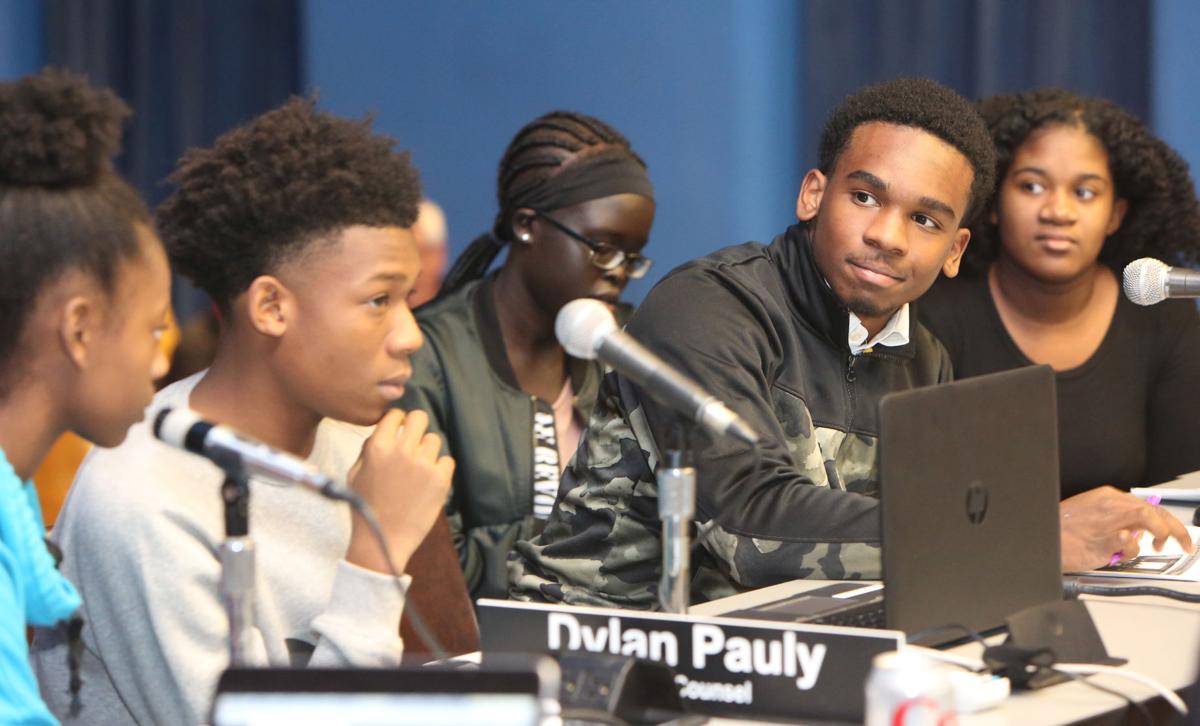 As the Madison Metropolitan School District encourages teachers to focus on building relationships, high school students have been sharing some recommendations of their own.
Each year, students from 28 school districts across the country attend a four-day conference organized by the Minority Student Achievement Network. At the conference, which took place in October, students identify a problem they face in their home district and brainstorm solutions.
For the second year in a row, Madison's MSAN students are focusing their work on teachers and how some of them struggle to build authentic, caring relationships with students of color.
Madison's MSAN group, along with students from the district-wide African-American Youth Council and the black student unions at West, East, Memorial and La Follette high schools, collaborate throughout the year to inform district and school-based leadership teams about their problem and implement ways to address it.
At Madison's most recent regular School Board meeting on Oct. 30, student leaders from the coalition presented their findings. Superintendent Jennifer Cheatham said the students' perspectives are important and helped frame the district's work on relationship building.
"(Student voice) is incredibly important to us. These guys know better than anyone what is working and isn't working in our schools and how to make it better," Cheatham said to the five student representatives. "The insights that they shared with us (last spring) helped to solidify and deepen the focus that we have district-wide this year on building stronger relationships between teachers and students."
Students spent 45 minutes sharing their perspectives with the board, which included their personal experiences, research and anecdotes from their peers.
Norman Davis, a junior at Madison West High and vice president of the school's BSU said some teachers are quick to call administrators or security to deal with conflict in the classroom, and that can create a rift between teachers and students of color.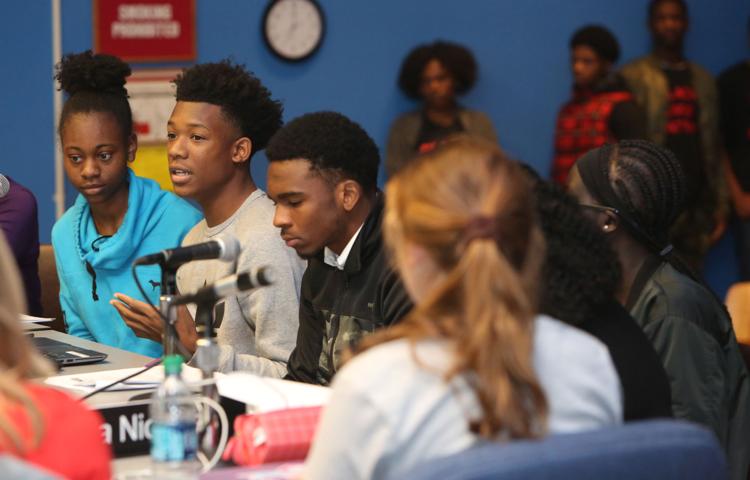 "I think that is the worst thing you can do. We see so much of that in our own lives, people calling the law or a higher authority on us. When they do that, it narrows the relationship," Norman said.
Students said some teachers don't interact with their students outside of class through attending sporting events or other student activities.
"There are teachers who make it clear that their job is only to teach us and not build relationships with us outside of the classroom," said Diana Murray, a senior at West who attended the MSAN conference.
The students acknowledged that they've seen some improvement in the first few months of the school year, but are not sure if all of their teachers got the message that relationship building should be a priority.
"We do have really good teachers who are doing this ... but it depends on the teacher's personality," said Tiara Fountain, a senior at Madison Memorial High who is a member of MSAN, the African-American Youth Council, and her school's BSU. "A lot of them have changed their ways, but there are still a couple that haven't truly understood what we think."
Students also offered the board examples of how some of their teachers are prioritizing building relationships with students of color.
Diana said one of her teachers allows space in the class for students to get to know one another and gives supplies to students who need them.
"This classroom is the most equitable classroom I've ever been in," she said. "When you get to know the students, you don't lower the expectations at all. It is a challenging class, but every student is succeeding in it."
Students suggested school administrators perform unannounced classrooms visits to observe how teachers interact with students.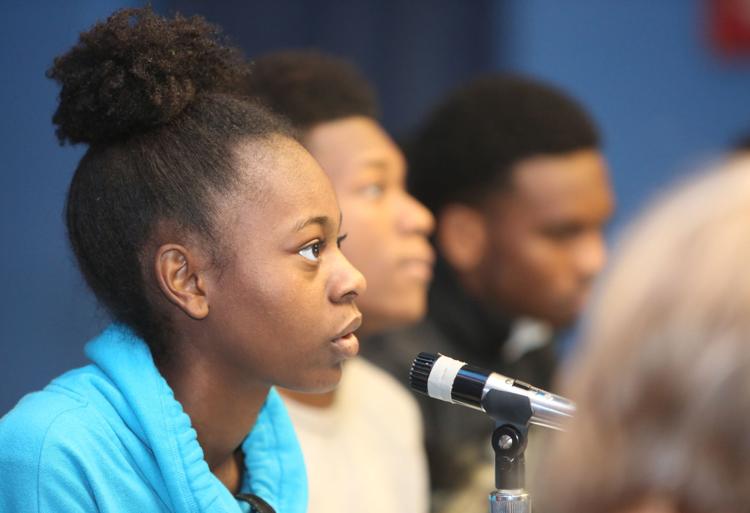 "We don't want to blame teachers, we want to support them to further build relationships with their students," said Nyagoah Biel, a senior at Madison East High and a member of the African-American Youth Council and her school's BSU. "Ultimately (their performance) affects us because if they are not able to succeed, we aren't able to succeed."
Students also suggested that schools develop a system for students to share feedback about their teachers' performance. Kayvion James-Ragland, a junior at La Follette High School who is a member of the African-American Youth Council, said that feedback is usually top down, with teachers being able to express how they feel about students, but not the other way around.
"We think it is important to ask us directly because we are in the classroom every day," he said.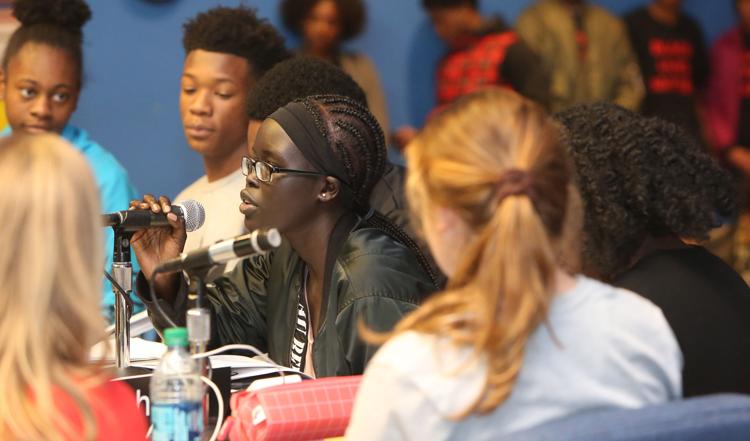 Diana said having an avenue to provide feedback can help teachers who are trying to be culturally responsive in the classroom, but are going about it the wrong way.
She shared an example of how a teacher made a comment to one of her peers that the student thought was culturally insensitive.
"In his mind, he was trying to relate to the student, but in her mind, it came off as racist, and it furthered the gap between them," Diana said. "When we get student feedback, we help teachers and students feel more comfortable in the classroom."
Madison School Board President James Howard encouraged the students to keep talking to their peers, teachers, administrators and board members about the issues they see at their schools.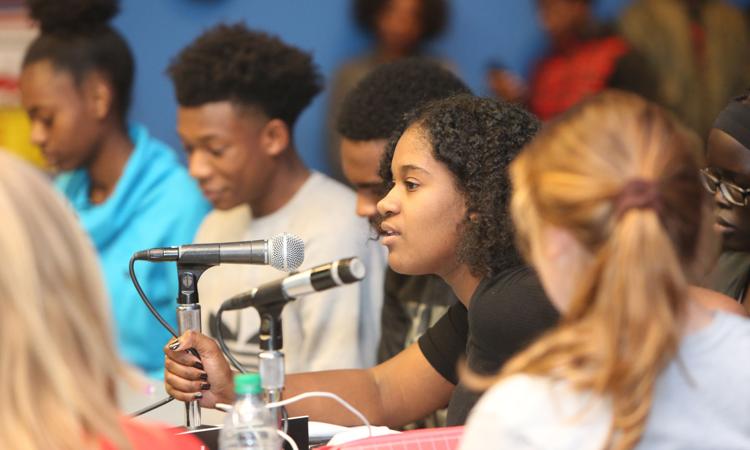 "I feel you, and I understand where you are coming from because I've been where you been," Howard said. "I want you to know we value your opinion." 
"It's a tough conversation...but it's tough because we need to have them and we haven't had them enough. But we've heard you. Continue to spread your message...we definitely hear you," he said.
Cheatham echoed Howard's thanks and said relationships have to be "at the center of everything."
"We can create technical programs and solutions, but if relationships aren't the glue that is holding that all together, we've done the wrong thing," she said.