Last week, about 100 Emerson Elementary School students and their families participated in Family Math Night, an evening dedicated to reinforcing math concepts students learned so far this year and introduce families to the Madison Metropolitan School District's new math curriculum.
Students from four-year-old kindergarten through fifth grade led their parents through interactive math activities. Since the students had practiced the activities in class, they approached them confidently, explaining the rules to their siblings, parents and peers.
Hannah, 6, played "Spill Five Beans," a game where students shake a cup containing five paper "beans," one side white and one side red. After students spill the beans on the table, they count the number of beans that land red-side up and trace the corresponding number on their game board. The game is done once the students roll five of the same number.
"I think 'two' might win," Hannah said as she traced the third of five number twos on her paper.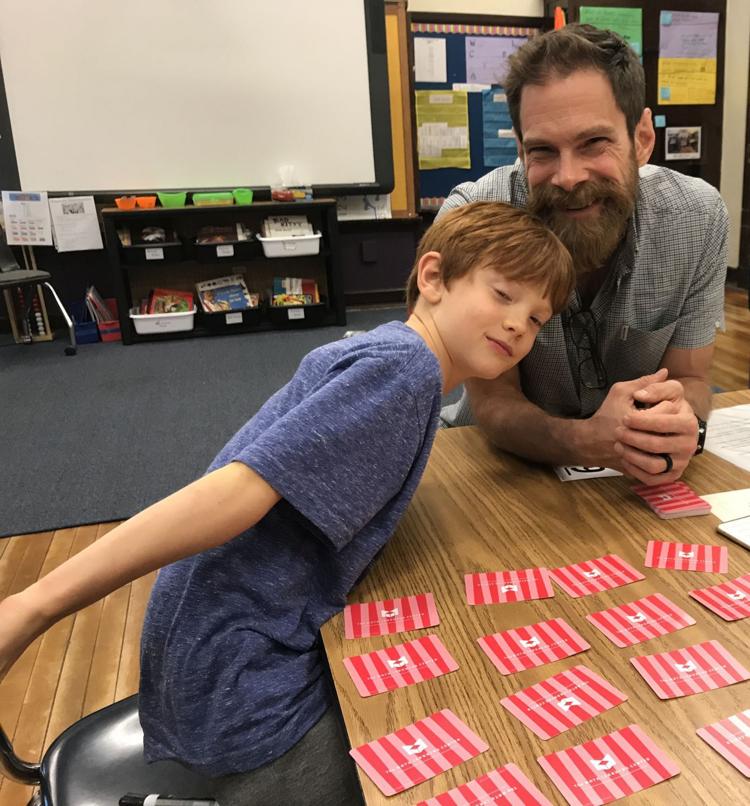 Emerson teachers were on hand to speak with parents about the lessons and provide guidance as needed. Maria Cavicchio, a kindergarten teacher at Emerson, said students build on concepts taught in games like Spill Five Beans throughout the year. Although Hannah used the game to learn about number recognition, number writing and counting, the game also teaches the fundamentals of addition, subtraction and probability.
"They do these sorts of games and they learn (the concepts,)" she said. "It's not rote memorization, students really like (the activities) and learning is more meaningful."
Math Family Night was also an opportunity for parents to learn more about the district's new elementary school math curriculum, Bridges in Mathematics. Bridges is aligned to Common Core standards and has been adopted by scores of schools and districts around the world.
Emerson was a part of the first cohort of ten schools to adopt Bridges in the 2016-2017 school year. MMSD rolled-out the curriculum at 14 more schools this year. The remaining eight elementary schools will phase in the curriculum next school year.
Ken Davis, MMSD's math coordinator, said the gradual approach to implementation allows the district to gather feedback from teachers, change course as needed, and establish best practices.
"Constant feedback took place between the (central office) math team and the teachers," Davis said. "It's been a really good, collaborative effort around planning and preparing to teach students."
MMSD highlighted the success of the new math curriculum in its annual report, released last July. The report said the first cohort of schools using Bridges saw an eight-point increase in math proficiency scores and nine-point gains in math growth in one school year on the spring Measures of Academic Progress (MAP) exam for third through fifth grade students.
By comparison, fifth grade MAP proficiency scores across the district increased eight points in the last four years.
"(Bridges) focuses on developing the students' understanding of math concepts," Davis said. "It is not about how students can memorize certain skills, but really around their ability to problem solve and look at math in more complex ways...and explain their reasoning to their teachers and peers."
Family Math Night was a part of Emerson's Tuesday Night Lights. The twice-monthly event provides a chance for families to get to know staff while participating in fun activities. Past topics included science, juggling, robotics and food trucks. Last week was the first time Emerson hosted Math Night as a part of Tuesday Night Lights and Emerson principal Brad Kose said he hopes to do it again soon.
"Sometimes we have a misconception that you are either good at math or you are not, but there is actually a lot of research that says you get good at math by practicing," Kose said. "Hopefully families learned some things that they can do at home. These simple games that we play are developing math skills, and that is important."