A physical education teacher at Madison East High School has left work after being accused of inappropriate behavior by students and will not return to the school, according to an email sent to parents Tuesday.
East principal Michael Hernandez' email to parents said an investigation was initiated into allegations against Gary Calhoun, a veteran East teacher. Calhoun obtained his permanent state teaching license in 1984 and was hired by the Madison Metropolitan School District in 1988. Calhoun graduated from East in 1975 and has served as the school's baseball coach.
In the email, Hernandez said an investigation was sparked by allegations made against Calhoun "online and in social media over the past two weeks."
The email also stated Calhoun was set to retire at the end of the school year but, "given the sensitivity and impact of this issue on both the East Community and Mr. Calhoun, he has opted not to return to work."
The Cap Times obtained a Facebook post, now deleted, from early February made by a person who claims to be a current East High student, alleging she and a friend were "sexually harassed" by Calhoun in a weight training class in October 2017.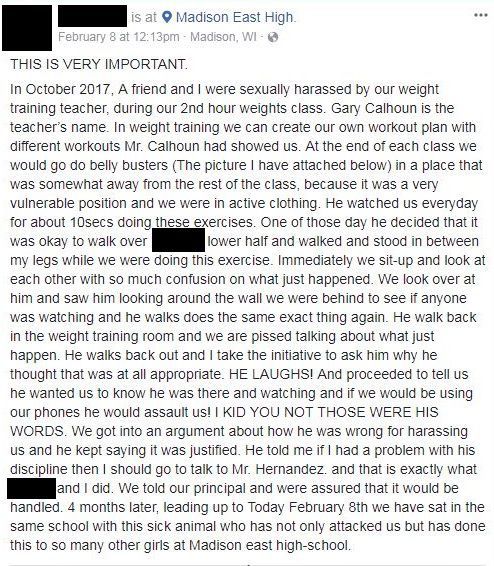 The student alleged Calhoun "watched (the students) everyday for about ten seconds," while they completed an exercise called a "belly buster," which involves elevating the legs and opening them in a scissors-like motion. The student said Calhoun approached her and a classmate during the exercise and "stood in between (her) legs," which made her uncomfortable.
The student said when she confronted Calhoun after class about the interaction, he laughed at her and said he was checking on the students to make sure their phones were put away. The student also claimed Calhoun said he wouldn't "assault them" if they did not have their phones out.
In the Facebook post, the student said she reported Calhoun's behavior to Hernandez when it happened earlier this school year.
"We told our principal and were assured that it would be handled. (Four) months later ... we have sat in the same school with this sick animal who has not only attacked us, but has done this to so many other girls at Madison East High School."
The Cap Times reached out to the Facebook user for further comment but had not heard back as of late Tuesday afternoon.
Rachel Strauch-Nelson, media and government relations director for the Madison Metropolitan School District, said in an email to the Cap Times that Hernandez and his team "did look into student concerns in October and took followup action at that time," but did not provide further details.  Strauch-Nelson's email indicated recent events prompted the district to take a closer look at Calhoun.
"When the students brought current concerns to our attention, we immediately began to gather and review information," Strauch-Nelson said. "We take allegations very seriously. When students brought these concerns to our attention, we followed our district protocol and asked the employee to stay home from work while we gather and review information. As we went through that process, Mr. Calhoun made the decision that he would not return to work."
The Cap Times reached out to Calhoun via email for further comment but did not hear back as of late Tuesday afternoon.