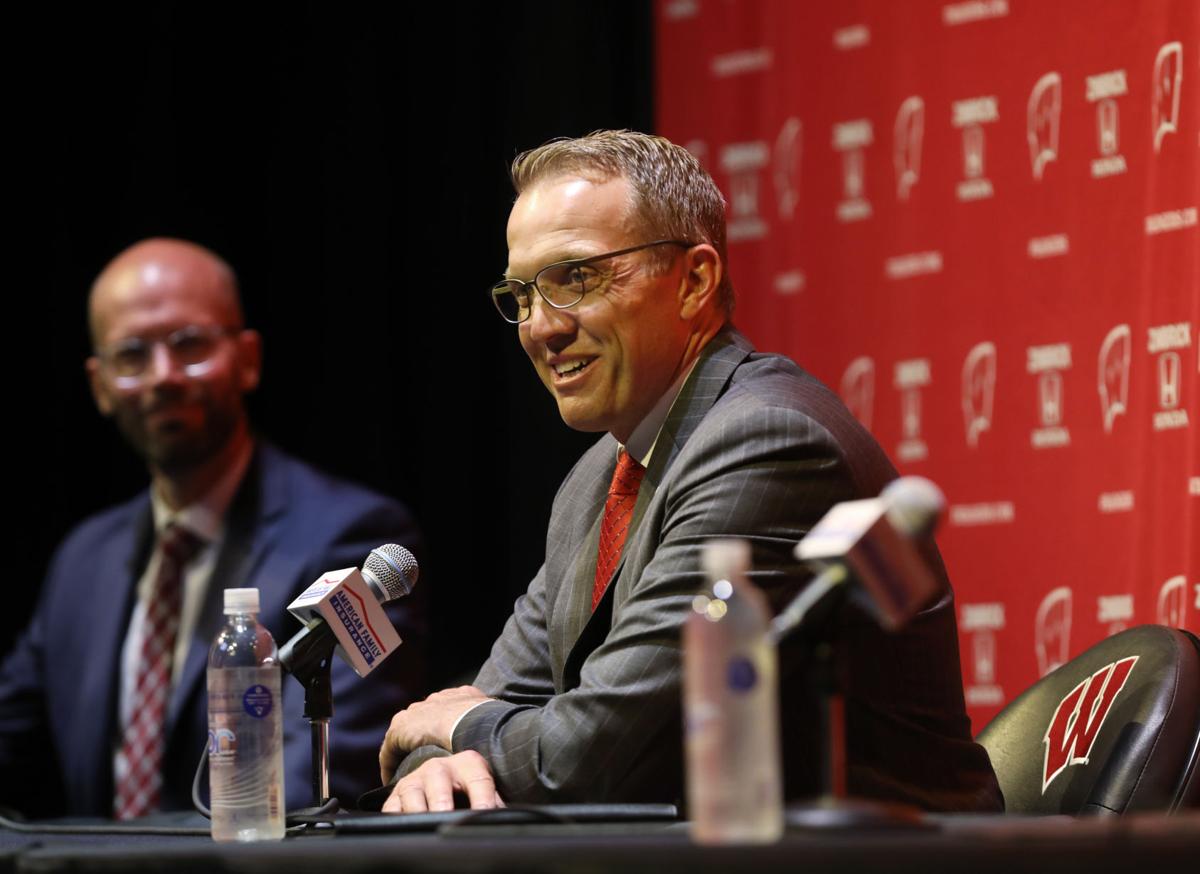 Some Black community leaders in Madison are arguing that naming Chris McIntosh as UW-Madison's new athletics director is a lost opportunity to address concerns of Black students, and that Chancellor Rebecca Blank did not adhere to her own guidelines in making the high-profile hire.
Speaking for the Black Leadership Council of Dane County, Urban League of Greater Madison president and CEO Ruben Anthony criticized Blank for sowing distrust in how she handled the search process for Barry Alvarez's successor, defying her own instructions to the search committee.
"She said if anybody lobbied for a candidate, they would disqualify that candidate and Barry openly lobbied (for McIntosh) from the start to the finish with no retribution," Anthony said Thursday. "Why didn't she disqualify his candidate? Why did she allow him to do that?"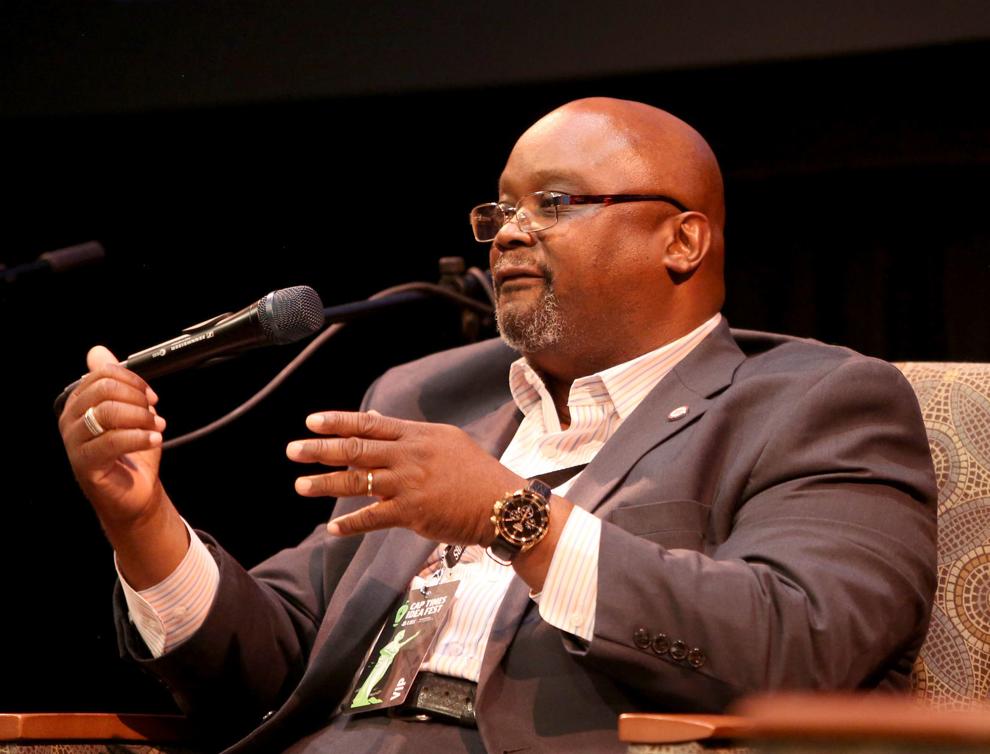 Anthony accused Blank of subverting the work of a diverse search committee allowing Alvarez to choose his own successor: "Ultimately, it was his pick."
In a prepared statement, the Black Leadership Council argued that doing so was "another strong indication that the 'the good ole boy system' is still in place in the UW Athletic Department." McIntosh is white.
In a statement, Blank defended the process and pointed to the diversity of the search committee, which included three people of color, all former UW-Madison student athletes.
"Our process during the athletic director search was open and fair, guided by a diverse search committee, including current and former Athletic Board chairs, alumni and former student athletes," Blank said. "This group worked hard to recruit a diverse group of candidates for the role and recommended final candidates to me. People weigh in on nearly every hiring decision I make, but ultimately I hire the candidate who has the best credentials, talent and experience to build upon our success."
Members of the search committee reached Thursday referred questions to Blank's office.
A Pewaukee native, McIntosh was an All-American offensive lineman at Wisconsin, helping to lead the Badgers to back-to-back Rose Bowls in 1999 and 2000. He was selected in the first round of the 2000 NFL draft by the Seattle Seahawks, where he played until a neck injury forced his retirement in 2002.
After working in the private sector, McIntosh joined the UW athletic department in 2014 and, in a move that signaled to many he was being groomed to take over when Alvarez retired, took over "day-to-day operations of the department, student-athlete recruitment, business development, human resources and strategic planning" in 2017, according to a UW-Madison news release.
McIntosh's promotion comes at a stressful time for college athletics. The COVID-19 pandemic eliminated ticket revenue for a full academic year at the same time student athletes are pushing for more of a voice and to earn money from relaxed name, image and likeness policies. And concerns about diversity, equity and inclusion have proliferated in the world big-time college athletics, particularly in the wake of George Floyd's murder in Minneapolis a year ago.
In September, a large group of student athletes wore black and marched to protest racism on campus, culminating in speeches on Bascom Hill. An effort by some Black student athletes to respond to the national reckoning over racial injustice resulted in teams wearing a black W logo on their uniforms this year.
The UW athletic department released a Diversity, Equity and Inclusion Plan last September and appointed an Equity Diversity Council. But in an Cap Times story published last October, some former athletes criticized Alvarez, athletic department leadership and the DEI plan for its lack of metrics and deadlines. Banke Oginni, a track alum, said she stopped hearing from Alvarez after one response to her concerns.
Blank spoke directly to McIntosh's work within the department on DEI issues.
"Chris McIntosh has and will continue to be a leader in diversity, equity and inclusion," Blank said in the statement. "He initiated the Athletic Department's diversity & inclusion strategic plan, helped found the new Equity and Diversity Council within the department and has assured me that he will tackle this area with new energy and approaches."
In remarks made at a Wednesday event at UW-Madison's Kohl Center to announce his hiring, McIntosh underscored his commitment to student athletes at the school.
"I will always put you first. Always," he said. "No matter where you are from, what sport you play, scholarship or walk-on, it doesn't matter. We are part of the same family. The student-athlete experience here at Wisconsin can be transformational."
Anthony stressed on Thursday that he does not wish to criticize McIntosh — though he admitted they have never met — but the university and Blank for the way they approach high-profile hires and appointments without taking into account community sentiment.
In the statement, the BLC listed 10 Black staffers and assistant coaches who have left the athletic department in recent years.
"Students and coaches are complaining. We've seen a mass exodus of Black coaches.
McIntosh and Barry have done this together," Anthony said. "Again, this whole approach to allowing a process in a public university to just be dictated and decided by an outgoing athletic director rubs people the wrong way. McIntosh might end up being a good athletic director, but the process stinks." 
Share your opinion on this topic by sending a letter to the editor to tctvoice@madison.com. Include your full name, hometown and phone number. Your name and town will be published. The phone number is for verification purposes only. Please keep your letter to 250 words or less.