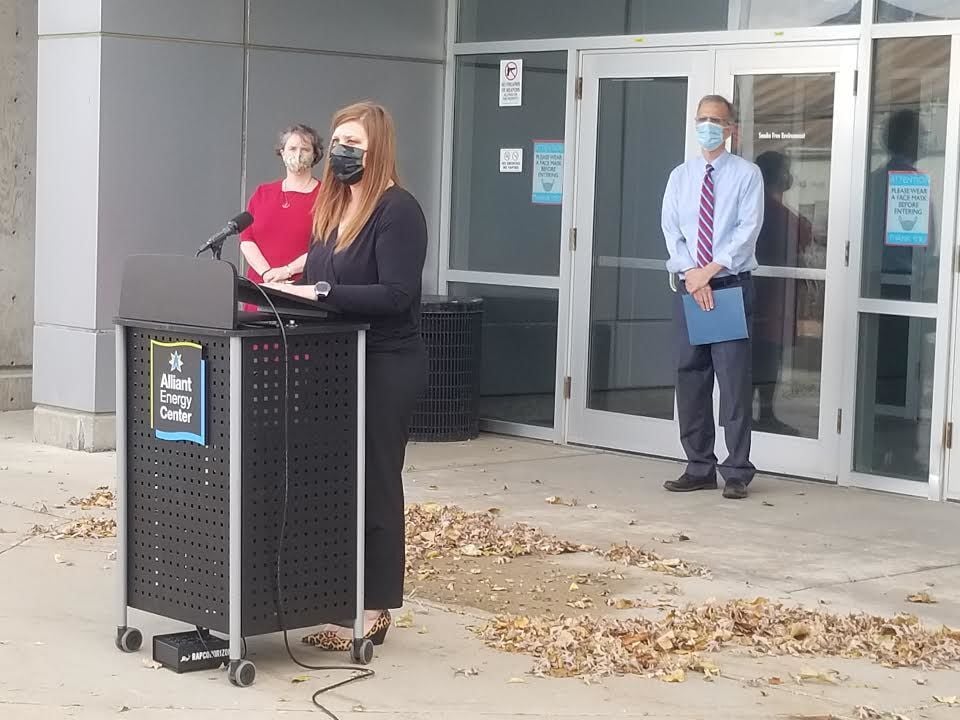 The Wisconsin Supreme Court Friday ruled local public health officials do not have the authority to close schools and that the order from Public Health Madison & Dane County last August infringed on religious rights.
The decision came one day after the county's largest school district, Madison, ended its school year, rendering it irrelevant to the first full school year under the COVID-19 pandemic. But the ruling helps create at least one guidepost for interpreting state statutes on the power of local health officers in an emergency.
Conservative Justice Rebecca Bradley wrote the majority opinion, with conservative colleagues Chief Justice Annette Ziegler and Justice Patience Roggensack joining in full and Justice Brian Hagedorn joining with one exception and writing a concurring opinion. The court's three liberal justices dissented.
PHMDC director Janel Heinrich said in a statement the department is "extremely disappointed in the court's decision, which has much further reaching implications than just this current pandemic" and "hinders the ability of local health officers in Wisconsin to prevent and contain public health threats for decades to come."
"This ruling means that under Wis. Stats. Sec. 252.03 we are no longer able to contain a measles, pertussis (whooping cough), or flu outbreak in a school," Heinrich said. "This ruling impedes our ability to respond to any disease that might impact students, teachers, and school staff, and impacts family and friends beyond the walls of the school. Unnecessary, preventable illness may certainly occur as a result of this ruling."
Last August, as the school year approached and some area private schools had already begun the year, PHMDC issued Emergency Order No. 9, prohibiting in-person instruction for grades 3-12 at any school. Legal challenges quickly followed, with private schools and parents pushing against PHMDC's order and asking for an immediate injunction so they could continue in-person instruction.
The court complied, with its conservative majority barring the prohibition on in-person instruction in a 4-3 opinion by early September. Many public school districts, including Madison, remained entirely virtual for part or most of the year, but many private schools quickly shifted back to in-person plans.
Hagedorn, who had sided with his three liberal colleagues at times in high-profile cases during the pandemic, asked questions during those arguments that indicated he was unlikely to vote with them this time around. He cited the court's case law in saying justices have to give special consideration to religious belief and practice, which aligned with petitioners' argument that the order burdened their religious experience.
"Religious belief and practice is preferred to other actions, that is the clear teaching of our cases," Hagedorn said. "Religion is not to be just treated the same, but is actually given special protection where the people of the state of Wisconsin have said, 'You can tread no further.'"
Much of the discussion in December centered on the reading of a state statute that allows local public health officers to do what is "reasonable and necessary" to suppress a disease outbreak, with no specific mention of schools. There is a statute that explicitly gives the power to close schools to the Department of Health secretary, however, which Hagedorn said then made it seem "that the Legislature did not think that locals had the power to close schools."
The court's majority opinion echoed that concern, pointing to statutory language and other powers the Legislature did grant to local health officers explicitly, like forbidding public gatherings.
"The power to take measures 'reasonable and necessary' cannot be reasonably read as an open-ended grant of authority," Bradley wrote. "Doing so would swallow the rest of the statute and render it mere surplusage."
Attorney for the petitioners and Wisconsin Institute for Law & Liberty founder Rick Esenberg said in December the legal dispute had to focus on the state statutes.
"We're not talking about whether what was done here was a good idea, we're talking about whether it was legally authorized and done in the correct way," he said.
The dissent, written by Justice Rebecca Dallet and joined by justices Ann Walsh Bradley and Jill Karofsky, criticized the majority and petitioner interpretation of those statutes. Dallet wrote the case was "not a difficult statutory interpretation." Statute 252.03 states public health officials "shall promptly take all measures necessary to prevent, suppress and control communicable diseases," with Dallet noting the presence of the word "all" throughout her dissent.
"The only statutory question before the court is whether Wis. Stat. § 252.03 prohibits local health officers from closing schools," Dallet wrote. "It takes no special 'canons' or abstract linguistic principles — only a common sense understanding of the English language — to see that it does not."
Attorney Remzy Bitar, representing Heinrich and Dane County Executive Joe Parisi, argued in December the closure fit within the "reasonable and necessary" framework of the statutes, noting that grades K-2 were allowed to open for in-person instruction. He called it "ridiculous" to argue that the order amounted to a "total school closure."
"The local health officer tried to use great foresight to see where we might be with this epidemic," Bitar said.
In ruling that Heinrich violated religious rights, the court agreed that the petitioners had established the need for in-person instruction to exercise their students' religious rights. The court found that she could have "implemented less restrictive means" to achieve the goals of limiting the spread of COVID-19, like limiting the number of students in a classroom and mandating the use of masks.
"The Order did not merely burden academic schooling; it burdened the exercise of religious practices," Bradley wrote. "While Heinrich allowed schools to use their premises for child care and youth recreational activities, the government barred students from attending Mass, receiving Holy Communion at weekly Masses with their classmates and teachers, receiving the sacrament of Confession at school, participating in communal prayer with their peers, and going on retreats and service missions throughout the area."
The dissent also questioned whether the court should have ruled on the Constitutional issue of religious practice at all, as Dallet wrote that the majority opinion "bulldozes its way through an unnecessary constitutional analysis."
"It is well settled that we should avoid constitutional questions when we can resolve the case on statutory grounds," Dallet wrote. "The majority offers no legal basis for deviating from that practice here. Thus, the majority's analysis of the petitioners' free-exercise-of-religion claim is wholly beside the point."
Hagedorn dissented from part of his conservative colleagues' majority opinion over how often the court should answer constitutional issues if a case can be decided on statutory grounds.
"We are not charged by the constitution to provide clarity whenever a constitutional question is unresolved," Hagedorn wrote. "We are not empowered to ensure all constitutional violations are corrected."
But in this case, he wrote, it was appropriate to go further because the religious liberty questions asked have repeatedly come up in cases around the country and "decision-makers should understand the legal requirements that must inform their decisions in this area."
"Even though it is true that we need not address the constitutional question in this case, it is prudent to do so," Hagedorn wrote. "These are important questions with immediate consequences far beyond this case."
Share your opinion on this topic by sending a letter to the editor to tctvoice@madison.com. Include your full name, hometown and phone number. Your name and town will be published. The phone number is for verification purposes only. Please keep your letter to 250 words or less.