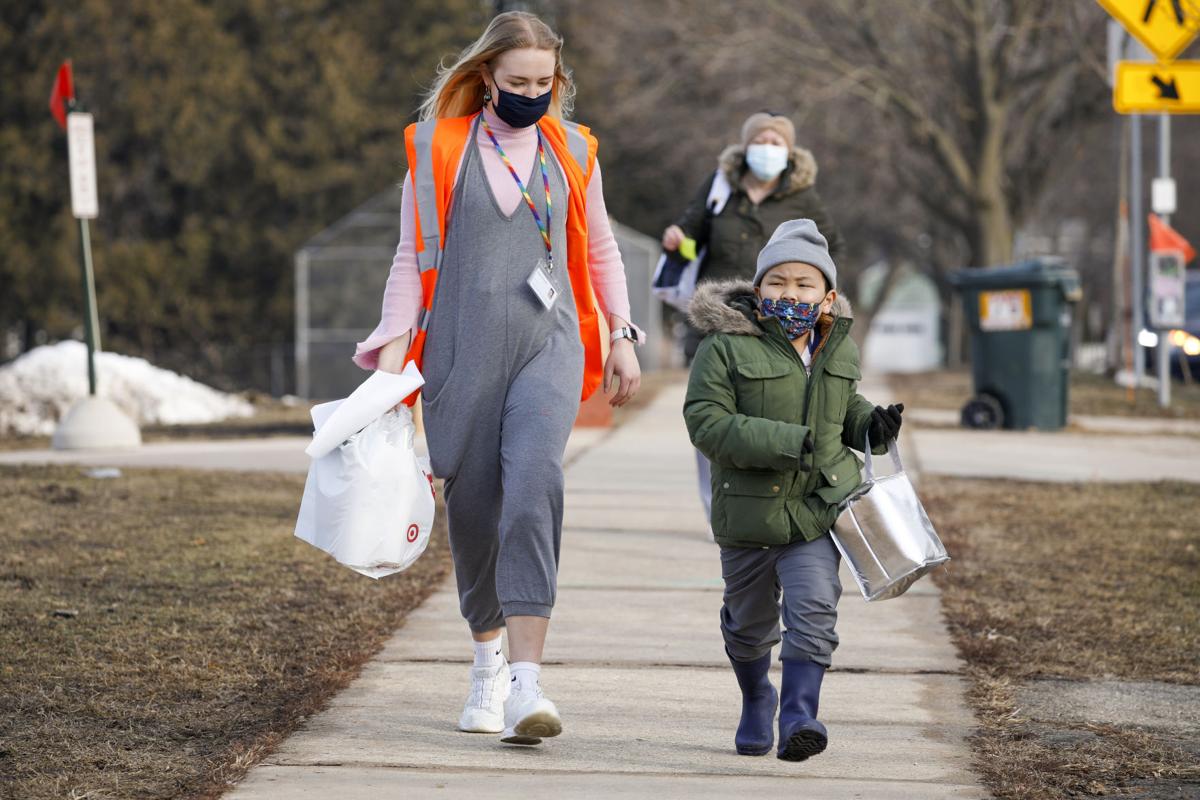 The Madison Metropolitan School District saw fewer disparities than nationwide trends in the demographics of students initially returning to school as COVID-19 policies call for in-person instruction.
Other than elementary students who identify as Asian or Native Hawaiian/Pacific Island, with both groups below 50% returning in the survey, every other demographic was near or above 60% of respondents planning to return. Around the country, some districts have seen disparities for Black and Hispanic students, with white students making up a disproportionate amount of the students back in classrooms.
But data from individual MMSD schools show that the disparities in returning choices are present within some individual schools. It highlights that even within demographic groups, there are many considerations parents are taking into account when deciding to send their children back to school or keep them in virtual learning.
Nationwide, the gaps are cause for concerns over equity and the potential to exacerbate already-existing opportunity gaps between students of color and their white peers. Wisconsin has among the worst opportunity gaps in the country.
The district has not released the results of the more recent survey. District spokesperson Tim LeMonds wrote in an email he expected they would be released in mid-April.
Here are some highlights of the school-by-school data and an interactive map to see the demographics at each elementary school:
Black students most likely to return at 12 schools
Of the district's 32 elementary schools, 12 had Black students as the most likely to return, in contrast to what has happened in some districts around the country.
Shorewood, Henderson, Emerson, Lake View, Schenk, Stephens, Lindbergh, Lowell, Midvale, Lapham, Lincoln and Marquette elementary schools all saw Black respondents to the return survey have the highest percentage of returners.
At some of these schools, either the Native Hawaiian/Pacific Island or American Indian/Alaska Native demographics were at 100% with a small number of students in those demographics.
Hispanic/Latino students most likely to return at four schools
Another four of the district's elementary schools saw students identified as Hispanic/Latino as the most likely to return.
Allis, Elvehjem, Shorewood and Van Hise each had Hispanic/Latino respondents as the highest percentage electing to return — with Shorewood seeing 80% for both Black and Hispanic/Latino families.
As noted above, some of these schools had 100% of either the Native Hawaiian/Pacific Island or American Indian/Alaska Native demographics returning with a small total number of students in those demographics.
Six schools see majority of Asian respondents return
While Asian respondents to the survey had the lowest return to in-person rate overall at 37%, some schools had much higher percentages.
Schools ranged from 13% of Asian students returning (Mendota and Lapham) all the way up to 75% (Thoreau). Several other schools — Emerson, Shorewood, Gompers, Marquette and Elvehjem — all were at or above 50% for Asian students returning, as well.
Two schools have 35-point gap between Black, white students returning
Elvehjem and Randall elementaries both have a gap of 35 percentage points between Black students and white students who opted to return.
At Elvehjem, which had an overall return rate of 71%, 39% of Black students opted in compared to 74% of white students. At Randall, with an overall rate of 75%, 83% of white students and 48% of Black students opted to return.
27-point gap is largest between Hispanic/Latino, white students
The largest gap between returner percentages for Hispanic/Latino students and their white peers is 27 percentage points at Lapham Elementary School.
There, 71% of white respondents elected to return compared to 44% of Hispanic/Latino respondents. Other schools with a gap of more than 20 percentage points are Lake View (68/44) and Orchard Ridge (75/52).
Share your opinion on this topic by sending a letter to the editor to tctvoice@madison.com. Include your full name, hometown and phone number. Your name and town will be published. The phone number is for verification purposes only. Please keep your letter to 250 words or less.