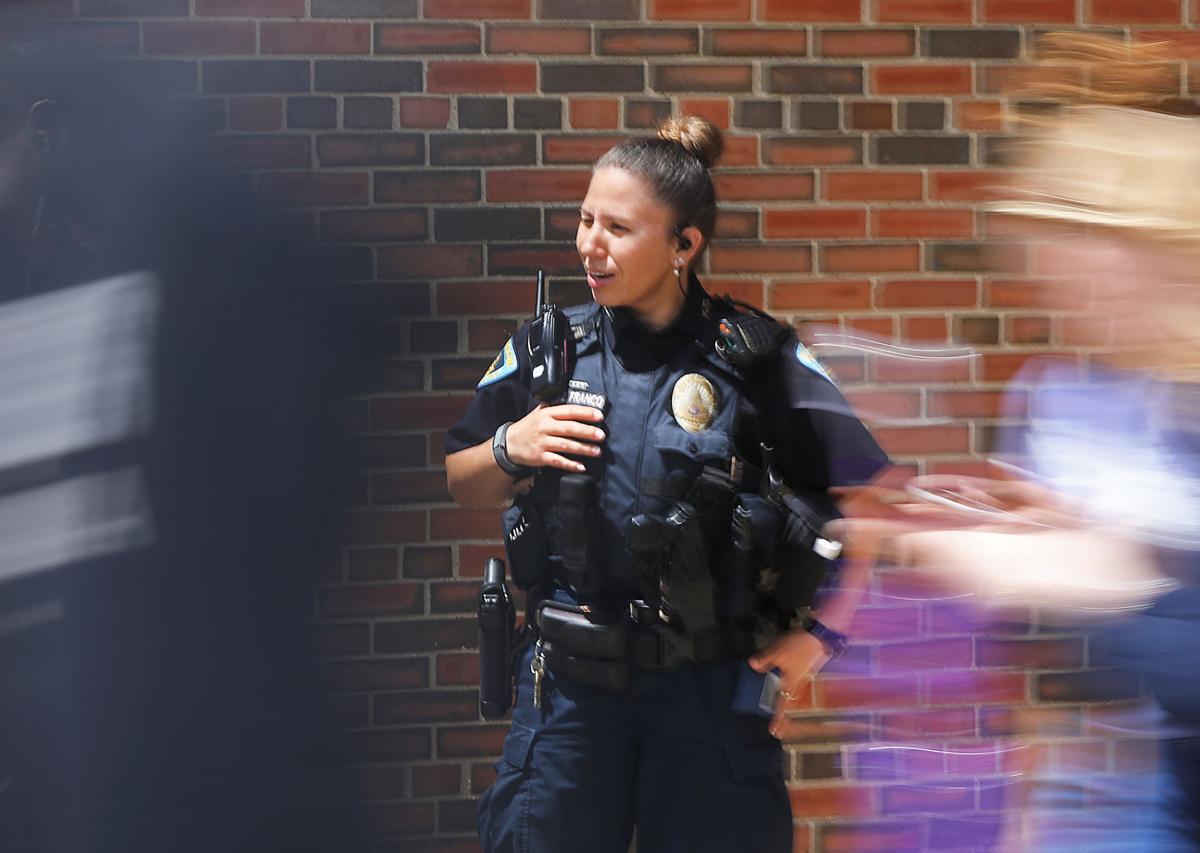 On Thursday afternoon, protesters gathered outside Madison School Board President Gloria Reyes' house.
Reyes, a former police officer who continues to support having police officers in schools, told the crowd she was "grateful for your work in protesting," and committed to putting an item about the police contract on an upcoming agenda, though not this Monday, according to a Freedom Inc. Instagram video of the interaction.
"The murder of George Floyd has changed a lot, and we have to reconsider the use of officers in schools. I don't know what that looks like," Reyes said standing at the end of her driveway. "I'm not going to sit here and tell you that we're going to end the police contract. I will commit to looking at and reconsidering the use of officers in the schools and how we use them."
But the board is not expected to discuss the topic at its Monday meeting. Four of its seven members have expressed support for removing school resource officers (SROs) from schools at some point, with a fifth having said in the past that she wants to phase them out. It's unclear, however, when a vote would take place and what the process of removing SROs would look like if the board decided to end the contract.
"If we take officers out of our schools, do we honestly think that's the solution? Calls will happen anyway," Reyes said. "Officers will be called to the school. I'd rather have a relationship with the Madison Police Department that protects our kids."
Under the contract, if the board does not vote to remove an officer from any single school by June 10, then all four mainstream high schools would have an SRO through the entire 2020-21 school year. With no action anticipated on that by next Wednesday, that leaves a Sept. 15 deadline for the district to decide whether to end the contract effective June 15, 2021. Without any action, the contract continues through the 2021-22 school year.
Board member Ananda Mirilli, who voted against the 2019 contract, said she wants to remove all SROs, but added that the timing is up in the air for a decision as the district deals with fallout from the COVID-19 pandemic and the fact that it remains without a permanent superintendent.
"If we are now thinking about completely eliminating the contract, the June date has become irrelevant," Mirilli said Friday.
Two other votes against the last contract, Ali Muldrow and Nicki Vander Meulen, also remain as board members. Vander Meulen reiterated her desire to remove an officer from school by June 10 and has spoken publicly about her opposition to police in schools, specifically if they have not been trained to work with students with special needs.
Muldrow said whether police should be in schools was not "the right question" to ask. Instead, she said the question should be: "Do you think the majority of people who should be arrested at school should be black children?"
"The outcomes promoted by arresting students aren't good," she said. "Our students don't become more likely to go to college after they get arrested, they don't become more likely to be successful, they don't become less likely to misbehave in school again. They become less likely to be engaged in school."
Locally, disparities in arrests and citations, which are overwhelmingly given to black students, have continued in recent years even as the total number of arrests and citations has dropped.
According to the most recent publicly available data published by the district, which covers the 2017-18 school year, school resource officers issued 88 citations, including for truancy, and made 27 physical arrests of black students. Just 24 white students received a citation and six were physically arrested, despite the student body being 42.7% white that year and only 17.9% African American.
While the physical arrest numbers were a drop from the two years prior, they remained disproportionate.
Muldrow added that the pandemic has made it more difficult to evaluate whether new contractual language helped to lessen the disparities of arrests between black students and their white peers.
"We crafted a contract that would allow for us to compare what we were doing this year to what we were doing last year, and we did that without anticipating the closure of school," she said.
Savion Castro is new to the board since the vote last June, having replaced Mary Burke, who voted in favor of the contract. He wrote Friday morning to the Cap Times that he would not support renewal of the contract with the police department and that he wants a discussion by Sept. 15 "to see where our school communities are at and end the contract then."
"Police officers are not necessary to the functioning of any school and have harmed our black and brown children materially and emotionally," he wrote. "The board should work with administration, school and community partners to assist our high school communities to develop a timeline (also in consideration of COVID) and in practicing restorative justice."
The renewed discussion comes amid local and nationwide protests following the death of Floyd, a black man, in Minneapolis. Then-Minneapolis police officer Derek Chauvin, who is white, kneeled on Floyd's neck for nearly nine minutes last month, according to video of the encounter, while one other officer stood nearby and two others had their knees on Floyd's body.
Floyd repeatedly cried out, "I can't breathe," during the incident until he became unconscious. Chauvin and the other three officers have been arrested.
The Minneapolis School Board voted earlier this week to end its contract with its local police department in the wake of the incident, and others around the country have done the same.
"As a member of the board, I'm really sensitive to what other boards are also doing and the courage it takes to make those decisions," Mirilli said. "There has been a lot of conversations about people now realizing what's happening. Some of us have been saying this for a long time, Freedom Inc. has been advocating this for a long time."
The Cap Times emailed all board members to ask about the upcoming June 10 deadline to remove a single officer.
Board member Cris Carusi, one of the votes in favor of last year's contract, did not respond to an email requesting her position and explanation. She said last year that she supported phasing out the contract at some point.
Christina Gomez-Schmidt, who was elected to the board in April, declined to answer, but said she forwarded the questions to Reyes. Board members sometimes do defer to Reyes to speak for them as the president of the board.
Share your opinion on this topic by sending a letter to the editor to tctvoice@madison.com. Include your full name, hometown and phone number. Your name and town will be published. The phone number is for verification purposes only. Please keep your letter to 250 words or less.