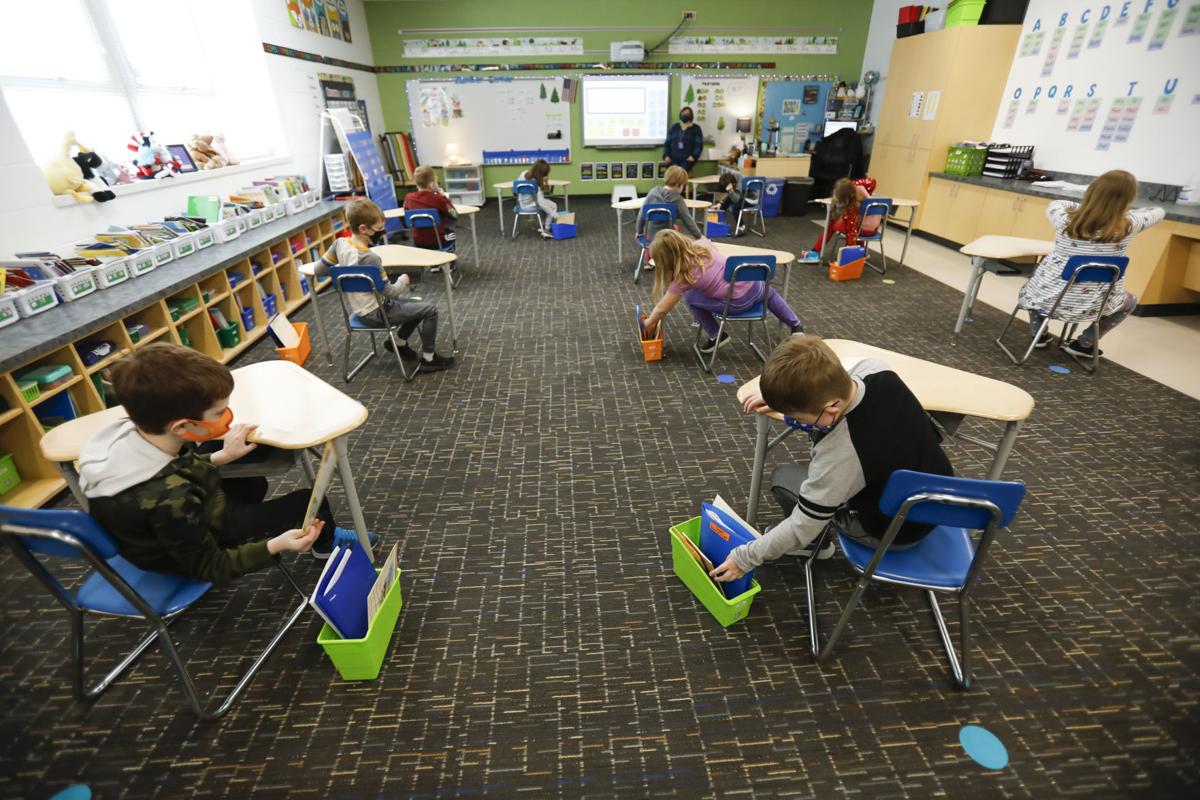 Madison Metropolitan School District kindergarten classrooms will have 65% of their students, or 1,174 kids, back in-person beginning next Tuesday.
District officials shared the percentage of students planning to return with the School Board Monday night during an Instruction Work Group meeting. With a 98% response rate among all grades, the kindergarten returners range from Hawthorne at 46% to Elvehjem at 80%.
MMSD co-chief of elementary schools Carlettra Stanford said none of the schools had too many students to prevent the classes from being arranged with six feet of distancing between desks based on the numbers so far. Co-chief of elementary schools Tremayne Clardy said they are prioritizing finding larger, usable spaces before having students change teachers if there are too many students to fit safely inside a classroom while distancing.
There will be another window for families who are still in virtual to bring their students back, from April 5-12, and students can move from in-person to virtual at any time.
District spokesman Tim LeMonds shared the overall numbers for elementary respondents as well as a breakdown by subgroups in an email Wednesday morning. In total, a little more than 7,000 students in grades 4K-5 plan to return for in-person instruction, though the timeline for grades 3-5 is not known yet.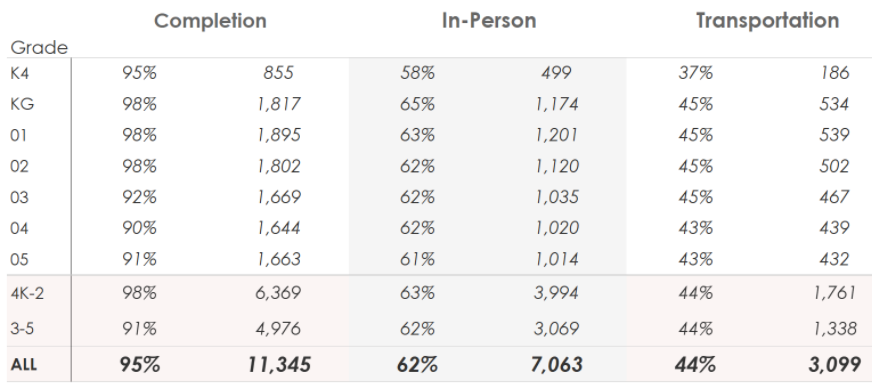 The breakdown by subgroups shows that 95% of families had responded to the survey and disparities were less pronounced than in other urban districts around the country. The graphic was for all elementary grades, not just kindergarten.
According to the information from LeMonds, 68% of white respondents are returning, 65% of Black respondents, 60% each of Hispanic/Latino and multiracial respondents, 59% of American Indian/Alaska Native respondents, 50% of Native Hawaiian/Pacific Island respondents and 37% of Asian respondents.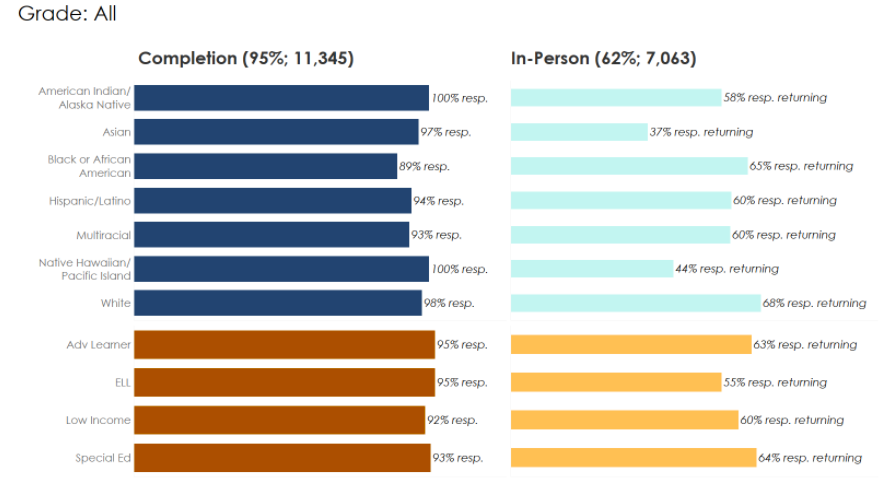 Among other groups, 55% of English Language Learner respondents will return, along with 60% of low-income respondents and 64% of respondents in special education programming.
Elsewhere in urban districts like New York and Chicago, white students have been more starkly disproportionately represented among those who are returning in-person.
In Chicago, for example, 23% of returning students were white, but the student body as a whole is just 11% white, according to Chalkbeat. Similarly in New York, there were initially nearly 12,000 more white students returning than Black students, even though there are more Black students in the system overall, the New York Times reported.
Stanford praised the work of school social workers, who went door-to-door over the weekend to talk with families that had not responded to the survey and get their response.
Here is the breakdown of percentage of kindergarten students returning March 9 by school, which Stanford shared Monday:
Falk, Henderson, Franklin: 71%
Emerson, Leopold, Kennedy, Lapham: 68%
Thoreau, Mendota, Schenk: 67%
First- and second-grade students are expected to return March 16, with 4-year-old kindergarten beginning a two-full-day-per-week program on March 23. No timelines have been set for bringing back students in other grades.
The numbers shared by LeMonds show that 3,099 students will require transportation to school, including 534 kindergartners next week.
Share your opinion on this topic by sending a letter to the editor to tctvoice@madison.com. Include your full name, hometown and phone number. Your name and town will be published. The phone number is for verification purposes only. Please keep your letter to 250 words or less.