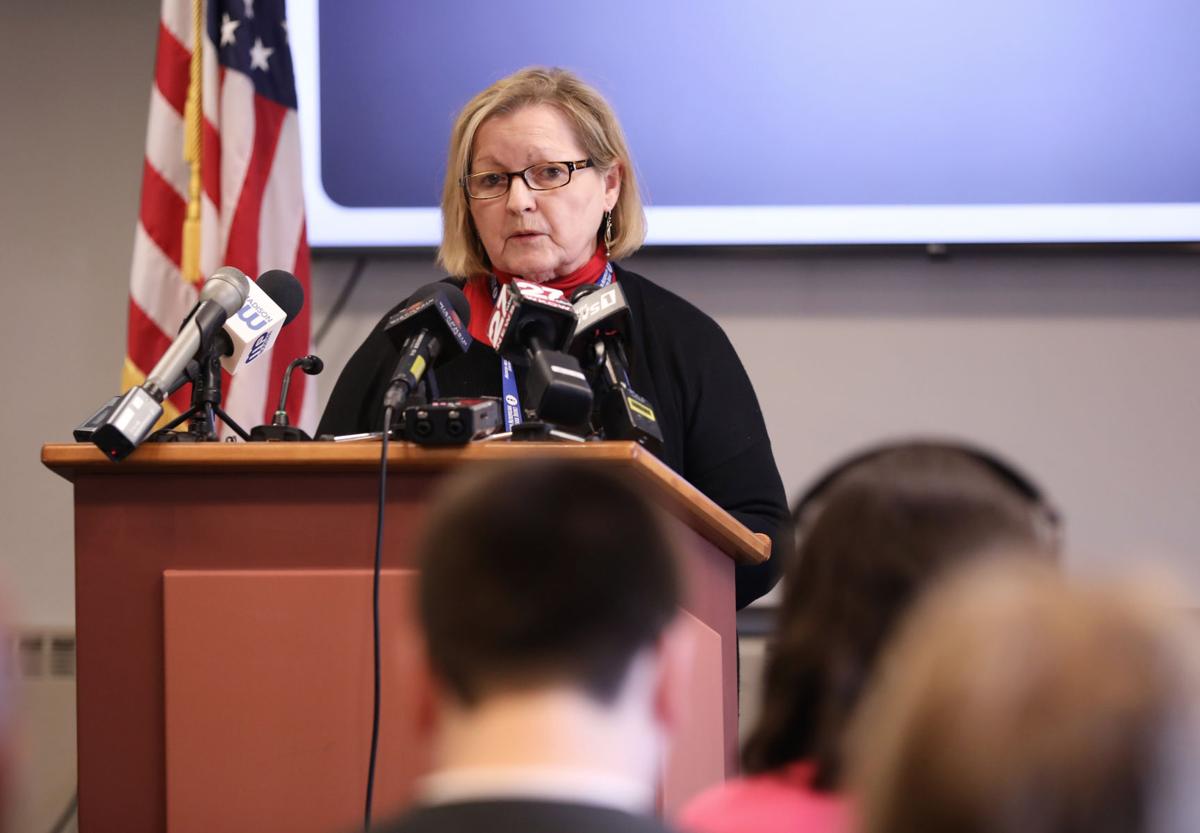 Madison Metropolitan School District students will attend school virtually until at least Nov. 3.
The plans come as positive cases of COVID-19 in Dane County continue to rise, with nearly 2,000 of the county's 3,376 positive tests so far coming in the past three weeks. Belmore said during a Friday afternoon press conference that the planning team, which includes the district's leadership team, made the decision early this week and confirmed it after seeing guidance from Public Health Madison & Dane County that came out Wednesday.
"The decision was centered first and foremost around what is safest for our students, our families and our staff," Belmore said. "Of course we all want our children to be back in school, learning in-person as soon as possible. That definitely will be our goal."
It means students will have been outside of school buildings for more than six months, as buildings closed in mid-March when the virus began to spread in Wisconsin. The school year will begin no later than Sept. 8, but the exact date is to-be-determined depending on professional development timing.
District officials hope to take lessons from this spring to improve virtual learning, including more face-to-face time and choosing more accessible platforms, for example. 
Belmore said in the release the district "will continue planning for a return to in-person learning as soon as it is determined to be safe to students and staff to do so," and will re-evaluate the situation quarterly. Assistant director of health services Sally Zirbel-Donisch said they're hoping PHMDC will soon release metrics for schools to consider in reopening decisions, and that they will follow those.
Belmore said in the news release the district hopes to provide two to three weeks notice of its decisions for the next quarter.
"It is our hope that conditions improve enough for us to begin to return in some capacity Nov. 3," she said.
The hybrid model the district has considered would split students into two cohorts, with one group attending in-person Monday and Tuesday and the other Thursday and Friday. On days they weren't in school, students would learn virtually, with Wednesday used for deep cleaning and staff professional development and planning time.
Some Dane County districts, like Mount Horeb, have asked parents to choose between a hybrid plan similar to MMSD's or all-virtual experience for the first quarter of the year. Others, including Middleton-Cross Plains and Stoughton, are expected to bring their plans to their School Boards soon for discussion. PHMDC sent guidance to districts July 15 outlining requirements if they chose to return for in-person schooling, including masks for those ages 5 and up and distancing of at least 6 feet when possible.
All virtual learning for the first quarter of the school year and until health officials report zero new cases for 14 consecutive days
A larger operating referendum on the November ballot
Fund in-person safety supplies and protocols when return is possible
Assure all students have age-appropriate electronic devices and access to the internet prior to Sept. 1
Share leadership with employee representatives and the school community by "being transparent before making decisions on matters of significance."
"We look forward to teaching and helping our children learn and grow this fall, but we have to do so in the safest way possible," the MTI release states. "We expect that all decisions will be made to maximize the physical and emotional welfare of everyone who is part of the Madison school community."
Belmore said MTI's statement did not factor into the decision, and called it "disheartening that it came in the form of demanding."
"It felt like a political display and to see such an important issue that has such great impact on our families and our students and our community characterized in demands in that way was just disappointing," Belmore said. "The school district and our students and families I think deserve better."
Assistant superintendent for teaching and learning Lisa Kvistad said during the press conference the district "learned a lot" from surveys on how virtual learning went in the spring, and that they would be focusing on things like outlining clearer roles for staff, how to provide social-emotional support for students and families and delivering a mix of live and non-live instruction.
Belmore said live instruction is "one of the areas that we know that we need to really strengthen and make sure that we're all in sync with how much of that will need to take place on a daily basis."
Staff will have nine focuses as they plan the start of school, according to the release. Those include continuing to partner with community agencies to increase childcare, providing teachers and student with expanded training in online education, increasing online support for parents and finalizing the process to determine "limited face-to-face instruction" for students with disabilities whose needs cannot be met virtually.
The district will also continue providing fee meals at its current distribution locations.
Belmore said she hopes parents who have concerns about the virtual learning will have a better experience this fall, and said they're working with community partners, including Madison Sports and Community Recreation, in developing child care options.
"I'm hoping that we've heard you, we've heard you about your experiences," she said. "We will continue to try to hear from you how things are going as we start to implement virtual learning in the fall and make our adjustments as we need to.
"We do understand the burden that this puts on many families in terms of child care and work."
Reaction from parents, teachers
A teacher, who asked not to use her name, said in an interview shortly before the virtual decision was announced that even if school returned in-person, it was unlikely to look familiar given some of the safety precautions required.
That includes removal of some furniture and personal items, and recommendations that all desks face the same direction — this teacher's classroom has had tables, she said.
"The classroom environment that I'm used to setting up would just not be possible," she said. "That makes us all really sad, because that's part of why being in school at the beginning of the year is really wonderful."
The teacher, who had initially like the idea of the hybrid model but decided she supported virtual learning to begin the year instead, was still on the phone when the decision was announced. After the reporter informed her, and as her phone began to buzz with messages from her colleagues, she expressed relief.
"I have to go lay on the floor, I just need to breathe and think about this," she said. "I'm relieved, holy cow. There's so many things I was worried about."
Jennifer Rosen Heinz, who has a child entering sixth-grade and another entering sophomore year, said earlier this week she hoped for a decision soon. And she hoped that decision would be to begin the year virtually.
"Let's go ahead and take away some of the insecurity about what's going to happen and make a friggin' decision," she said over the phone Wednesday. "People are going to be mad no matter what.
"I feel like there are no good answers, but I do believe that this is a time to have somebody show leadership."
In an email Friday after the decision was announced, she wrote that she was "very relieved."
"My greatest hope at this point is that, as we discussed, the District uses this time to really give teachers the support they need to make online learning engaging," she said. "I also hope that the District can find money to make sure to get internet and resources to families of students who need the most support.
"If they cannot swing it financially without cutting personnel, then the community needs to come together and make sure that we are taking care of each other."
She said in her interview that her family is "privileged in a lot of ways," and that they'll be fine with their children learning from home — but she hopes the decision will allow staff to focus on those in more challenging circumstances. She echoed that in her email Friday.
"We need to find ways to make sure that kids aren't falling through the cracks," she wrote. "I think having some certainty at least as far as the general outlines of the beginning of school can free up resources and energy to jump headlong into bridging the gaps with resources, care, and support."
Learning from the spring
When schools shut abruptly in March, there was little time for teachers, students and parents to adjust to the virtual learning that began three weeks later.
"We heard from families and students that virtual instruction was uneven when we went into it in March," Kvistad said Friday. "So we are working carefully to define roles and responsibilities to help students understand what their experiences should look like and to help teachers understand the number of times they need to interact with students, provide feedback and assess student learning in a virtual environment."
With more than a month left until the school year begins, efforts can now focus on professional development to make virtual learning as good as possible rather than time spent on classroom safety policies or how to get cleaning supplies in high-demand by the start of the year.
This spring's quick shift meant challenges like best practices for engaging students and finding ways for students to even interact with the content if they didn't have internet access had to be met on the fly. District officials scrambled to get Chromebooks to students, getting delivery help from UPS, and spent $559,383.52 to purchase more than 1,800 hotspots and six-month data plans for those devices.
Staff also recognized that schools often serve as the source for two good meals a day for many students, and distributed free meals at sites around the district throughout the spring and summer. Other individual efforts from staff helped deliver food to students and their families weekly, along with other needs like toiletries.
"We're really working to put not only the academic focus and instructional focus in acceleration but also to look very carefully at students' social and emotional well-being and connection to school, so we're going to have to really work hard with some students," Belmore said. "We learned a little bit more about that in the spring about what some of the barriers are to students really taking full advantage of being online and being present."
Students were considered in attendance if they were in contact with their teacher in any way throughout the week, without a measure of how much they engaged with school work. Grades at the high school level were made "pass/fail" and students would not fail a class if they had a passing grade when schools closed, a "hold harmless" mechanism.
That will change this fall, as Kvistad confirmed that they would return to normal grading practices and said attendance would be taken more frequently, "on probably a daily basis."
Some students with special needs will receive in-person instruction, but director of student services John Harper said they'll use the Individualized Education Plan process to "determine what's appropriate in terms of face-to-face instruction."
No final decisions have been made on extracurricular activities, said chief of high schools Mike Hernandez, but "we have talked about the importance of trying to bring back as much normal as we can."
Share your opinion on this topic by sending a letter to the editor to tctvoice@madison.com. Include your full name, hometown and phone number. Your name and town will be published. The phone number is for verification purposes only. Please keep your letter to 250 words or less.