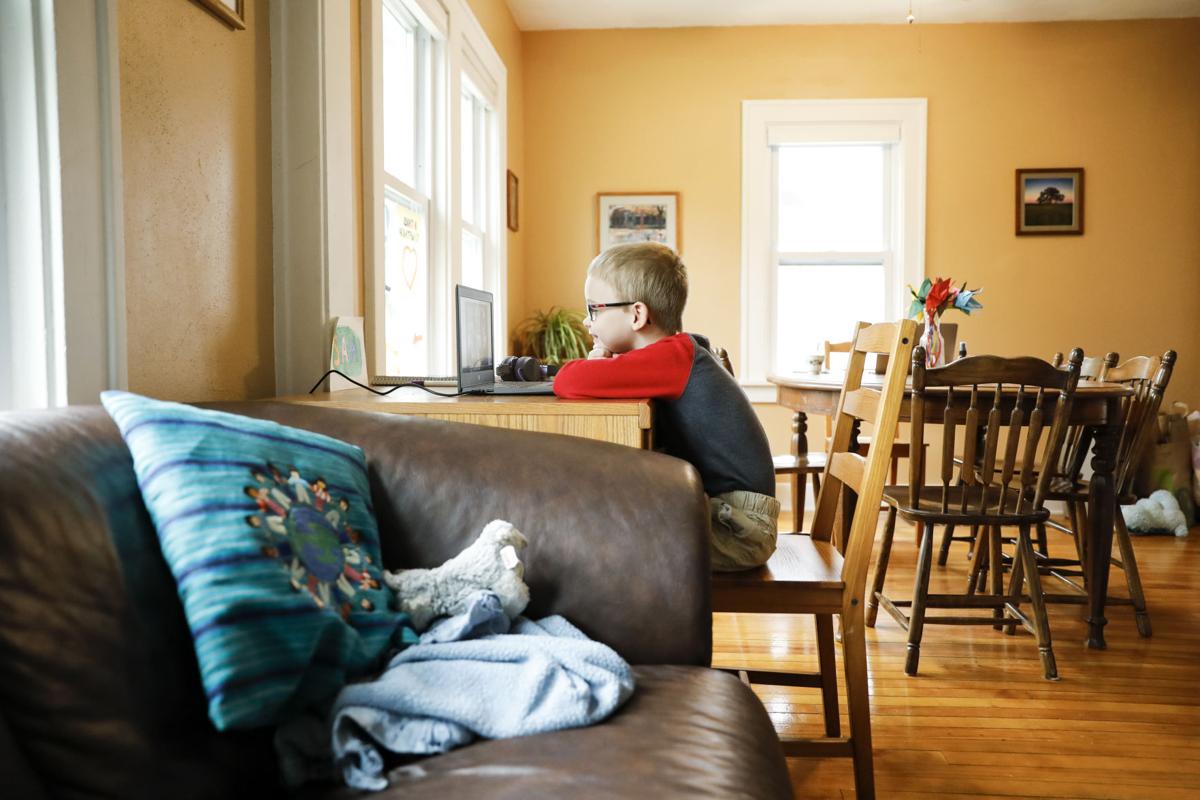 The Madison Metropolitan School District will remain virtual for the third quarter, leaving most students out of classrooms for more than a year since buildings closed last March.
Superintendent Carlton Jenkins announced the decision Friday in an email to staff and parents, stressing that if the metrics improve during the quarter, the district would "execute our plan to safely return students to in-person learning in a phased approach."
"We want our children back in school, we want our teachers back, we want our administrators back," Jenkins said during a Friday afternoon press conference. "We're going to keep safety first. When we do it, we're going to do it in a way to not just go back to school the way we were … once we get back in school it's going to be an experience that's going to be positive for our children."
A new public case count web page shows that 121 students or staff members attending in-person for special education programming, MSCR Cares or working in-person have tested positive since Sept. 8, causing 723 quarantines. Assistant director of health services Sally Zirbel-Donisch said Friday afternoon that most of those positives were brought in from outside of the building, with limited spread within buildings.
If a decision is made to reopen during the quarter, Jenkins said there would be at least three weeks notice between the decision and students returning to classrooms in a phased approach. That approach would start with kindergarten and add a grade every two weeks as long as it was considered safe.
Two days ago, Madison Teachers Inc. called for continuing all-virtual instruction in a video, and revealed that 94% of its members who responded to a recent survey did not support a return to in-person instruction. In a statement emailed Friday following the announcement, MTI called the decision "a collaborative effort, based on science, with an equity lens and all stakeholder voice."
"As we continue in an all-virtual format, educators are working together to continuously reflect and strengthen the virtual instruction model," the statement said. "Building on the hard work done by students, staff, and families while working virtual over these past months we will continue collaborating with the District and families while also elevating the voices of those who will be directly engaged in supporting students' academic and social emotional needs."
The decision comes as other area districts make plans to bring some students back for full-time or hybrid in-person instruction amid the ongoing COVID-19 pandemic.
"I applaud my colleagues if they have a different situation and they can go back to in-school," Jenkins said. "We're not judging them, we're just trying to do what's in the best interest of the students and staff, the families in MMSD and our community, trying to be responsible."
A group of parents has pushed for months for districts around Dane County to do so, though another group gathered more than 1,300 petition signatures opposing a return to in-person instruction in MMSD, illustrating the challenges for districts making decisions as they balance the needs of staff, parents and students.
A growing body of evidence suggests that schools are not major spreaders of COVID-19 when community transmission is low, but staff-to-staff transmission has been cited as a concern, including Public Health Madison & Dane County finding occurrences at schools that are open for in-person instruction.
Advocates for returning point to the costs of virtual learning — a mix of academic and mental health issues — and that its greatest harms are to lower-income students. However, partial reopenings in major cities like New York and Chicago have shown students of color choosing to return to the classroom are often underrepresented compared to their overall population in the district.
Those in favor of remaining virtual have stressed potential risks to staff and say that with the vaccine being distributed and teachers expected to be among the next groups to receive it, districts should wait until that happens.
Jenkins wrote in his email that, "After weeks of careful analysis, consultation with health experts, and close consideration of a recent decline in local cases, the metrics still do not support a safe return to our school buildings at this time." 
Friday afternoon, Jenkins called it "one of the toughest decision in my 30 years in education," but said safety is the district's top priority.
Metrics outlined on the district's reopening plan website showed as of Jan. 7 two in the red "not ready" category, four in the yellow "in progress" category and the rest at the green "ready" level.
MMSD executive director of research, accountability and data use Andrew Statz said they "definitely want to see them all green," but noted that some in the "yellow" zone are not ready as a function of timing. For example, having floor plans ready will require knowing how many students are coming back, so once a decision is made they can gather the necessary data, come up with the plan and move it to green.
Jenkins said the district wants to be "in great shape to go back, we don't want to leave anything to chance."
The most recent survey numbers show that 41% of grades 4K-2 families that responded prefer hybrid or in-person instruction. For grades 3-5 families, 38% prefer hybrid or in-person instruction, while 36% of grades 6-12 families expressed that preference.
The district also surveyed students in grades 3-12, and found 43% of those in grades 3-5 would prefer hybrid or in-person instruction, with 41% of those in grades 6-12 responding the same.
The openness to a change in the middle of the quarter is a departure, which had the district making a decision before each new quarter. 
What in-person school would look like
The district also outlined what school would look like for students if and when in-person instruction resumes.
For a student in grades K-2, it would be "a full-day schedule of learning, with math and literacy as priorities" for four days each week with an asynchronous learning day on Mondays, according to a Frequently Asked Questions document released Friday. A virtual option will remain for families that do not want to send their child to school.
The document notes that there will not be a "one-size-fits-all model" given the variety of spaces at different schools.
"(We) are working with individual school leaders and staff to determine what model would work best for each school," the document states.
The FAQ also acknowledges they have "a lot of work to do with our families and staff in terms of uncovering many unknowns."
"As we prepare for our younger elementary students to return to in-person learning, we know we will need to build models that support the academic needs, the social-emotional needs, the language needs and the health and safety needs of our students learning in-person as well as virtually," it states. "This means looking at class sizes (dependent in part on how many students choose to return versus remain virtual), physical distancing requirements, instructional design, staffing and more."
Outdoor recess would still occur if students return, while lunch would likely be eaten in classrooms. Specials like art and music would be taught virtually, as students would remain with their classroom teacher to "ensure that student and employee groupings are as static as possible," following Public Health recommendations.
While there is also an FAQ document for grades 6-12, many of the answers are undecided, including on events like prom and graduation and what a day might look like for high school students in-person.
State Republicans push for in-person
Some state Republicans are pushing to make it harder for school districts to remain virtual.
The State Assembly passed a COVID-19 relief bill on party lines Thursday that included provisions expanding open enrollment for the 2020-21 and 2021-22 school years and requiring school boards to vote to remain in virtual learning every 14 days with a two-thirds majority required to do so.
The bill is not expected to pass the Senate, but illustrates the desire of some conservatives to get students back in school. Assembly Speaker Robin Vos said the open enrollment changes in the bill would allow parents in virtual districts to provide "their children with the opportunity at in-person learning."
In Madison, the decision has been left to the superintendent rather than a school board vote throughout the process. MMSD spokesman Tim LeMonds wrote in an email earlier this week that the board "will not vote unless there are board decisions that need to be made around policies and budget."
"This is an executive level decision, and when it was decided to close schools it was under the authority of the superintendent in close consultation with the board of education," LeMonds wrote. "The board did not vote at that time. As was when we first closed schools last March, the Superintendent will make a recommendation to the board based on his experience and the expertise of his staff."
In other area districts like Middleton-Cross Plains, the board has voted multiple times on plans to return for in-person learning. In the Verona Area School District, the board approved a phase-in plan in the summer and now the administration is implementing that plan, requiring no further votes by the board.
Share your opinion on this topic by sending a letter to the editor to tctvoice@madison.com. Include your full name, hometown and phone number. Your name and town will be published. The phone number is for verification purposes only. Please keep your letter to 250 words or less.