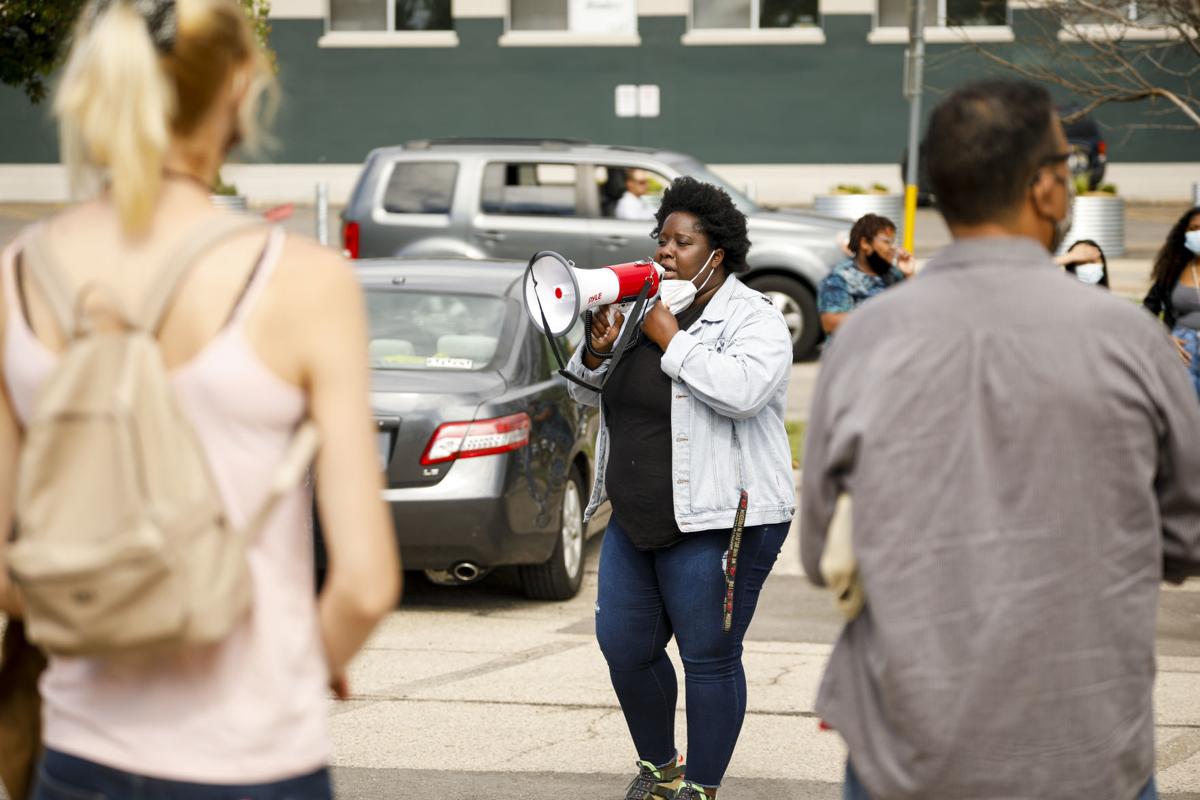 Three hundred and eighty-five days.
That's the difference between the Madison School Board approving a contract to place police officers in each of its four comprehensive high schools for three years, and the board voting to end that contract immediately.
In an illustration of how local activism and a national movement can combine to reshape policy, board members took a major step toward removing officers from from schools Monday night. The vote was unanimous.
Last year, the contract was approved on a 4 to 3 vote, with Nicki Vander Meulen, Ali Muldrow and Ananda Mirilli opposed. Savion Castro and Christina Gomez-Schmidt are new to the board since then. Gloria Reyes, a former police officer, changed her stance recently amid ongoing community activism and Cris Carusi changed her vote from last year given recent events.
The vote follows years of advocacy from the Freedom Inc. Youth Squad, which has had members speak at the monthly School Board meetings against police in schools. It comes amid a nationwide reckoning with the role of police in society generally, and many other districts have had similar votes since George Floyd, a Black Minneapolis man, died while in police custody.
Freedom Inc. youth justice director Bianca Gomez said the vote was the result of local youth's persistence and Black people nationally saying "no more." The group held a celebration Monday to watch the vote and recognize the youth involved in the activism.
"Our young people deserve this win more than anyone," Gomez said by phone shortly after the vote. "They have suffered for a very long time and this is one step in the right direction in making schools more safe and equitable for Black and Brown children."
The Madison City Council is expected to vote to terminate the contract next month as well, though Reyes said that was not necessary to put the termination into effect. Mayor Satya Rhodes-Conway and 12 of the 20 alders are listed as sponsors on a resolution to do so, meaning it will likely pass.
The resolution is set to be introduced on July 14, and could be voted on as soon as July 21, though it also could be referred out to city committees. Assistant City Attorney Marci Paulsen wrote in an email that the district can vote to remove SROs from the schools, but without a corresponding city vote "MMSD would potentially be responsible for covering the costs of the SRO."
"However, since I believe both parties want to terminate the contract I don't see that as coming to fruition," Paulsen added.
The change would save the district $373,440 this upcoming school year and $380,386 for 2021-22.
There was no public comment during the special meeting Monday, but the Freedom Inc. Youth Squad has held public rallies over the past three weeks in opposition to police in schools.
It remains unclear how security will be handled this fall, but the district has been working toward including a pay raise and opportunities for advancement for its School Security Assistants in the 2020-21 budget. They hope that will help keep turnover rates low and make the positions more attractive.
Reyes also announced during the meeting the creation of a safety and security committee to work on what those will look like going forward in schools. Interim superintendent Jane Belmore said before the vote that the district's safety and security team "has really done a lot of important work this year" and assured the community the schools would be safe however the vote turned out.
"We do have important processes and procedures in place to ensure that schools are safe and welcoming learning environments," Belmore said. "We too really want to make sure that continues and we really remain committed to doing that work.
"We will have safe schools and we are committed to ensuring that."
Critics pointed to the disproportionate arrest rates for Black students and worried that officers were being asked to help enforce school policies that could be handled outside of the criminal system.
Madison Teachers Inc. had until recently been in favor of keeping the officers in schools. Earlier this month, the union reversed that position, conditional on the district adding student services positions in each of the four high schools to meet American Civil Liberties Union recommendations.
'We won, but we are not done'
Gomez said it was a celebratory atmosphere Monday at the Freedom Inc. headquarters, but they are not satisfied with the contract termination alone.
"It's great that the School Board have come to their senses around needing to stop the harm, this thing that was so harmful to Black and Brown children," Gomez said. "There's still a lot of work to be done. We won, but we are not done."
That includes an accountability process for when staff call police; more investment in the leadership, wellness and creativity of youth of color; and more investment in "true" restorative justice practices.
"That is the solution to making schools safe and equitable, that is the solution to dealing with conflict between young people, that is the solution to so many of the social issues the school district is worried about," Gomez said.
"It's so important that we celebrate this victory, we celebrate movement, we celebrate Freedom Inc. and the Freedom Youth Squad, we celebrate all the community members and folks that have been down with us since the beginning, and even folks that jumped on the bandwagon later on — this is a bandwagon that you are more than welcome to join," Gomez added. "And there's still work to be done in terms of figuring out how to make schools safe and equitable for Black youth and youth of color."
Board votes unanimously
While some board members expressed more reservation than others, all of them voted to end the contract.
That included two who voted in favor of the contract last year in Carusi and Reyes.
Reyes, who praised the officers within the Madison Police Department during the meeting, said she "had to put aside my own personal and professional views about police in schools to reflect on the many voices that have advocated for change."
"There comes a time when a leader, a professional, has to listen, particularly during challenging times, to reassess and change direction depending on the will of the people," she said. "This is one of those times."
All seven board members spoke during the meeting, some mentioning the events of the past months amid nationwide protests and others focused on the disparities that have long been part of having police in schools.
"Over the course of the entire lifespan of this program of policing in schools, a majority of students every year to be arrested in school are African-American children," Muldrow said. "Policing in schools has had an impact in terms of racial profiling within education."
Castro said it was time to have big conversations with the school community about what it means to have safe schools.
"This has to be the beginning of a new conversation about what we want safety and a welcoming environment for our schools to look like," Castro said. "What has always been true but what has been exposed with events over the past month or so is that right now the institution of policing is incompatible with and in fact in direct contradiction with what we hope to create for learning environments for Black students."
What now?
With the contract ending before the school year begins in two months, some board members want to see administrators outline what security will look like in 2020-21 as well as long-term.
Gomez-Schmidt attempted to offer an amendment to require administration to bring a plan to the board by Aug. 20, but legal counsel said it was not appropriate given the wording of the meeting notice and suggested action. It's expected that will be discussed next month along with the creation of the safety and security committee Reyes mentioned.
Carusi advocated for using the work of the 2017-18 ERO Ad Hoc Committee to guide upcoming planning processes. While Reyes had previously advocated for taking more time before a vote to outline such plans, Mirilli told her colleagues the time was now.
"Stopping, halting, detouring because of lack of plans, because of more data, because of wanting to talk to so and-so and so-and-so is continuing to perpetuate racist practices," Mirilli said.
Share your opinion on this topic by sending a letter to the editor to tctvoice@madison.com. Include your full name, hometown and phone number. Your name and town will be published. The phone number is for verification purposes only. Please keep your letter to 250 words or less.