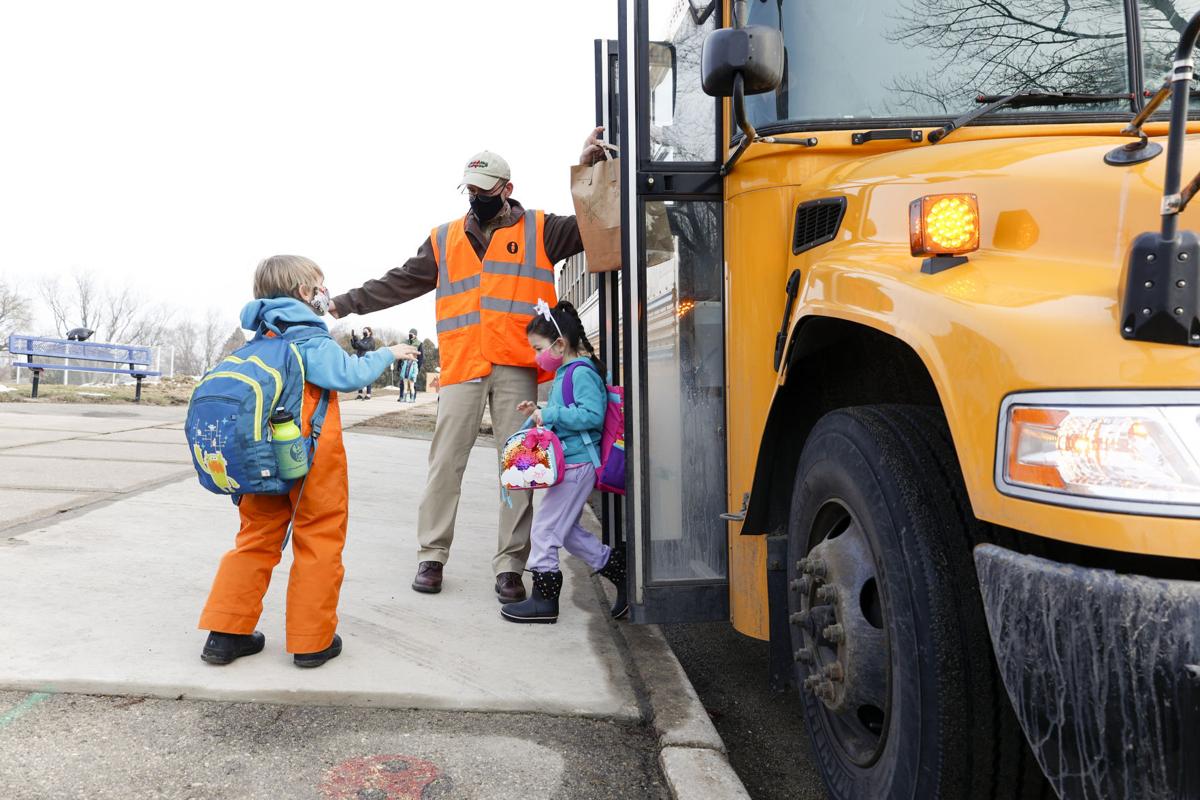 All Madison Metropolitan School District students will have the option for some in-person instruction by the end of April.
The district announced the phased return plan Thursday morning, two days after kindergartners returned to buildings and less than one week before first- and second-graders will join them.
"MMSD has continued to monitor COVID-19 metrics and receive guidance from public health experts," the news release said. "Recently, the district was advised that conditions were favorable for it to move forward with the next phase of its reopening plan."
Third-graders will have the opportunity to return beginning April 13. April 20 will see five grades brought back: fourth, fifth, sixth, ninth and 12th.
Finally, students in grades seven, eight, 10 and 11 will have the opportunity to return on April 27. 
Grades 6-12 will be in a "hybrid" model with cohorts, attending in-person two days each week and virtually two other days. Mondays will remain asynchronous instruction days for all students.
Parents will receive a survey about their intentions on Monday, March 15, with a March 20 deadline. Students can opt to remain entirely virtual.
High school athletics will also begin to phase in March 15.
District officials faced some opposition from staff and Madison Teachers Inc. when announcing the return for grades 4K-2 last month, with questions ranging from the safety of buildings and the concurrent model of instruction to staff accommodations for health concerns and the vaccination timeline.
The last of those has been answered over the past couple of weeks, with about 1,200 staff set to receive a vaccine tomorrow through a partnership with SSM Health and others being eligible for a Public Health Madison & Dane County clinic that began earlier this week. An email to staff Tuesday, shared by district spokesman Tim LeMonds, said the district believed "all staff have been offered multiple opportunities to be vaccinated this week."
MTI president Andy Waity said in a statement that the union's leadership and staff have "participated in meetings with administration and health experts," where they were able to ask questions and "address concerns that our members who are working directly with students and families have raised.
"We heard the medical experts and their guidance and saw it incorporated into MMSD's Phased Reentry Plan," Waity said. "The key to this work are the mitigation strategies and how these are enforced. Mutual accountability is critical as we keep the focus on the health and safety of all students, staff members and our community."
Superintendent Carlton Jenkins and other administrators took part in a Facebook Live discussion Thursday night to discuss the reopening plan.
"This has been a methodical process with our eyes on the metrics and our ears listening to the medical and science experts," Jenkins said. 
School Board president Gloria Reyes said the board supported the return timeline.
"We appreciate the overwhelming support and understanding from our MMSD community," Reyes said. "It has been a long journey for our students, families and community."
Instructional model
While students in grades K-5 will be in-person four days a week, middle and high school students will have a hybrid schedule.
The district explains on its reopening website that the hybrid approach "reduces the amount of seat time in a traditional face-to-face course and moves more of the course delivery online."
Learners will be assigned to one of two cohorts, with one group attending in-person Tuesday and Wednesday, while the other attends in-person Thursday and Friday. The cohort model keeps smaller groups of students together and allows for more efficient contact tracing if a positive case is identified, the district explained.
The district will not accept requests for cohorts, but will keep siblings on the same days if possible unless a parent requests otherwise.
High school students will be in-person for the morning only to take classes, have a "grab and go lunch" and then do virtual mentor and targeted student support hours in the afternoon Tuesday through Friday. 
Staff hope to keep start times for middle and high schools the same as last school year, but executive director of building services Chad Wiese acknowledged changes could be necessary depending on transportation.
"There is a chance that if a large number of students elect to come back in-person that we may have to loop some of our bus routes," Wiese said. "We'll continue to monitor that situation."
As more elementary school students return, some in the comments of the Facebook Live asked if six feet of distance could be maintained. Some staff members indicated they had heard in staff meetings that three feet would be the new standard.
Dr. Greg DeMuri, with the UW-Madison Department of Pediatrics, said some recent studies indicate three feet of distance is "likely as safe as six feet," though six feet is still preferable when possible. He noted that guidelines from the Centers for Disease Control suggested six feet distancing "when feasible," which gives "some flexibility."
"Implement that six feet when we can, when it's practical, and balance it with the educational needs of the students as well," DeMuri said. "Use other mitigation measures when we're below that six feet window."
Athletics and co-curriculars
The district will also begin a phase-in for athletics March 15 with girls cross country and tennis beginning "individual small group contact."
"With successful mitigation strategies, it is expected these opportunities and activities will expand gradually over time," according to the district's announcement. "Initially, students will only be participating in one co-curricular activity at a time to reduce contacts across cohorts and appropriately acclimatize back to physical activity."
Track and field and boys tennis will begin a week later, with softball, baseball and soccer set to have "small group team activities" maintaining six feet of distance beginning the week of March 29.
Potential competitions within MMSD schools for cross country, girls golf and girls tennis will begin the week of April 5.
WIAA spring sports will begin outdoor-only activities the week of April 19, with co-curricular clubs set to allow outdoor after-school options the week of April 12.
Share your opinion on this topic by sending a letter to the editor to tctvoice@madison.com. Include your full name, hometown and phone number. Your name and town will be published. The phone number is for verification purposes only. Please keep your letter to 250 words or less.