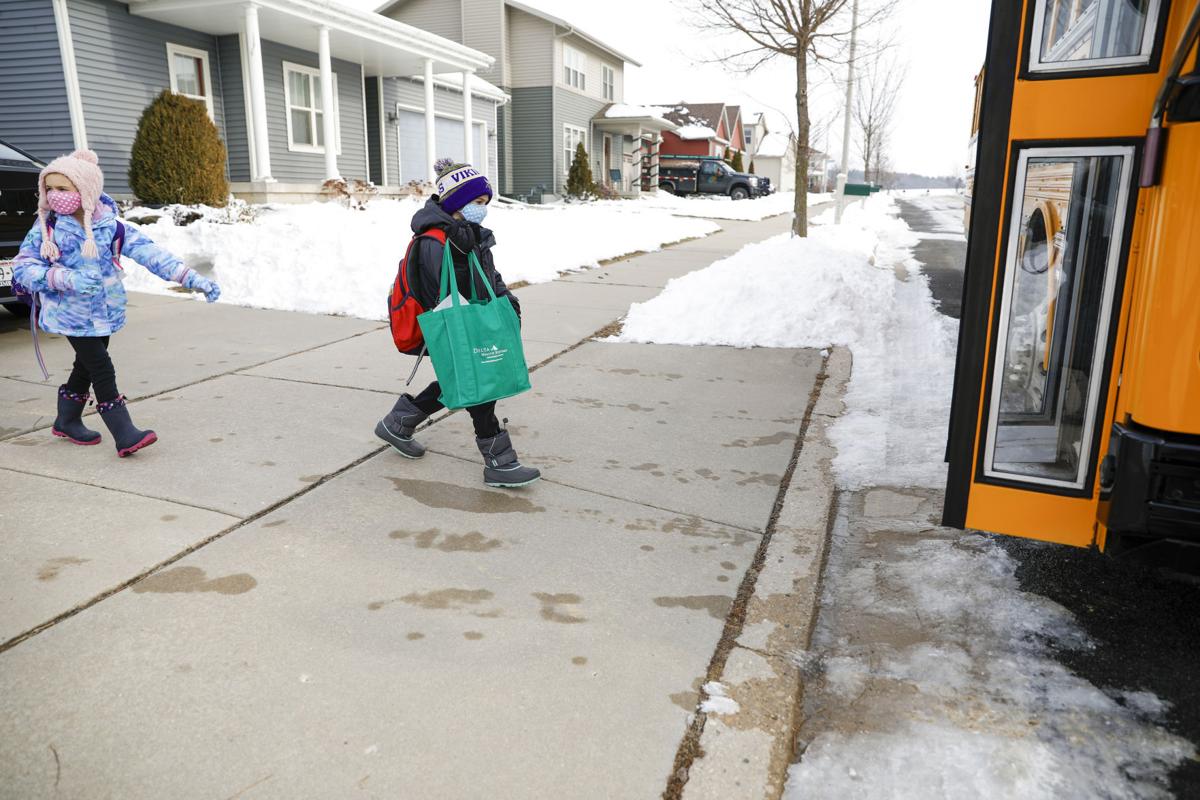 Students in the Madison Metropolitan School District have been learning mostly from home since March, when schools closed as the COVID-19 pandemic became a reality here.
Hundreds of thousands of their peers around the United States are facing similar circumstances, especially in larger, urban areas. But others — both here and around the world — have returned to classrooms.
"We shouldn't have to sacrifice academic excellence now that we have the data at hand to make much better decisions," said Joshua King, who has two high school students in the Oregon School District and helps lead a group of parents asking schools to open for in-person instruction. "Our efforts here are strictly to partner with the educators and administrators and make sure they know that a community that cares is here to help."
Citing data from some districts that are open for in-person instruction around the United States, as well as the latest guidance from Harvard's Edmond J. Safra Center for Ethics and the Brown School of Public Health, King and others told the Cap Times the data is clear, and schools need to move quickly. 
"We can now recommend that schools be open even at the very high levels of spread we are now seeing, provided that they strictly implement strategies of infection control," the updated guidance states. "Evidence supports the view that student, staff, and educator risk can all be brought to acceptably minimal levels with robust infection control practices when implemented in a collaborative and transparent way among all stakeholders, including educators and other school personnel, administrators and district leaders, families, and students."
Many districts are currently planning phased reopenings that will bring some students back next month and others in February and March, while the Madison Metropolitan School District is set to announce its reopening decision on Jan. 8.
For University of Wisconsin-Madison epidemiologist Malia Jones, however, it's more complicated, as she explained on a recent "Madsplainers" podcast.
"This is still a matter of considerable debate in the epidemiology community, is this question of how much COVID transmission happens in classrooms in K-12?" Jones said. "In the United States, although there are many schools that are operating as if everything was completely normal, we do not have any kind of representative sample of transmission in those schools to draw on that would really tell us whether and how much COVID transmission was occurring within school settings."
In November, Dr. Anthony Fauci made clear that schools should be a priority. "Close the bars and keep the schools open is what we really say," he said on ABC's "This Week" But he added an important caveat that it was "not one size fits all," and depended on community spread.
"The best way to ensure the safety of the children in school is to get the community level of spread low," Fauci said. "So, if you mitigate the things that you know are causing spread in a very, very profound way, in a robust way, if you bring that down, you will then indirectly and ultimately protect the children in the school because the community level is determined how things go across the board."
The new guidelines indicate a similar focus is needed, but note that trust, transportation, infection control, occupational health and safety standards and vaccines are key considerations for districts to address as they consider reopening.
"Schools fill essential functions in our society including education, child care and provision of nutrition and health," it states. "School closures, combined with the lack of paid leave and limits on support for small businesses, have had profound impacts."
What does the science say?
Studies have shown that children, especially younger groups, do not seem to be "super spreaders" of COVID as was feared in the spring when little was known about the virus. That's especially true if mitigation techniques like mask-wearing are in place.
"Pretty consistently, in the best evidence we have about what's happening within schools, not a significant amount of transmission," University of Notre Dame assistant professor Chloe Gibbs said during a recent "Dear Pandemic" discussion on schools. "These are in context where there is consistent and ubiquitous use of masks for the most part, distancing, reduced capacity."
But some have shown spread increases with age, meaning secondary school students are at a higher risk to both get and spread the disease, though still seemingly below that of adults.
Staff, meanwhile, are just as likely as any adult to contract the virus and many teachers fall into higher risk categories for developing serious complications. While data collection isn't consistent across the state of Wisconsin, the United States or internationally, some sources are indicating potentially troubling signs for staff members.
Gibbs pointed to COVID-19 School Response dashboard, which features data voluntarily provided by some school districts from around the U.S. That data — itself challenging to interpret because it is voluntary — shows staff positivity rates in places with in-person schools outpacing community spread even in the midst of a wave of increasing infections.
"That should give us some pause … as we see community rates rising and the fact that staff rates seem to be outpacing those rates right now in some places," Gibbs said.
The Harvard guidance indicates that "school openings with strong controls in place have limited impact on community-transmission rates," with cases most often originating outside the school setting rather than spreading within buildings.
"Teachers face no greater risk than other comparatively low-risk front-line workers such as grocery clerks or retail workers — and far less than meatpackers and health care aides, for instance," the Harvard guidance states.
Other recent studies indicate that low community spread is key. A study of schools in Michigan and the state of Washington shows that with low community spread, in-person school is "not associated with increased spread of COVID," but "cases to increase at moderate to high pre-existing COVID rates."
Parents push for more from schools
A variety of districts in Dane County have recently indicated they will soon reopen for some students for partial weeks.
Many of the plans would have one group of students in-person for two days each week and another group in-person for two other days. That would limit class sizes and allow schools to adhere to public health requirements for six feet between students.
The parents pushing for reopening pointed out that that the updated guidance from Harvard and Brown calls for three feet of social distancing for "young learners at all levels of community spread" and says six feet is only required for high schools when community spread rises above 100 daily new cases per 100,000 residents. They worry that the six-feet requirement from public health is forcing schools to stick to hybrid plans that would be less effective than full-time, in-person instruction.
The parents who spoke with the Cap Times stressed they do not believe families should be required to send their children back to school, but the costs for students who are struggling with virtual learning are too high to ignore.
"Our goal is also to understand that this is a choice for in-person learning, that the virtual option will absolutely stay and be there," said Kari Livingston, who has two children at DeForest High School. "This is about a choice. This is about parents and students and families making that choice."
They described districts' work so far as "inconsistent," "exhausting" and "heartbreaking." Naomi Arreola, who organized a demonstration ahead of a Verona Area School Board meeting last week where a phased plan was presented, said she was "happy for the step in the right direction," but still believes schools are moving "way, way too slow."
"There's no communication between the schools and the parents," she said "I think that's where we're really frustrated, we want to be a part of it."
The parents also expressed disappointment at school boards and administrators not having earlier publicly declared plans for how in-person instruction would look when it returned. Livingston said they should be learning from other districts, as "we are months behind."
King pointed to surveys this fall from area districts showing that a majority of parents or students in some, including McFarland, DeForest and Waunakee, want an in-person learning option.
"There's ways to do this," he said. "We just shouldn't be paralyzed as a community, because the data is there."
John Goeser, who has a kindergartner and first-grader in McFarland, said it's been helpful connecting with other parents in recent weeks who believe schools can be open safely.
"There are very different ideas and very different beliefs, but we are all joined in union in interest of bringing our kids back to school, assuming we opt for that choice," Goeser said.
Share your opinion on this topic by sending a letter to the editor to tctvoice@madison.com. Include your full name, hometown and phone number. Your name and town will be published. The phone number is for verification purposes only. Please keep your letter to 250 words or less.