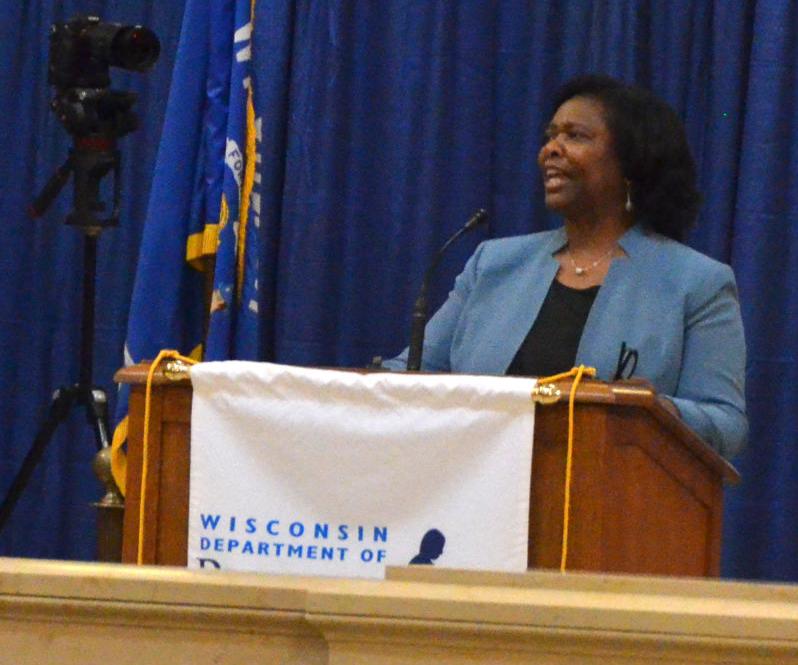 As a difficult state budget season approaches, Wisconsin's top education official announced she would propose adding money for school special education and mental health services for 2021-23.
State Superintendent Carolyn Stanford Taylor delivered her second annual State of Education address Thursday, speaking virtually via Wisconsin Eye.
"We are clear-eyed about the realities economic challenges will play in state budget decisions," Stanford Taylor said. "However, it is my hope our leaders can and will continue to prioritize public education and the needs of our most vulnerable learners."
Throughout her speech, Stanford Taylor praised educators for their work through the unexpected move to virtual learning in the spring and support of students through the summer. She also highlighted equity, a key theme of her 2019 speech, encouraging all educators to become an "agent of change."
"It is time to finally shed the title of having the largest Black-white achievement gap in the country; to examine our systems, policies, programs, and ways of engaging with students, families, and each other; to truly listen to the voices of Black and other marginalized communities and deliver inclusive learning experiences that meet the needs of every child," she said.
Schools around the state and country are facing unprecedented decisions this year as they work with public health officials to determine if in-person school is safe amid the ongoing COVID-19 pandemic. The Department of Public Instruction released "Education Forward," a guidance document for educating students either virtually or via in-person classes as districts planned for the fall.
"We know more today than we did in the early days of the pandemic, but we still have more questions than answers, no perfect solutions and a multitude of difficult decisions every school leader, educator and parent has had to confront," she said.
But, she added, it also offers an "unparalleled opportunity to reframe and reimagine in a more inclusive manner," an idea she expanded on in a call with reporters after the speech.
"This gives us an opportunity to look at our systems, our practices, our policies, our procedures, to reframe them so we are intentional about inviting everyone to the table," she said. "What's been left out of our curriculum? Let's start to talk about how we pull those voices, those identities into our curriculum."
During her speech and the call with reporters, Stanford Taylor did not give specifics on how much of an increase she would request for mental health and special education funding, but called education the "engine that drives our economy," something she hoped the governor and legislators would recognize in the upcoming budget cycle.
The current biennial budget included the first increase to special education funding in more than a decade, totaling almost $100 million, but Stanford Taylor said that "before the pandemic, districts' unfunded special education costs already exceeded $1 billion."
"COVID-19 has reinforced for many what we in education have always known: our schools are essential to students, families, and communities, and fundamental to our society," she said in her speech.
She told reporters that she expected state standardized tests to resume this spring, as the state has not received waivers from the federal government for assessments. In the spring, the state canceled the annual Forward Exam.
Stanford Taylor was appointed to the position in January 2019 after Tony Evers, the former DPI head, was elected governor. She has said she will not run for re-election to the position next spring.
"Serving as your state superintendent and the chief advocate of our public schools and libraries has been the honor and privilege of a lifetime," she said. "Please know, wherever my path leads next, it will always be in service to our children and families."
Share your opinion on this topic by sending a letter to the editor to tctvoice@madison.com. Include your full name, hometown and phone number. Your name and town will be published. The phone number is for verification purposes only. Please keep your letter to 250 words or less.
Be the first to know
Get local news delivered to your inbox!